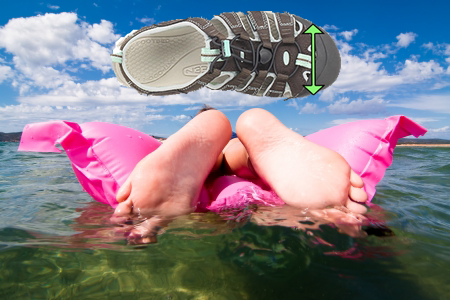 Do you always have a hard time finding summer sandals to fit the shape of your extra wide feet? Have you been looking for a comfortable, lightweight, supportive summer sandal that wide and deep enough to accommodate your extra wide feet?
I have been working for a specialized shoe store for over 10 years, and I have helped hundreds of women with extra wide feet find the perfect pair of shoes for their feet. Over the years I became familiar with the best extra wide sandals for women.
During summertime, our feet tend to sweat and swell more, so we must be cautious about the type of footwear that we choose to wear. When it comes to seasonal footwear, it's hard to find shoes that fit, since most shoe companies don't provide summer sandals in extra wide widths (XW).
There is nothing worse than wearing sandals that are too narrow for your feet. You will not only feel uncomfortable since your toes will be cramped against each other and against the side of the shoe, but you will also end up creating several issues with your feet. For example, when you wear a sandal that is too narrow, you will be more prone to developing blisters, calluses, and corns.
Some women buy open toe sandals because they can adjust the velcro strap around the widest part of their feet, and take some of the pressure away in the width area. While open toe sandals are great for women with wide or extra wide feet, I have fitted a few styles of closed toe sandals that will fit your extra wide feet.
What Makes the Sandals I Recommend Effective for Women with Extra Wide Feet?
✅ Rounder Toe-Boxes: This feature is going to help prevent your toes from overlapping or rubbing against one another or the side of the sandals.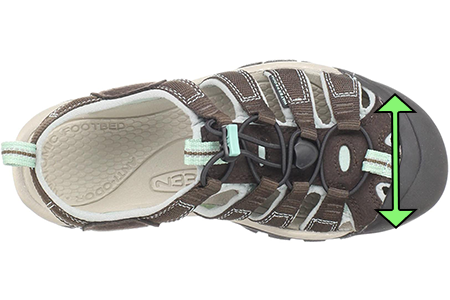 ✅ Extra Depth: The sandals I recommend provide extra depth which makes them ideal for women who have high insteps. The sandals will allow your feet to fit deeply which will help prevent the top part of your feet (instep) from rubbing against the top part of the sandals.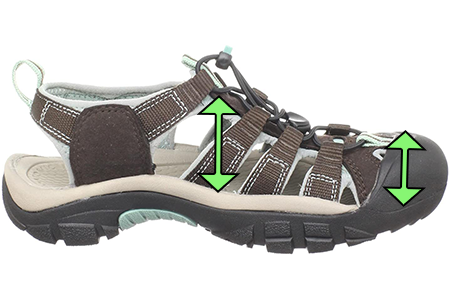 ✅ Wide (W) and Extra Wide (XW) Widths Available: You will notice that some of the sandals I recommend are available in wide (W) and extra wide (XW) widths.
In addition to fitting the shape of your extra wide feet, the sandals I recommend will provide comfort to your feet as they provide excellent support.
Extra Wide Sandals With Good Support?
Some women like to wear their summer sandals all day during the summertime, and they tend to switch to their sneakers for only a couple of hours. This is fine, as long as you are wearing a sandal that's providing good support for your feet.
The sandals I recommend come with a substantial, thicker outsole with a built in arch support. Take a look at the picture below for clarification:
You will also notice how they provide good traction, so you can walk on wet and slippery surfaces without slipping: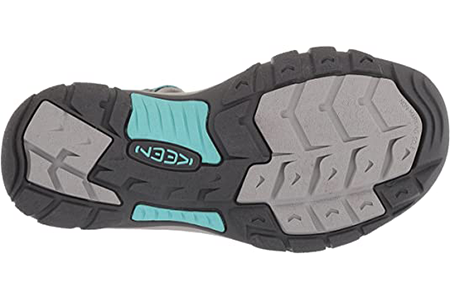 Another awesome feature of these sandals is how they provide cushion around the heel area, which will prevent blisters from forming.
Besides providing good support, the sandals I recommend provide the following features:
Antimicrobial treatment helps keep odors at bay, and promotes a cooler, drier feel for your feet.
Microbuck synthetic nubuck leather and breathable mesh uppers.
Cushion around your ankle and heel.
Rubber sole with excellent traction.
Before I show you a selection of the best extra wide sandals for women I want to make sure that you know your exact foot size and foot shape. There is a different article I wrote where I help women identify their exact foot size from home:
How To Measure Your Foot Shoe Size – The Most Simple And Effective Way!
Now that you know how to get your correct shoe size and what features a good supportive sandal must provide, you are ready to know which are the best sandals for women with extra wide feet. Disclosure: Keep in mind that we may receive commissions when you click our links and make purchases.
Sandals For Women With Extra Wide Feet ⭐⭐⭐⭐⭐
Below you can find a selection of the best sandals for women with extra wide feet. Some of the sandals below are available in extra wide (XW) so make sure you choose the correct shoe width.
Wide and Extra Wide

Wide and Extra Wide

Wide and Extra Wide

Wide and Extra Wide

Wide and Extra Wide

Wide and Extra Wide

These sandals  fit "true to size", which means that you need to go a half a size to a whole size longer (0.3 inches or 0.7 centimeters) of space between your longest toe and the end of the sandals to prevent your toes from rubbing against the front part of the sandals.
Do you happen to have a child with extra wide feet that needs a pair of summer sandals? I actually wrote an article that describes the best summer sandals for children with extra wide feet and you can find them here:
One thing that really bothers me is when a person says that they can't wear a particular shoe style because they don't make it in a particular size or width. Just because you have been buying your shoes in the wrong place or haven't done proper research in finding that particular shoe style, it doesn't mean that it doesn't exist!
Don't hesitate to contact me if you are having trouble finding a different type of shoes to fit the shape of your extra wide feet: comfortablewomenshoes@gmail.com
Have you been looking for an extra wide sandal for a long time? Did you know that sandals for extra wide feet even existed? Is there a particular sandal style you have tried that you know will fit a woman with extra wide feet? Please share your thoughts and experiences below so other women can benefit from them!