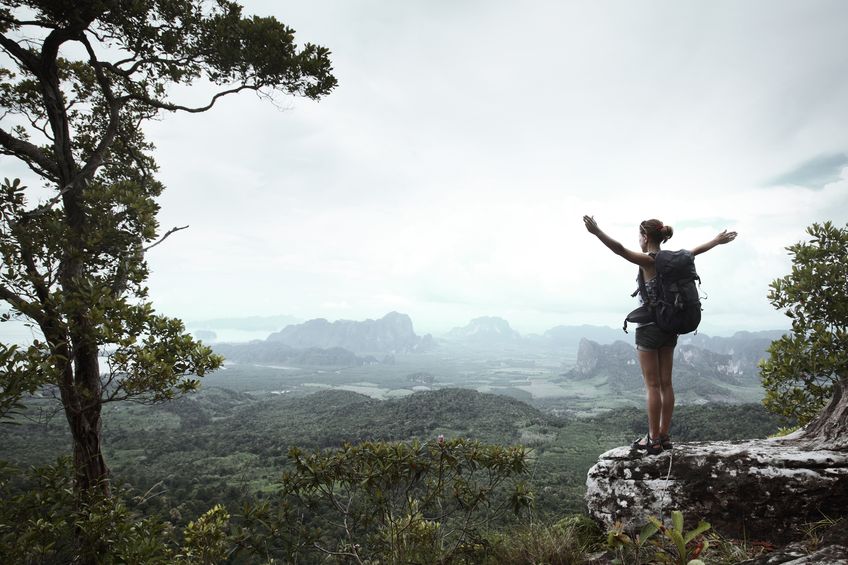 Are you a big fan of hikes? There is nothing more uncomfortable than hiking with wet feet, especially in cold weather in which the discomfort intensifies. This can easily be avoided by having a pair of good waterproof boots!
We shouldn't assume that all hiking boots are waterproof, because that is definitely not the case. Moreover, it is very important to have a pair of good waterproof hiking boots since they will keep your feet dry and warm especially during the winter season. Buying yourself a pair of hiking boots will also allow you to go out on those rainy, wet and cold days, as well as keeping your feet healthy.
Finding a pair of hiking boots is not hard but finding a pair of waterproof boots to fit the shape of your unique feet can be a bit more complicated. Don't forget that all feet have different shapes and sizes, and if you have narrow, wide, or extra wide feet, it will make the process of finding the correct hiking boot much more challenging.
I have been helping women find the correct pair of shoes for their feet for the last 10 years. I work for a specialized shoe store where we specialize in women with "complicated" foot shapes and foot conditions. Over the years I became familiar with the best waterproof hiking boots for women.
It is completely understandable if you get overwhelmed by the number of different brands and styles of waterproof hiking boots.
The purpose of this article is to help you find the perfect pair of waterproof boots for your unique foot shape. Just keep in mind that it doesn't matter how much support and how many features a certain shoe style provides, if it's not fitted properly (the correct shoe length and the correct shoe width), you won't get any of the benefits that the shoes have to offer.
That's the reason why if you are not 100% sure of your foot size and shape, I want you to start by reading an article I wrote where I describe the simplest, yet most effective way to figure out your foot size from home:
How To Measure Your Foot Shoe Size – The Most Simple And Effective Way!
In that article, I help women determine whether they have narrow, medium, wide, or extra wide feet. I also help them figure out whether they have a high instep or not.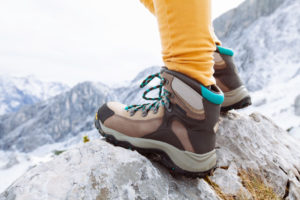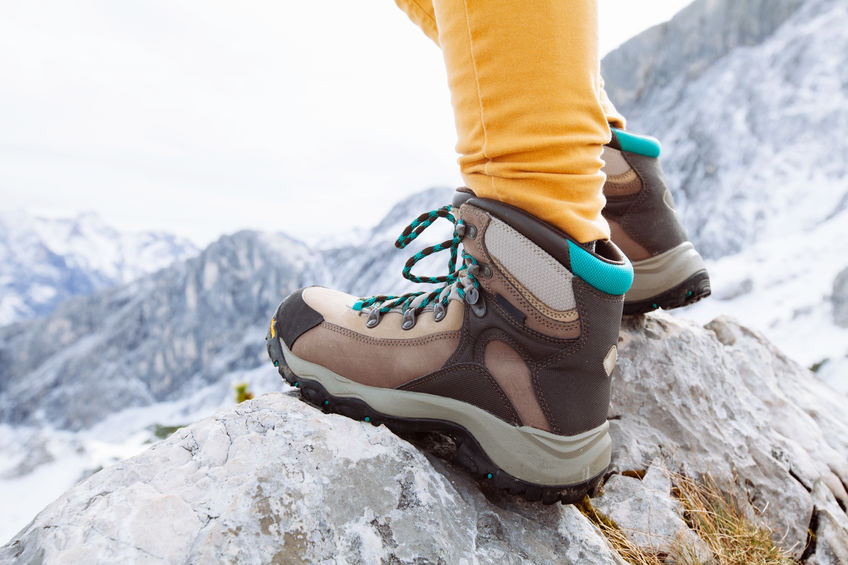 The Advantages of Waterproof Hiking Boots – Enjoying Your Hike!
There is no need of letting your feet suffer in wet hiking conditions!
I am sure you will agree with me that hiking through puddles isn't so enjoyable if you end up all wet and with cold feet, especially since you can't really dry them until you finish your hike. But, if you have your waterproof boots you don't have to worry about your feet getting cold or wet.
A pair of waterproof hiking boots will keep your feet dry and warm and will still allow you to have fun. They are specially designed to protect your feet and lower legs from extended exposure to moisture and harsh weather. Also, they will keep your feet dry when submerged in water, as long as it is a shallow stream or where the water isn't so deep that it's reaching the top of your boots.
Another advantage of waterproof hiking boots is that they are breathable, and this feature is very important when you go for a hike. Can you imagine hiking in a pair of rubber boots? It is true that rubber is a naturally waterproof material, which means your feet would not get wet from external sources. For example, you could be standing in a shallow stream or in a puddle for hours and no water will penetrate the shoes. However, rubber isn't breathable at all, so your feet would end up becoming moist with sweat after hiking for a while.
So, if your feet feel clammy after a hike is probably because your boots aren't quite breathable.
There are certain waterproof hiking boots that I have fitted before that I know come with great traction and they are flexible and lightweight enough to be worn for longer periods of time. If you live in an area where it gets really cold and wet, a pair of waterproof boots is ideal for any activity that involves being outdoors.
Keep in mind that you can get foot infections such as tinea or athletes' foot as a result of wet feet. This fungus infection is common in children and women, and it is mainly due to wet feet.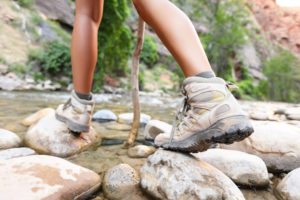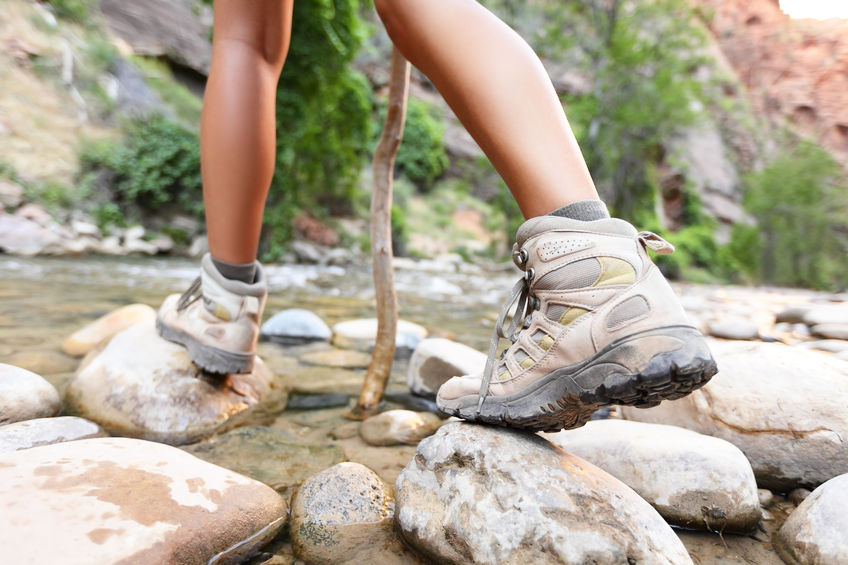 Distinguishing Between Waterproof and Water-Resistant Boots
It's important to distinguish between water-resistant and waterproof boots. It is very important not to get confused by this. Especially when some brands might even advertise their boots as water-resistant making some people think this is the same as waterproof boots.
A water-resistant boot will keep your feet dry as long as you are walking along the wet grass for example, but  if you are walking through a puddle it will not prevent your feet from getting wet.
A waterproof boot will keep your feet always dry,  since it's specially designed to keep your feet dry by not allowing water in.
To figure out whether a boot is waterproofed or not, you need to read the label of the shoe. It must come labeled with a sign that says "waterproof" in the boot. Take a look at the picture below for clarification:
When I recommend a specific shoe is because I have previously fitted it, and I am familiar with how the shoe fits (short, long, narrow, or wide) and with the features it has to provide.
The selection of waterproof hiking boots I will describe below are great for women and they offer the following features:
They are lightweight and flexible, making them comfortable for you to wear.
They are breathable, meaning that they protect your feet by keeping them dry.
They help in preventing you from catching a cold.
They are very cost effective because they last longer as they can withstand harsh conditions.
They can be used for different activities, not just for hiking, but also rainy and snowy days.
The Best Waterproof Hiking Boots for Women ⭐⭐⭐⭐⭐
Below you can find a selection of the best waterproof hiking boots for women with narrow, medium, and wide feet. Please click on the image to see all the available colors that these hiking boots are available in. Disclosure: Keep in mind that we may receive commissions when you click our links and make purchases.
Fits Medium and Wide Feet

Fits Narrow and Medium Feet

Fits Narrow – Medium – Wide

Fits Medium and Wide Feet

Medium – Wide – Extra Wide

To prevent your toes from rubbing against the front or side part of the boots, I highly recommend that you order these boots half a size larger than the size that your feet measure. This translates to 0.3 inches or 0.6 centimeters of space between your longest toe and the end of the boots.
None of the boots I describe above are snow boots. These are all waterproof hiking boots, which are much more lightweight and flexible than snow boots and can be worn for longer periods of time.
Do you have a child that needs a pair of hiking boots? I have another website dedicated to fitting children's shoes and I created an article where I describe the best waterproof boots for children:
Now that I have described the best waterproof hiking boots for women, you are ready to make a better and more informed decision. If you are unsure about how a particular shoe style fits, please let me know since I will be able to tell you whether that particular shoe style runs long, short, narrow or wide.
Keep in mind that shoes must be fitted perfectly to not create any issues with your feet. A shoe that is too short or too long has the same negative impact since it will lead to the formation of blisters, calluses, or corns.
Don't Forget About the Socks – Keep Your Feet Comfortable and Warm!
You should know that certain socks will feel better on your feet when hiking! The socks should be the same length as the hiking boot and I strongly recommend having you trying the hiking boots with the same type of socks that you will be wearing with the boots!
Socks play a key role in keeping your feet healthy since they act as a barrier between your feet and the shoes, preventing the growth of bacteria inside the shoes.
Socks also prevent your feet from rubbing against parts of the shoes, preventing the formation of blisters around the toes or the ankles.
In addition, certain socks provide more warmth and cushioning for those really cold days. Also, using sock specifically meant for hiking boots will allow your feet to breathe better, since they are made of merino wool, an ultra-soft, naturally anti-microbial, breathable material.
Below you can find a selection of the best hiking socks for women:
Hiking Socks

Hiking Socks

Hiking Socks

Hiking Socks

Don't let the cold weather stop you from exploring the outdoors. Get a pair of waterproofed, breathable boots for a more enjoyable hike and keep your feet healthy!
Are there any particular waterproof hiking boots that you recommend? Please share your thoughts and experiences below so we can all benefit from them!