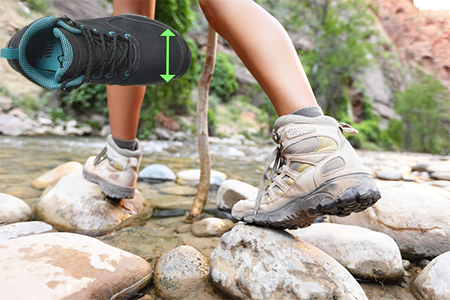 Are you a huge fan of hikes? Are you aware that women's hiking boots in wide widths exist? Hiking boots for women have become very popular for the versatility that they provide. For example, some women decide to purchase a pair of insulated waterproof hiking boots instead of buying a pair of snow boots.
But…
If you are going hiking in a pair of boots that are too narrow, you will create all sorts of issues to your feet and you won't end up enjoying your hike.
Most women with wide feet miss out on buying hiking boots simply because they don't know that there is also a selection of hiking boots that fit wider feet!
I feel like a hiking boot is so much more versatile than a snow boot since it is much lighterweight, flexible, supportive, and it allows you to wear it for longer periods of time.
Do you have wide or extra wide feet with a high instep and always have a hard time finding shoes that fit? I have fitted a small selection of women hiking boots that fit women with wide feet and a high instep.
I have been working for a specialized shoe store for the last 10 years, and we specialize in helping women people with "complicated" foot shapes. Over the years I became familiar with the best wide hiking boots for women.
What Makes the Hiking Boots I Recommend Effective for Wide Feet?
In addition to being labeled as wide (W), the hiking boots I recommend provide 2 key features:
☑️ Rounder Toe-Boxes: This feature is going to prevent your toes from overlapping or rubbing against one another or the side of the boots: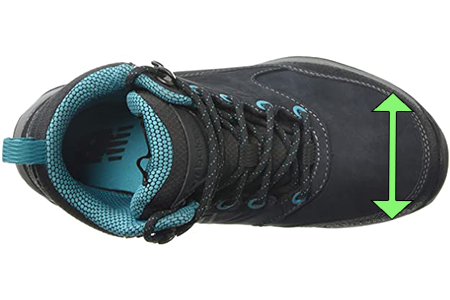 ☑️ Extra Depth: This feature is particularly important if you happen to have a high instep. Shoes that provide extra depth allow the feet to fit deeply inside the boots and prevent the top part of your foot (instep), from rubbing against the top part of the shoes.

If you hike with any regularity, consider investing in a good pair of hiking boots for yourself so that you can be prepared for the changing trail conditions, including hills, uneven surfaces and rocks. Moreover, going for hiking adventures is a great way to exercise and spend time outdoors and also enjoy nature!
It is very important that you protect and support your feet every step of the adventure by using a good pair of hiking boots that are supportive and waterproof. Hiking boots are not just for going on hiking adventures, they are also great for those yucky, rainy days when we want to keep our feet warm and dry!
Choosing the right type of hiking boots is surely not an easy task since they all come with different features. Some of the features are:
Better traction.
Support.
Waterproof.
Insulated.
Higher ankle coverage.
I always recommend hiking boots that are waterproof since that feature makes it a much more functional shoe and allows you to also wear them in the snow, as long as it is insulated as well!
Hiking Boots vs Snow Boots – Learn the Difference!
The principal difference between these two is that you can wear a hiking boot daily, on rainy or snowy days, or when you go for a hike in the mountains! However, a snow boot is only meant to be worn for a very short period of time (no more than 5 hours a day) since they tend to be heavier and less flexible than hiking boots.
Essentially, snow boots are only meant to be worn when it snows or when there is extremely cold weather. Of course, some women prefer to get both a hiking boot and a snow boot, but if you are looking to save some money, I would recommend that you get yourself a pair of insulated hiking boots.
Keep in mind that hiking boots tend to be much more comfortable than snow boots since they provide better support.
You can rest assured that you will get much more use out of them, and you will also be able to wear them in the rain and snow!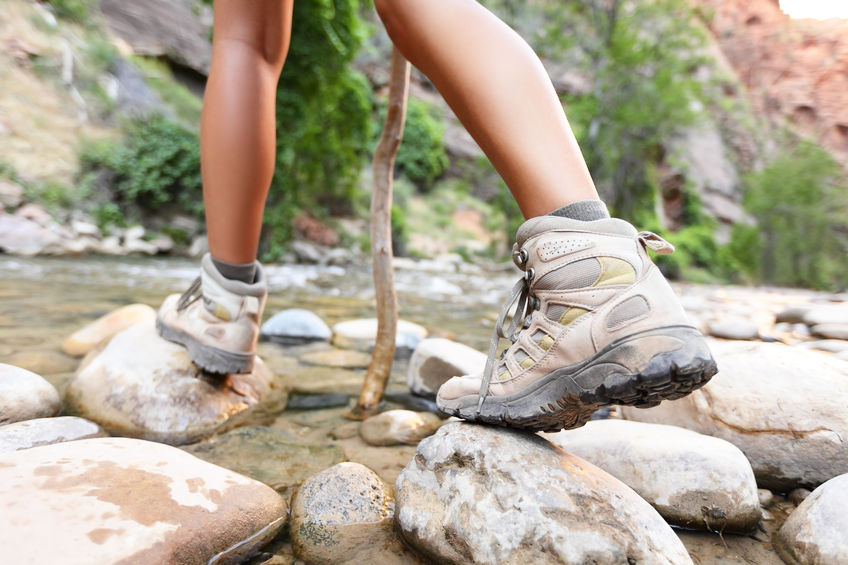 Perks of Hiking – Get Your Hiking Boots Ready!
You might already know that hiking outdoors has plenty of perks: fresh air, awesome views, and the incomparable sounds and smells of nature.
Did you know that hiking is a powerful cardio workout that can do the following things for you?
Help control your weight
Lower your risk of heart disease
Improve your blood pressure and blood sugar levels
Strengthen your core
Boost your mood
Boost bone density, since walking is a weight-bearing exercise
Build strength in your glutes, quadriceps, hamstrings, and the muscles in your hips and lower legs
Improve balance
However, nobody wants to hike in a pair of boots that are too narrow, since this will actually lead to foot issues such as blisters, calluses, or corns.
Research shows that hiking has a positive impact on combating the symptoms of stress and anxiety," says Gregory A. Miller, PhD, president of the American Hiking Society. "Being in nature is ingrained in our DNA, and we sometimes forget that."
Waterproof Hiking Boots – Get all the Benefits!
At the shoe store that I work for most of the hiking boots that we carry are waterproof.  The main purpose of a hiking boot is to keep your feet warm and dry when going for a hike or even when walking on a rainy day! You have to be careful when choosing a hiking boot for you since most of them are not waterproof!
To make sure the hiking boot is waterproof, it must say so on the boot! So, if you don't see a label that says waterproof, then it means that it's not. See the picture below for clarification:
In addition to the waterproof feature, hiking boots must provide good traction. This is meant specially for when walking on wet surfaces, since our feet may slip more. But, a hiking boot that provides good traction will prevent your child from slipping and falling!
Before I provide you with a selection of the best hiking boots for women with wide feet I want to make sure that you know your exact foot size and shape.
You won't be able to order the correct boot size online if you don't know your exact foot length and whether you have wide, or extra wide feet. In addition, do you know whether you have a high instep or not?
I help women determine their exact foot size and shape from home. Take a look at the article below:
How To Measure Your Foot Shoe Size – The Most Simple And Effective Way!
Can you imagine going for a hike in hiking boots that are pinching your feet and toes? It will not only create all sorts of foot problems, but it will also make your experience and adventure much less enjoyable.
Below you can find a selection of the best wide hiking boots for women that come in wide widths, are waterproof and provide good traction.
The Best Wide Hiking Boots for Women ⭐⭐⭐⭐⭐
Make sure that you choose the correct shoe width (W) and click on the image to see all available colors the boots are available in. Disclosure: Keep in mind that we may receive commissions when you click our links and make purchases.
Medium – Wide – Extra Wide (Not Insulated)

Medium – Wide

Medium – Wide – Extra Wide (Not Insulated)

To prevent your toes from rubbing against the front or side part of the boots, I highly recommend that you order these shoes half a size larger than the size that your feet measure. This translates to 0.3 inches or 0.6 centimeters of space between your longest toe and the end of the boots.
Do you have a child that needs a pair of wide hiking boots? Keep in mind that a lot of children have wide or extra wide feet and parents don't realize this.  I have another website dedicated to children's shoes and I wrote an article where I describe the best wide hiking boots for children and you can find it here:
Always Wear the Correct Type of Socks with Your Hiking Boots!
You should know that certain socks feel better on your feet when hiking! The socks should be the same length of the hiking boot and I strongly recommend having you trying the hiking boots with the same type of socks that you will be wearing with the boots!
Certain socks provide more warmth and cushioning for those really cold days. Also, using socks specifically meant for hiking boots will allow your feet to breathe better. The socks described below are made of merino wool, an ultra-soft, naturally anti-microbial, breathable material.
Below you can find a selection of the best hiking socks for women:
Hiking Socks

Hiking Socks

Hiking Socks

Hiking Socks

Remember, wearing the correct type of hiking boots is a great way of keeping your feet healthy and also enjoying a hike full of adventure and comfort!
Have you tried any of the hiking boots described in this article? Are there any particular hiking boots that come in wide widths that you recommend? Please share your thoughts and experiences below so we can all benefit it from them!