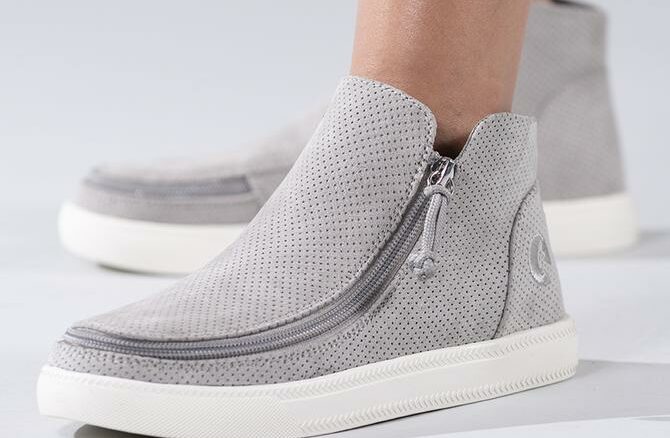 Do you have a specific type of disability that makes it harder to get your shoes on and off? Do you struggle to tie your shoes and don't want to worry about having someone coming to tie your shoes every day? I am going to show you a selection of shoes that are easier to put on, and more enjoyable to wear. The idea is to make your mobility easier and better.
If you are tired of spending so much time getting your shoes on and off you came to the right place! Certain shoes allow you to experience freedom and independence.
My Experience Helping Women with Disabilities
For the last 10 years, I have worked for a shoe store that specializes in helping people with "complicated" foot shapes as well as foot conditions find the correct types of shoes. I have helped several women with disabilities find the correct types of shoes for their feet, and I believe I can help you as well.
In addition to finding a pair of shoes that provide an alternative way to access entry into shoes and that doesn't require adjusting the shoelaces, the shoes need to accommodate the shape of your feet. Women's feet come in all different types of shapes and sizes, such as narrow, medium, wide, or extra wide. Some women might have high insteps, which requires shoes to provide extra depth.
Before I show you a selection of the best shoes for women with disabilities, I want to make sure that you know your exact foot length and shape.
When Was the Last Time You Checked Your Foot Size?
Your foot shape and size can change over time, and some of the factors that contribute to this change are pregnancy, aging and weight gain or loss. Over time and because of gravity, our feet might get longer and wider.
As we age, the body's ligaments and tendons lose their strength and ability to spring back. This means that our arches decrease, which flattens and lengthens the foot and toes.
This often results in an increase in shoe size by a half-size or more. You might also experience a change in foot width, meaning that even though you always ordered medium width shoes now you might have to start ordering wider shoes.
Don't insist on getting your shoes in a specific size simply because that has been the size that they always wore. I usually have to insist to them that they need to at least try the shoes in a different size to see how they feel.
Buying shoes online can be a challenge. If you are unsure of your current foot shape or foot length, I suggest that you take a look at a different resource I created where I help women determine their exact foot shape from home:
How to Measure Your Foot Shoe Size – The Most Simple and Effective Way!
Shoes for Women with Disabilities – 2 Important Features!
✅ Zipper instead of Shoelaces: The shoes come with a zipper on the side instead of shoelaces or velcro closure.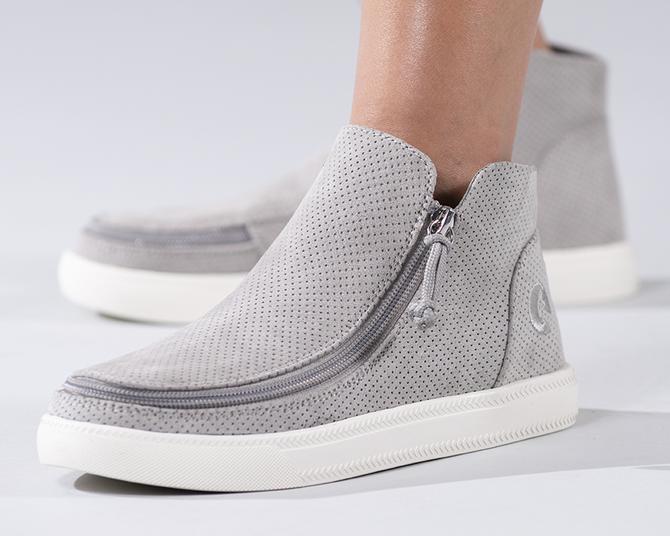 ✅ Wider Opening: This feature provides an alternative way to access entry into shoes, which is easier for everyone.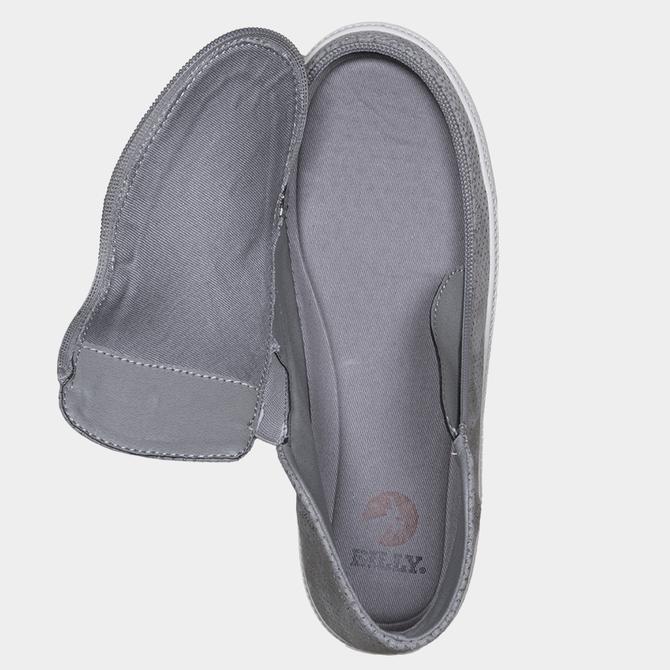 Let's now take a look at the best shoes for women with disabilities. The shoes below also work great for women who wear orthotics that take a lot of extra space inside the shoes such as AFOs (ankle foot orthosis). Disclosure: Keep in mind that we may receive commissions when you click our links and make purchases.
Best Shoes for Women with Disabilities ⭐⭐⭐⭐⭐
The laces of these shoes can be tightened or loosened as needed when you first put them on and you never have to tie them again unless you want to make adjustments. Keep in mind that these shoes will fit women with narrow, medium, or wide feet, but they won't fit women with extra wide feet.
Zippers

Zippers

Zippers

Velcro

Zippers

Zippers

To prevent your toes from rubbing against the front or side part of the shoes, I highly recommend that you order these shoes a whole size larger than the size that your feet measure. This translates to 0.6 inches or 1 centimeter of space between your longest toe and the end of the shoe
Do not hesitate to contact me if you are unsure about which shoe will work best for your unique foot shape or if you have extra wide feet and are unsure whether these shoes will be wide enough for your feet: comfortablewomenshoes@gmail.com 
Feel free to also reach out if you wear AFOs or a different type of orthotic and you are unsure about which shoes might work best for your feet.
A couple of years ago there were only a handful of shoe options available for people with disabilities, but now things have started to change. Let me know in the comment section below if  you have found a specific shoe style that has worked well for your feet. I am sure other women will find your recommendations helpful.