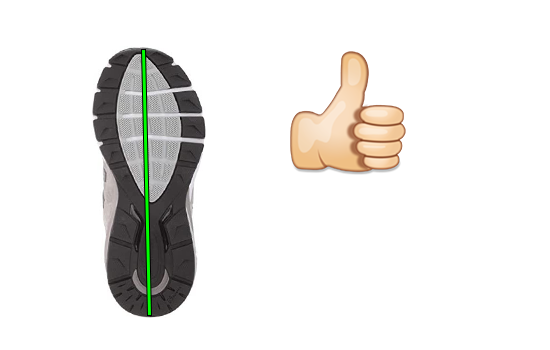 Has your medical professional advised you to wear a pair of straight last shoes? Are you dealing with a foot condition such as flat feet that is causing you pain and discomfort? If you are dealing with a foot condition that is causing your feet to overpronate, there are certain straight last shoes that can improve your foot posture as well as your walking gait.
What Are Straight Last Shoes?
Straight last shoes are also referred to as motion control shoes, and they usually provide better material maintaining support beneath the medial column of the foot. Basically, your shoes might have a straight or curved last.
Most women have a hard time identifying which shoes have straight lasts and which ones have curved ones.
How to Identify Shoes with Straight Lasts
If you want to identify the "last" of your shoe, turn the shoe upside down and take a look at the outsole. Try picturing an imaginary line that runs from the center of the heel of the shoe to the center of the toe area of the shoe. Let me show you an image of the difference between a straight last shoe and a shoe with a curved last: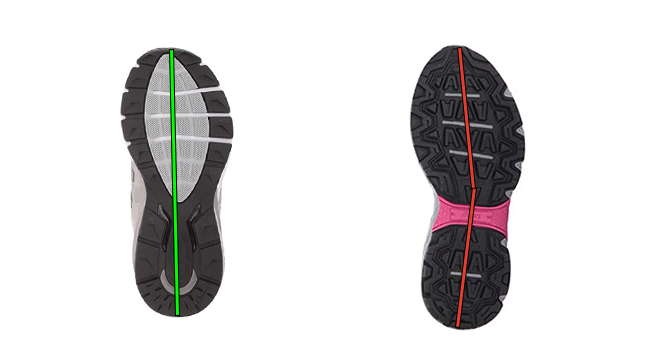 The issue that most women have is that their shoes don't come labeled as with a "straight or curved last", so it's pretty challenging for them to figure out which shoes to choose.
The good news is that I am going to provide you with a list of the best straight last shoes for women that I have fitted before.
My Experience Fitting Women's Shoes
I have worked for a specialized shoe store that focuses on helping women with "complicated" foot shapes as well as foot and leg problems for the last 10 years.
There are several women who walk into the store complaining about foot or leg pain, and the first thing I do is check the shoes they are wearing and also take a look at their feet. I have helped several women with foot pain significantly reduce and, in some cases, fully eliminate their pain, and I believe I can help you as well.
Some women are referred by their physical or occupational therapist to be fitted for the correct pair of shoes. Sometimes women bring orthotics with them to be correctly fitted inside their shoes, and sometimes we fit them for a pair of orthotics at the store.
One of the most common questions I get asked at the shoe store that I work for is: "What is the best shoe style or best shoe brand for helping treat my flat feet?"
There is no such thing such as an ideal shoe style or shoe brand for helping treat a particular foot condition. While someone might recommend one pair of shoes that may seem ideal based on support and structure, your individual foot shape indicates what type of shoe styles and shoe brands you can wear.
Before I show you a list of the best straight last shoes for women, I want to make sure that you are 100% sure of your foot shape.
How to Figure Out Your Exact Foot Shape
Do you know whether you have narrow, medium, wide, or extra wide feet? Do you know whether you have a high instep or not? These are all factors that determine what shoe brands and shoe styles you can wear.
Most women always buy the same shoe size simply because that's the shoe size that they have worn for years. Did you know that just because you have worn a certain size for most of your life that doesn't mean that your foot size has not changed? As we age the body's ligaments and tendons lose their strength and ability to spring back, which means that our arches decrease, which flattens and lengthens the foot and toes. This often results in an increase in shoe size by a half-size or more.
Since most specialized shoe stores are closed now, I came up with a free system that helps women determine their exact foot size and shape from home:
How to Measure Your Foot Shoe Size – The Most Simple and Effective Way!
Take the time to follow the instructions in that article. Believe me that knowing your exact foot size will end up saving you a lot of time and money.
Now we can take a look at the best straight last shoes for women. Disclosure: Keep in mind that we may receive commissions when you click our links and make purchases.
Best Straight Last Shoes for Women ⭐⭐⭐⭐⭐
Take a look at the description below each shoe to figure out if that specific shoe can fit the shape of your feet. By now you should know whether you have narrow, medium, wide, or extra wide feet.
Fits Narrow and Medium Feet

Fits Medium, Wide, and Extra Wide Feet

Fits Medium and Wide Feet

Fits Narrow and Medium Feet

Fits Medium and Wide

Fits Medium and Wide Feet

What Shoe Size Should You Order?
To prevent your toes from rubbing against the front or side part of the shoes, I highly recommend that you order the shoes a whole size larger than the size that your feet measure. This translates to 3/8 of an inch or 1 centimeter of space between your longest toe and the end of the shoes.
Are Any Other Shoe Choices Available?
Do not hesitate to contact me if you are looking for a different pair of straight last shoes to help treat and prevent your foot condition:
comfortablewomenshoes@gmail.com 
Make sure that you always keep your shoes properly tied at all times. When you tie your shoes correctly you are providing yourself with better support and stability.
Are you dealing with a specific foot condition that is making it challenging for you to find shoes that fit? Have you found a specific straight last shoe that has worked well for your feet? Share your findings below so other women can benefit from your experiences.