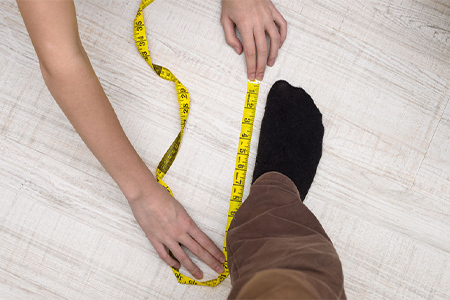 Editor's Note: This post has been completely revamped and updated for accuracy on May 2022 and reflects up-to-date information on how to measure your foot shoe size.
Are you one of the many women who went through the frustrating experience of ordering shoes online, just to find out that they don't fit your feet correctly? To find your correct shoe size you need to know your exact foot length, your correct foot width, as well as your instep height.
I have noticed through the years that most women tend to wear shoes that are too short or too narrow for their feet.
Getting the correct shoe size is extremely important if you want to keep your feet and legs healthy. I have helped hundreds of women figure out their actual foot size.
Several online measuring tools claim to provide you with your correct foot size. I feel like these apps fail to retrieve the correct foot size as they don't take into account the instep height. Women who have high insteps need to look for deeper shoes to prevent the top part of their feet from rubbing against the top part of the shoes.
I came up with the most effective way to help women figure out their exact foot size from home and all you will need is a measuring tape or a ruler.
How to Measure Your Foot Size – FREE and in 2 Simple Steps!
1️⃣ Take note of your foot length: Make sure that you are standing straight, and then place a measuring tape or ruler below your heels. Make a note of your foot measurement in centimeters or inches.
     ⚠️  Always measure both feet and measure to your longest toe which doesn't necessarily have to be the big toe, it can be the second or even the third toe.
2️⃣ Take 2 pictures of your feet: I will need 2 images of your feet to determine whether you have narrow, medium, wide, or extra wide feet. These images will also help me determine whether you have a high instep or not. Below you can find samples of the angles the images should be taken: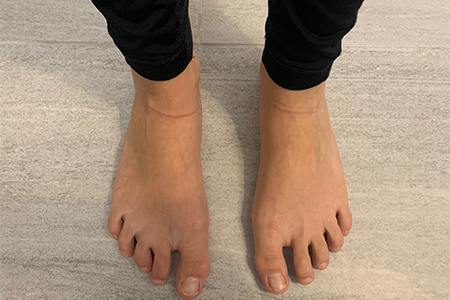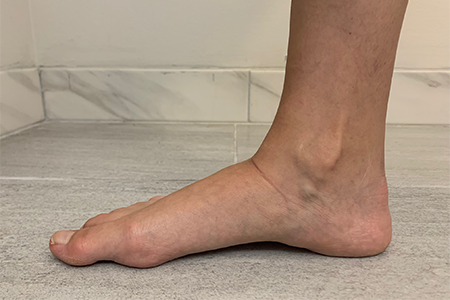 These images will also help me determine whether you have flat feet or a regular arch.
3️⃣ Optional: This third step is optional. If you are experiencing foot or leg pain I suggest that you include an additional image that will help me determine if you have rolled ankles or not.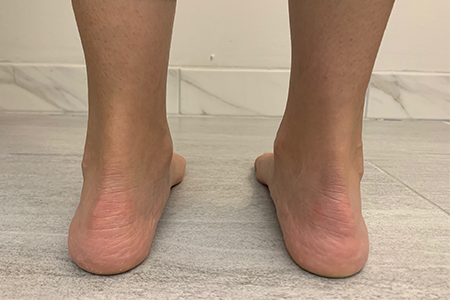 Where Should You Email Your Foot Images and Measurements?
Once you have your foot measurements and the 2 images of your feet email me that information to:
I suggest that you tell me if you are located in the United States or overseas in case you need specific shoe recommendations. I will respond with your exact foot measurements and exact foot shape in less than 24 hours.
What Happens Next? – This is How I Retrieve Your Exact Foot Shape
At the shoe store that I work for we have been using the Brannock device (the standard foot measuring tool) to measure children's, women's, and men's feet for over 30 years. I will input the measurements that you sent me in the Brannock device to retrieve your exact foot length.
You can buy this device if you want to but I understand that not all women can afford to invest $65 in a foot measuring device, so I am offering this service for free. Even women who have bought this device told me that they had a hard time using it.
Stop Wasting Time and Money by Constantly Having to Return your Shoes
If you are buying your shoes online without knowing your actual foot size, you will end up losing a lot of time and money.
Women should check their foot size at least once a year, because foot size can vary due to age, weight, or foot issues such as calluses.
Knowing your exact foot size is only the first step when trying to find your correct shoe size. I mention this because your foot size won't automatically translate into your exact shoe size, since there is no universal standard for shoe sizing.
Shoes can run short, long, narrow, or wide, and depending on how they run you will need to adjust the final size that you get for your feet.
As a recommendation, you should always wear half a size longer of the size that you measured in the standard foot measuring tool (Brannock Device) to prevent your toes from rubbing against the side or the front of the shoes.
Bear in mind that if you measure a foot size 6 and the shoes fit "short", then you will need to choose the shoe size 7 to allow enough wiggle room (a whole size longer instead of half a size longer). On the other hand, if the shoes fit "long" then you will need to pick the same shoe size instead of going half a size longer (since the shoes already fit long).
I have fitted most women shoe styles before and I am familiar with how their shoe styles are cut (short, long, narrow, wide), so please don't hesitate to contact me anytime you have doubts or questions about a particular shoe style:
comfortablewomenshoes@gmail.com 
Do You Also Need to Retrieve Your Child's Foot Size?
Do you happen to need your kids' feet measured but don't have a local shoe store where you can take them? I actually created an article where I describe the simplest, yet most effective way to measure your kids' foot size from home and you can find it here:
How to Measure Your Kids Foot – 2 Simple Steps to Determine Foot Length and Foot Width
I am looking forward to helping you find your exact foot size!