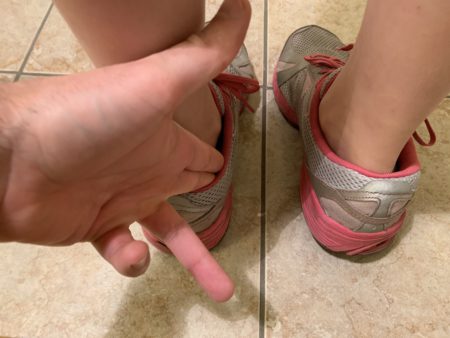 Are you frequently having to deal with your feet slipping out of your shoes while walking or running? Do you feel like it does not matter which shoe style you wear, there is still a gap around the heels?
Most women that deal with heel slippage have very narrow feet and narrow heels, but heel slippage can also occur if you are wearing shoes that are too long or too wide around the heel area.
Let me show you a picture of a shoe that is too wide around the ankles: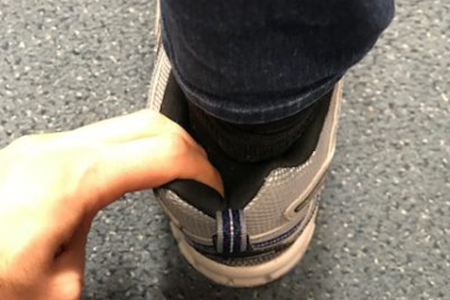 Having to deal with heel slippage is the worst! Especially when you are in a tight schedule and you have to stop to put your shoes back on, or when you go out for a run, heel slippage can pause your workout too much and cut your inspiration.
In addition, when your heels slip out of the shoes, your feet are more exposed and prone to developing foot issues such as blisters, calluses, and corns. You will also be at risk of developing serious injuries since shoes that slip off will compromise your stability, exposing you to falling and getting hurt.
Also, shoes that slip off your feet can lead to foot and leg pain, since you are not getting the proper amount of ankle support from the shoes.
The good news is that certain shoes fit narrower in the back part of the shoe (called the heel counter), and this will prevent your feet from moving up and down all the time. There is also a shoe lacing technique that will push your feet back, securing them against the back of the shoe, and preventing your heels from moving up and down.
I have been working for a premier specialty shoe store for over 10 years, and I have fitted all types of women's feet, including narrow, medium, wide and extra wide. I have also had the opportunity to help several women dealing with their shoes slipping off their heels and helped them find the perfect pair of shoes to minimize or fully eliminate the heel movement.
Very often, I hear complaints about how hard it is to find the right shoes to prevent heel slippage. The good news is I have fitted these shoes before and I will show them to you in this article.
If you are experiencing heel movement, the first step is to check if your shoes are not too wide around your heels. For example, let's take a look at the difference between a shoe with a narrow heel and one with a heel that is too wide:
The second step is to make sure that you are not wearing shoes that are too long for your feet. I always encourage women to go to the local shoe store that they trust and feel comfortable with. Although in most cases they don't have a store in their area that knows how to properly measure feet. If you don't have a local shoe store to be properly fitted for shoes, I will also show you the most simple and effective way to figure out your foot size from home
Keep on reading to find out the most effective way to prevent the heel from slipping out of the shoe.
The 4 More Common Reasons for Heel Slippage
Now let's take a look at the most common reasons why heel slippage occurs and the most effective solutions:
The shoes might be too large or long: If you just purchased the shoes and must keep them try inserting a tongue pad (I will expand on this shortly)
You have very narrow heels: Try getting a pair of shoes with narrow heels.
You are not tying your shoes correctly: Try lacing your shoes tight enough.
The heels of the shoes might be too wide: Try shoes that are narrower around the heel area.
Keep in mind that before you change the shoes that you are currently wearing, you should try the above-mentioned suggestions. I am sure you won't want to give up on your favorite pair of shoes!
Now, if you want to stop and prevent your heels from slipping off the shoes, follow the steps below.
How to Prevent the Heel from Slipping out of the Shoes – Easy & Simple Steps!
☑️ First Step
Never underestimate the importance of wearing the correct shoe size which involves getting shoes in the correct length and the correct width. This means that the shoes can't be too long, too short, too narrow, or too wide, they must fit just right!
If you want to have a perfect fit, in which you feel truly comfortable and your feet are not cramped and affected by receiving too much impact, then you should probably wear at least one-half size from your true length. That is why it's so important to know what your true size and width are!
To add to this, you will want at least a thumb's width of room between the end of your longest toe and the front of the shoe. This will allow you to have sufficient wiggle room as you receive the impact every time your feet are in contact with the ground.
Let's identify your exact foot size and shape. Do you know whether you have narrow, medium, wide, or extra wide feet? Do you know whether you have a high instep or not? I help women identify these important factors in a different article I wrote called:
How to Measure your Foot Shoe Size – The Most Simple and EffectiveWay!
☑️ Second Step
Something so simple as making sure you are tying your shoelaces comfortably tight, can make a huge difference! If the shoelaces are too loose, it will make your feet move too much inside the shoes and hence it will not prevent your heels from coming out of the shoe.
To prevent heel slippage, you need to adjust the shoe to the unique shape of your feet! Moreover, if you feel your heel slips too much or you need a little more toe room you should try a lacing technique that has proven to be the most effective one when it comes to preventing heel slippage:
1-Start with leaving the top two eyelets of the shoe open.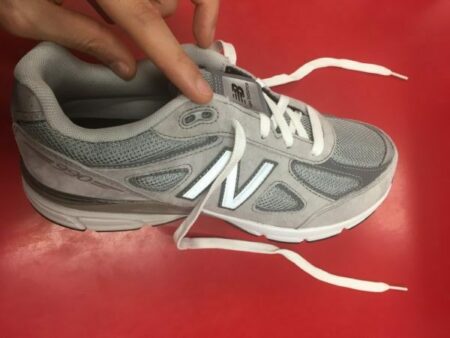 2-Go through the top hole first.

3-Go through the holes you left open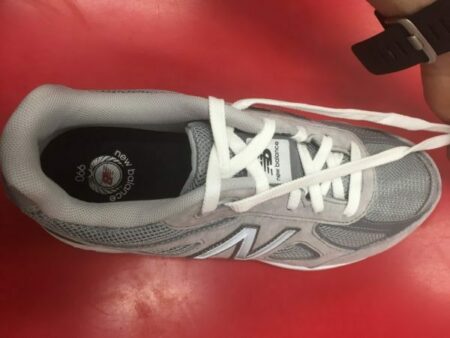 You are all done! You will notice a difference right away.
☑️ Third Step
You can try placing a tongue pad, which has helped many women with different foot issues. In addition, a tongue pad is an adhesive-backed pad that fits in the tongue of the shoes and they work pretty well in all enclosed shoes. A tongue pad might be able to fill in that extra space, creating a snug fit that's tight enough to prevent you from heel slippage.
This is how a tongue pad looks like: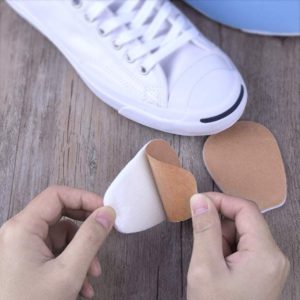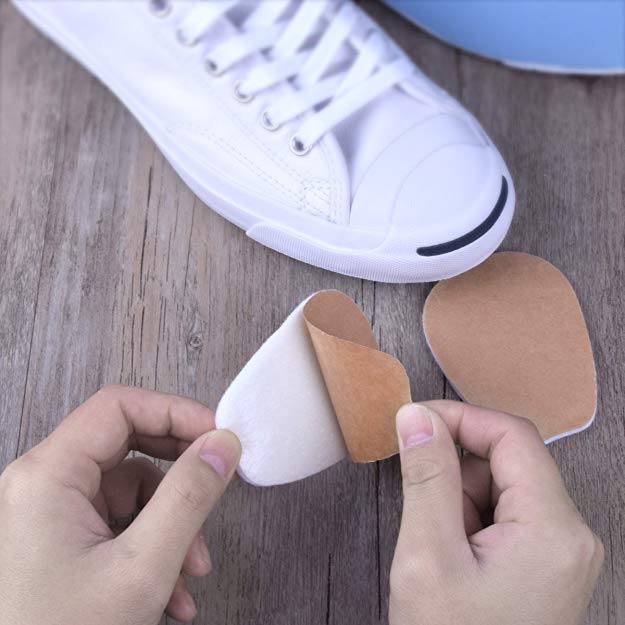 Tongue pads work great especially for women that have narrow heels and are having a hard time finding shoes that fit!
If you want to learn how to insert a tongue pad in your shoes, take a look at an article I wrote called:
Which is the Best Tongue Pad for Shoes? – STOP Hell Slippage!
Nonetheless, if none of these steps work, you might need a different pair of shoes. Although you need to be aware that when you wear new shoes for the first time, they might feel a little uncomfortable and require a break-in period to adapt to your unique foot shape.
The Best Shoes for Women with Narrow Heels ⭐⭐⭐⭐⭐
Below you can find a selection of the best type of shoes that come with a narrow heel and have proven to prevent heel slippage. Disclosure: Keep in mind that we may receive commissions when you click our links and make purchases.
Fits Narrow and Medium Feet

Fits Narrow and Medium Feet

Fits Narrow and Medium Feet

Fits Narrow and Medium Feet

Fits Narrow and Medium Feet

What Shoe Size Should You Order?
To prevent your toes from rubbing against the front or side part of the shoes, I highly recommend that you order the shoes a whole size larger than the size that your feet measure. This translates to 3/8 of an inch or 1 centimeter of space between your longest toe and the end of the shoes.
Don't forget to try the shoe lacing technique I showed you.
Now that you are aware of the causes of heel slippage and how to prevent your heel from slipping out of the shoe, you are ready to go.
Is your child also experiencing heel slippage? I actually wrote an article on how to prevent your kids' heels from slipping out of the shoe. Please go to the link below:
Have you found a particular shoe style that has prevented your heel from slipping out of the shoes? What has been your experience with this nuisance? Also, if you have a local shoe store that you trust please let us know so that other women can also benefit from this information!