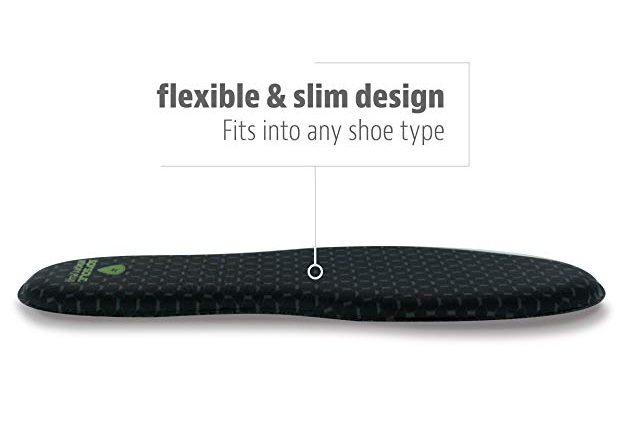 Editor's Note: This post has been completely revamped and updated for accuracy on May 2022 and reflects an up-to-date selection of replacement insoles for women's shoes.
Have you lost or worn out one or both of your shoe insoles? Before you jump the gun and get ready to replace your shoes, let me help you find a pair of replacement insoles.
The two most common reasons why women have to replace their shoe insoles are because they either lost or worn out one or both insoles. You might be thinking; how does someone lose a shoe insole? I have seen several cases of women who misplaced their insoles from having to constantly switch between their shoe insoles and their orthotics, and I have also seen cases of women who took the insoles out of the shoes to wash them and accidentally misplaced them.
Whichever your reason might be for having to replace your shoe insoles, I got you covered.  I know which are the best replacement insoles for women's shoes from having fitted them before.
Even if you haven't worn down or lost your original shoe insoles, over time, insoles wear down and lose a lot of the properties that make them comfortable.
I have been working for a specialized shoe store for the last 10 years, which has helped me get familiar with the best shoe brands for women and the best shoe styles among those brands.  Some of my coworkers have 30 plus years of experience, and they have taught me everything that I know about fitting women's shoes.
Most shoe manufacturers don't invest a lot of money on the parts of the shoe the consumer cannot see such as the insoles of the shoes. The issue is that the insoles play a key role in keeping your feet and legs healthy. The correct type of insoles can lead to increased stability, maximum cushion and enhanced comfort.
One great advantage of the particular insole that I recommend is that you will be able to trim it to fit any shoe, and it works great for sneakers, casual shoes, dress shoes, and boots. The insole is made with a high-impact memory foam that will help absorb the impact that your feet take when they come in contact with the ground.
The Best Replacement Insoles for Women's Shoes ⭐⭐⭐⭐⭐
Most replacement insoles tend to be poorly made and flimsy, but the one I recommend is supportive and comes with a moisture wicking technology that keeps feet dry. Disclosure: Keep in mind that we may receive commissions when you click our links and make purchases.
I have received feedback from several women who work on their feet all day long and they can't believe how comfortable they are.
To make sure that your new insoles fit perfectly inside your shoes, use your original insoles as a guide to know how much to trim. If you lost both of your original shoe insoles, then I recommend using the insoles of a different pair of shoes as a sizing guide.
Remember that you can take these insoles out and slip them into any other pair of shoes.
Please don't wear insoles that are torn or cracked, since you may put yourself at risk of developing blisters or corns. Other signs that tell you it's time to replace the insoles are if they have lost their color or have gotten really smelly.
Please do not hesitate to contact me directly if you are having trouble fitting this insole inside your current shoes:
comfortablewomenshoes@gmail.com