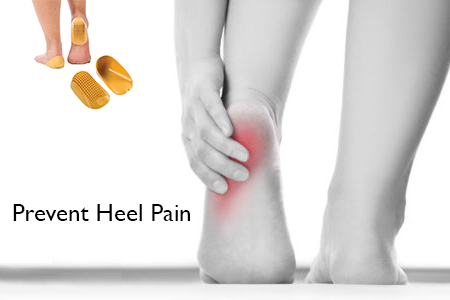 Have you been experiencing heel pain and you are not sure how to significantly reduce or fully eliminate the pain? Moreover, have you ever been diagnosed with plantar fasciitis? This is one of the most common causes of heel pain in women.
I have been working at a specialized shoe store for over 10 years where we evaluate women with foot conditions and "complicated" foot shapes. I have helped hundreds of women find the correct pair of shoes to significantly reduce or fully eliminate their heel pain, and I believe I can help you too.
If you already tried a pair of supportive shoes and your heel pain persists, the next step is to try a pair of heel cups inside the shoes for extra cushion and support. If you are not sure whether you are wearing supportive shoes I suggest that you take a look at the article below:
Best Running Shoes for Women with Heel Pain – Firm Heel Counter and Extra Cushion!
There is a particular heel cup that I have fitted before that is extremely effective in reducing or fully eliminating heel pain.
This heel cup offers superior shock absorption, protects the heel, and prevents foot fatigue. This is one of the most advanced shock absorbing heel cups available today, and it offers relief from plantar fasciitis and protects the heel from high impact. These heel cups will also prevent and decrease the risk of suffering from several common foot problems and injuries!
Most women are very active and find themselves jogging, running or walking quite often every day. Some are even involved in sports that require high impact movements, and this without treatment, may lead to a long-lasting heel pain, even for years!
With plantar fasciitis generally, women experience the most pain at the beginning of an activity. The pain then starts disappearing and goes away after about 10-15 minutes. However, there are certain cases of plantar fasciitis that can stop you in your tracks, undermine your fitness and general health, and drag on for years.
What Makes the Heel Cups I Recommend Effective for Heel Pain?
✅ Double Layer of Cushion and Support: The heel cups I recommend provide targeted cushioning that allows women to prevent and treat heel problems as well as maximize their athletic performance: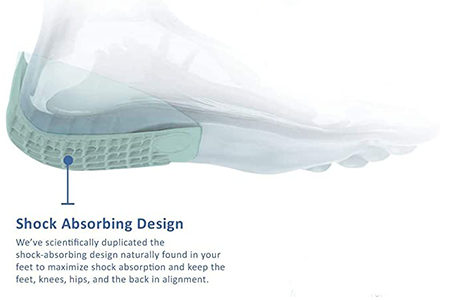 ✅ Disperses and Returns Energy: The heel cups come with a multilayer "waffle" design that absorbs shock and returns impact energy just like the system naturally found in your feet: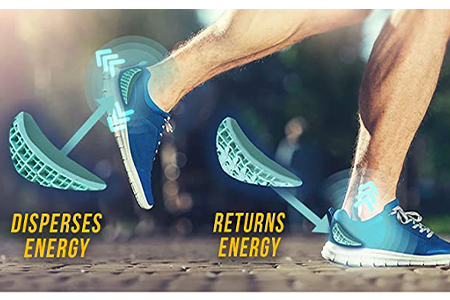 What Might Be Causing Your Heel Pain?
Due to the fact that there may be different reasons that could be causing your heel pain, it's advisable to consult with a doctor or a physical therapist before you decide to do anything. However, I will share a little secret with you. While plantar fasciitis is by far the most common cause of heel pain in women, people don't realize that plantar fasciitis comes from wearing the wrong type of shoes!
Shoes that don't provide the correct amount of support normally lead to foot and leg pain.
Despite of the cause not being entirely clear, most physical and occupational therapists agree that heel pain might be due to the repeated minor trauma that your feet take when they are involved in high-impact sports or activities. Some of these sports or activities are long-distance running, jumping activities, ballet dancing and aerobic dance in which you put a lot of stress on your feet and legs.
Other contributing factors for women's heel pain are believed to be overpronation and being overweight.
Stop ignoring your foot pain – it is not normal and there is treatment to reduce and eliminate the pain!
Tuli's Heel Cup- The Best Heel Cups for Heel Pain!
If fitted in a good pair of supportive shoes, this heel cup will instantly relieve pain from:
Plantar Fasciitis and heel pain
Achilles tendonitis
Heel Spurs
Shin Splints
Tuli's Double-Ribbed Heavy-Duty Heel Cups have the following features:
Absorbs Shock
Enhances Performance
Reduces Pain
Returns Energy
Another reason why I highly recommend this heel cup is that it is still one of the few products that is made in the USA!
The Best Heel Cups for Heel Pain ⭐⭐⭐⭐⭐
Tuli's Heel Cups are the #1 Podiatrist recommended Heel Cups in the world!
These heel cups act as shock absorbers for your feet! I have fitted this heel cup in several different women's shoes, and in most cases the pain disappeared or was significantly reduced. I have tested several different heel cups, and nothing has worked better or lasted longer than Tuli's Heel Cups. They are also ideal for women who are involved in high impact sports (since you will be able to fit them in your cleats as well).
Below you can find the best heel cup for women that are experiencing heel pain:
You might find it very useful to know that Amazon offers the best price for the heel cup. There, you can read the customer reviews which provide women's own experiences and explain how this heel cup has taken care of their heel pain!
Do you have a child that is also suffering from heel pain? The reason why I ask is that I also created an article where I describe the best way to stop your children's heel pain and you can find it here:
That article will explain to you the most effective way to significantly reduce, or fully eliminate your kids' heel pain.
Getting the Correct Heel Cup Size for You! – Get It Right!
Small Size– Best for Women with weight under 80 lbs.
Regular Size – Weight up to 175 lbs. Women's shoe sizes 9 and under.
Large Size – Weight over 175 lbs. Women's shoe sizes 10 and up.
How Do Tuli' Heel CupsWorks? —Do It Right!
Every time the heel touches the ground, the impact is reduced by the larger and higher waffle pattern while the lower and denser waffle pattern reduces the "high pressure" and final force spike of each heel strike.
The extra cushion that this heel cup provides prevents and eliminates problems such as sore heels and shin splints, and also helps you maximize your athletic performance.
Tuli's Heavy Duty Heel Cups will provide you with immediate heel pain relief by cushioning the area where the pain is located.
Tuli's Heel Cups are ideal for:
Plantar Fasciitis treatment and prevention
Achilles tendonitis
Sports and running
Stability and proper alignment
Shin Splints pain
Best Practices to Reduce Heel Pain? – Choose Good Shoes!
To prevent plantar fasciitis, it all starts with choosing a supportive shoe. You must make sure that you are wearing shoes with good support, especially when you're running and jumping, to reduce the impact and strain on the bones and muscle structure of your feet.
The shoes must provide good cushioning in the footbed, shock absorption around the heel area, and support in the outsole. Only after you are wearing a supportive shoe should you start researching and thinking of getting a heel cup.
Keep in mind that a heel cup will raise your feet, giving you the impression that your feet are coming out of the shoe. In order to prevent this from happening, you should buy shoes that provide extra depth, in order for the heel cup to fit deeply inside the shoes and prevent you from getting the impression that your heels are coming out of the shoe.
I will show you below, the best fitting shoes for a woman that is experiencing heel pain and needs a heel cup. These shoes are made of high quality materials, with great arch and ankle support, and their depth makes the heel cup sit nicely inside. They are also available in narrow (N), medium (M), wide (W), and extra wide (XW) widths!
Fits Narrow – Medium

Fits Medium -Wide – Extra Wide

Fits Narrow – Medium

Fits Medium -Wide – Extra Wide

Fits Narrow – Medium -Wide

Fits Medium -Wide

To prevent your toes from rubbing against the front or side part of the shoes, I highly recommend that you order these sneakers half a size larger than the size that your feet measure. This translates to 0.3 inches or 0.6 centimeters of space between your longest toe and the end of the shoes.
Heel Cups for Sports Shoes – Support Your Feet!
If you are quite active and/or play any sports such as soccer, baseball, football, or basketball, you can fit this heel cup inside your sport shoes (as long as they are substantial and supportive), and you will minimize the impact that your feet take every time you are running around on the field.
Remember that when you are playing a particular sport your feet and legs are working extra hard and you are stressing them at a whole different level.
So, for example, if you like to play soccer, there is a particular soccer cleat that comes with a very firm heel counter, is deep, and it's also available in wide widths.
You can learn about this wide soccer shoe style here:
Wide Soccer Cleats For Women – They Do EXIST!
Tips and Tricks to Prevent the Heel Pain from Coming Back!
Once we eliminate the painful symptoms of Plantar Fasciitis, it is important that you make sure that you start stretching often, especially before and after heavy-duty exercise! You should also keep investing in buying supportive shoes. Following these simple steps will prevent the heel pain from coming back.
Are you experiencing heel pain? Have you tried this heel cup before? Do you have any other product recommendations? Please share your finds and thoughts under the comments section below so we can all benefit from them!