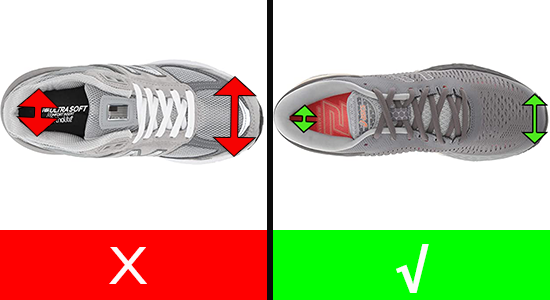 Are you having trouble finding a pair of running shoes for your narrow feet? Do you feel like every single shoe style that you try on your feet is too wide and there is too much gap around your ankles? Shoes that don't fit properly will not give you all the support you need, especially when being involved in high impact activities, such as running.
Running in shoes that are too wide can lead to foot and leg pain, as well as issues such as blisters, calluses, and corns. If your feet move too much inside the shoes, that constant rubbing between the feet and the shoes can lead to the issues mentioned above.
I am familiar with which shoe brands and which shoe styles fit narrower than others, and I will be able to show you which are the best narrow running shoes for women since I have fitted them before.
I have been working for a premier specialty shoe store for over 10 years, helping women with "complicated foot shapes (such as narrow feet) and foot conditions. I hear complaints all the time about how hard it is to find shoes for women with narrow feet. The good news is that I have fitted narrow running shoes for many women before, and I believe I can help you as well.
There is one thing that we can all agree on: You need to feel comfortable while running. The last thing you want is to worry about your feet or legs hurting because you are wearing the wrong type of shoes.
Before we move on any further… I want you to check if the shoes that you are wearing are too wide for your feet. We can do this is in two very easy and simple steps.
The first step is to check if you can slide one or two fingers around the heel area of the shoe that means the shoe is too wide: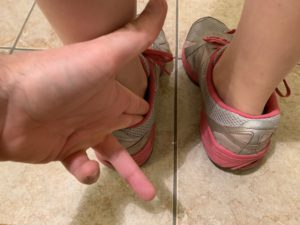 The second step is to check if you feel like there is a lot of extra space around the front part of your shoes: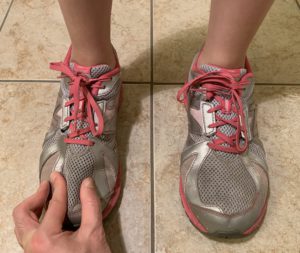 What Makes the Running Shoes I Recommend Effective for Narrow Feet?
☑️ Narrow Toe-Box
☑️ Narrow Heel Counter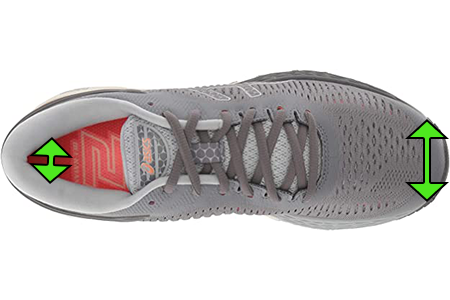 In this article I will show you a selection of the best narrow width running shoes for women, and I will also describe the most effective way to lacing running shoes for narrow feet.
Before Buying your Narrow Running Shoes –Friendly Recommendations!
You should realize that the number 1 factor is to always make sure you get your feet measured so you know which your correct shoe size is (this involves finding out your foot length and foot width). You may even think you have narrow or wide feet and be wrong about it.
I always recommend women to go to their local shoe store to be fitted for shoes. The issue is that there are several women who must purchase their shoes online, and if you are one of these women then you should start by reading an article I wrote where I describe the simplest, yet most effective way to figure out your foot size from home:
How To Measure Your Foot Size – The Most Simple and Effective Way!
The following are some of the DON'Ts that you should consider when buying your running shoes:
Don't buy for looks. Some women are too concerned with being stylish. I can tell you that most of the women that get a shoe just because it looks cool end up coming back in a few months complaining about foot pain. So, you should always put comfort and fit first.
Don't buy shoes that are too small. This is a common mistake that women with narrow feet make, they buy shoes that are too short to compensate for the width. Tight-fitting shoes can lead to blisters and black toenails and other painful issues. Women in particular are used to wearing their shoes close-fitting, as they're often more self-conscious about the size of their feet. Don't underestimate shoes that just fit right!
Don't assume your size. Most people tend to assume what their size is. They get carried away by assumption. You need to be aware that you may be a size in one particular brand and a different one in another brand (even between the same shoe brands there are shoe styles that fit different). Sizes differ because of different lasts (foot forms), the different shapes of the upper, and the way the shoe is stitched together.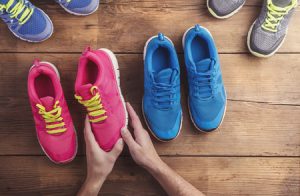 Narrow Running Shoes for Women – The Features!
Besides fitting the shape of your narrow feet, the shoe styles that I will describe in this article will provide the following features to your feet:
Arch support to minimize the impact that your feet receive every time they come in contact with the ground.
A firm heel counter to provide excellent ankle support.
Mesh upper to allow your feet to breathe.
An outsole with great traction on a variety of surfaces to prevent you from slipping.
Flexible, lightweight materials to prevent your feet and legs from getting tired easily.
Removable insole (so you can easily replace it with a more supportive insole or orthotic).
The Best Running Shoes in Narrow Widths ⭐⭐⭐⭐⭐
Now that you know how to make sure you are wearing the correct shoe size and what features a pair of good running shoes must provide, you are ready to see a selection of the best narrow widths running shoes for women. Disclosure: Keep in mind that we may receive commissions when you click our links and make purchases.
Narrow Widths

Narrow Widths

Narrow Widths

Narrow Widths

To prevent your toes from rubbing against the front or side part of the shoes, I highly recommend that you order these sneakers half a size larger than the size that your feet measure. This translates to 0.3 inches or 0.6 centimeters of space between your longest toe and the end of the shoes.
These running shoes have an excellent structure and provide arch support, ankle support, and great durability. The shoes are still lightweight and flexible, and they provide excellent breathability. All these features make these shoe styles the best running shoes for women with narrow feet!
Do you want to provide your child with a pair of narrow running shoes as well? I wrote an article where I describe which are the best narrow running shoes for kids and you can find it here:
Before you leave, I want to show you a shoe lacing technique that I have found to be the most effective one for women with narrow feet.
Lacing Technique for Narrow Running Shoes
Did you know that to get the full benefits that the shoes have to offer, such as support and stability, you must tie them properly?
The lacing technique I will show you will push your heels back, secure them against the heel counter (back of the shoe) of the shoe, and eliminate any extra space around your ankles.
Since I have been fitting shoes for a long time, I have learned every single lacing technique that exists, and they range from teaching a woman the simplest way to tie the shoes and how to tie shoes for women with narrow, wide or extra wide feet.
Always remind yourself to loosen the shoelaces before you put your shoes on, especially if you have narrow heels! The main reason for this is that if you shove your feet inside the shoes without unlacing the shoes, they stretch out and soften the heel counter of the shoe, making the shoes less supportive and wider around the heel area.
It's important to remove your shoes correctly, especially if you have narrow feet!
If you have narrow feet and are wearing a pair of running shoes with shoelaces, kindly take a look at the most effective way to prevent heel slipping and make the shoes feel and fit better.
You should know that how you tie your shoes has a direct impact on how the shoe fits. Running shoes that are tied properly will often provide more support for your feet, prevent injuries such as ankle sprains, and the formation of blisters, calluses, and corns. Properly lacing your shoes will also give you more stability when you walk and run!
1-Start with leaving the top two eyelets of the shoe open.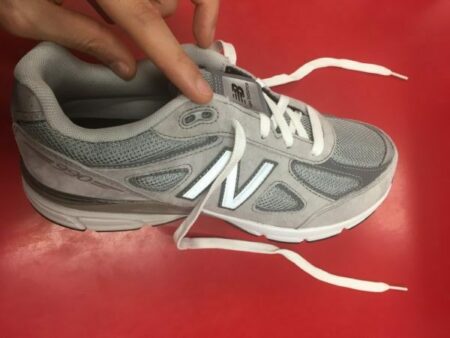 2-Go through the top hole first.
3-Go through the holes you left open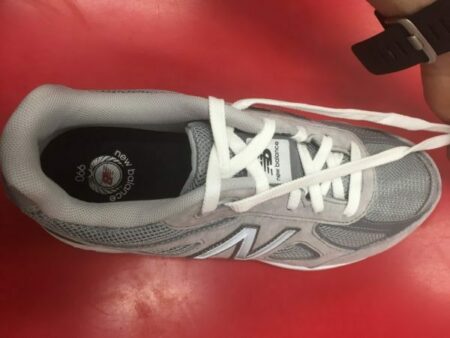 You are all done! You will notice a difference right away.
You should be all set up! This simple method will make a tremendous difference in how your running shoes fit and feel.
Now that you know how to tie your running shoes for your narrow feet, you can keep your feet and legs healthy by preventing foot injuries.
Have you found a good pair of running shoes for your narrow feet? Have you ever tried the lacing technique that I showed you in this post? Please share your thoughts and experiences below so we can all benefit from your experiences!