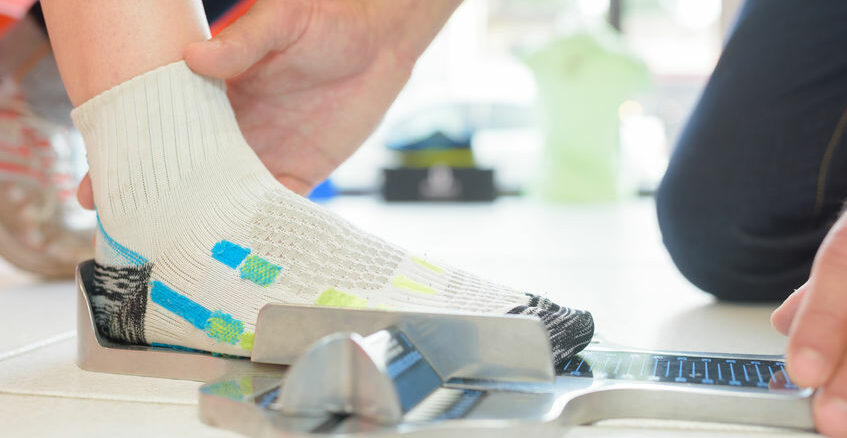 Do you feel like your toes rub against the front part of the shoes? Women have a tendency of buying their shoes on the smaller side. Please note that if when you try the shoes on your longest toe (not necessarily your big toe) touches the end of the shoes, that means that the shoes are too short for you. If your toe rubs against the front part of the shoes while standing, imagine how it will feel when you are running or performing high-impact activities. There should always be some room between the end of your longest toe and the end of the shoes.
Why Most Women Insist on Buying Shoes that Are Too Small?
Did you know that the American Orthopaedic Foot and Ankle Society performed a study that showed that 88% of American women wear shoes that are too small? 
When women walk to the shoe store and I ask them to measure their feet to check what shoes they should wear, they tell me that they already know their shoe size as that's the size they have always worn.
Should You Keep Wearing the Same Shoe Size that you Have Always Worn?
It's simple, if that's the size that you measure at the Brannock measuring device (standard foot measuring tool) you should. However, your foot shape and size can change over time, and some of the factors that contribute to this change are pregnancy, aging and weight gain or loss. Over time and because of gravity, our feet might get longer and wider.
As we age, the body's ligaments and tendons lose their strength and ability to spring back. This means that our arches decrease, which flattens and lengthens the foot and toes.
This often results in an increase in shoe size by a half-size or more. You might also experience a change in foot width, meaning that even though you always ordered medium width shoes, you might now have to start ordering wider shoes.
Don't insist on getting your shoes in a specific size simply because that has been the size you have always worn. I always encourage women to at least try the shoes in a different size to see how they feel.
Find Out Your Exact Foot Length and Shape for Free!
Avoid falling in the trap of the labeling used by shoe manufacturers. The shoe size number is usually a hint to help determine which range to choose your fit from. The main objective of this resource is to retrieve your exact foot length and shape (narrow, medium, wide, extra wide, high instep), as well as possible foot conditions such as flat feet.
I created a free resource where I help women determine their exact foot shape from home.
How to Measure Your Foot Shoe Size – The Most Simple and Effective Way!
The Risks of Wearing Shoes that Are too Small!
Do you usually wear shoes that are too small? Wearing shoes that are too small or with constrained toe boxes can lead women to develop several foot issues such as:
Blisters
Ingrown Toenails
Calluses
Corns
General foot pain
Deformed toes
On top of the issues just mentioned, note that shoes that are too small for your feet, can potentially create circulatory problems. This is something that you really want to avoid, so it's important that your toes have sufficient room to wiggle inside the shoes comfortably.
Most medical professionals, specially podiatrists strongly recommend women to have shoes measured at least once or twice per year. You would be surprised by the number of women who still shop for shoes based on foot measurements taken more dan a decade ago. This is backed by studies that have shown that most women wear shoes in smaller sizes, as they get used to it and this often lead to foot condition, some worse than others.
I truly hope you found this article informative and helpful. We would love for you to share your experiences so we can continue to learn and benefit from the exchanges.