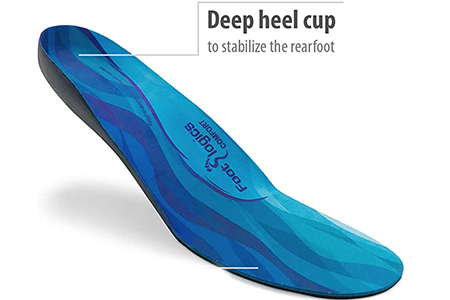 Editor's Note: This post has been completely revamped and updated for accuracy on May 2022 and reflects an up-to-date selection of the best orthotics for women with weak ankles.
Has your medical professional diagnosed you with weak ankles and recommends that you wear a pair of supportive shoes and orthotics? Orthotics can be extremely effective for women with weak ankles as they can help improve stability and decrease pain by stabilizing the ankles. There is a specific orthotic that has proven to be the most effective one for women with weak ankles as it provides a deep heel cup. I will show you the best orthotics for women with weak ankles shortly.
Women with ankle instability have a faulty gait pattern and they are not able to distribute pressure normally across the plantar surface of the foot. I have noticed that most women with ankle instability place more pressure on the outer part of their foot while walking or running. The orthotics that I recommend can help improve your foot posture and walking gait, by shifting your foot to the proper position to help treat and prevent injuries.
Do Orthotics Help Weak Ankles?
Orthotics can help control the position and motion of the ankle and compensate for weakness. They can support the outer heel, preventing the ankle to roll outwards. This can also help prevent ankle sprains.
The goal of an orthotic is to stabilize the foot and ankle and provide toe clearance during the swing phase of gait.
What Makes the Orthotics that I Recommend Ideal for Weak Ankles?
The orthotic that I recommend is specifically designed to correct the misalignment of your feet as it provides a deep cup that will cushion, strengthen, and straighten your ankles. The deep heel cup will also enhance your stability.
☑️ Targeted Heel and Ankle Support: The orthotic that I recommend provides a deep heel cup to cushion, support, and stabilize your ankles: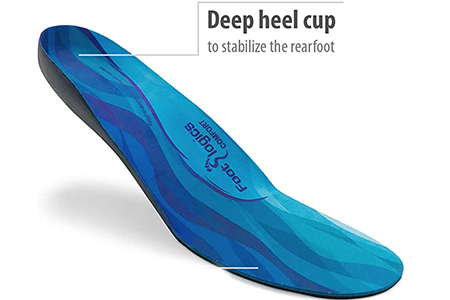 ☑️ Targeted Arch Support: The orthotic that I recommend also provides targeted support right below the arch to relieve foot pain by minimizing the impact that your feet take when they come in contact with the ground: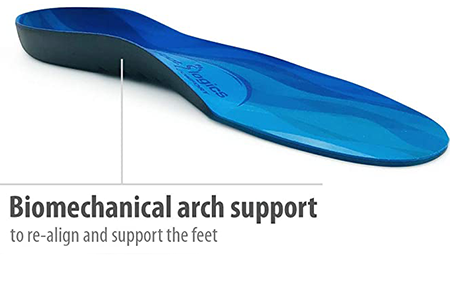 Best Orthotics for Women with Weak Ankles ⭐⭐⭐⭐⭐
The orthotic below is the most effective one that I have fitted for women with weak ankles as it helps control the hindfoot and ankle motion. Disclosure: Keep in mind that we may receive commissions when you click our links and make purchases.
Medically approved insoles with targeted cushion right below the arch and heels
Built-in metatarsal raise
Made from lightweight yet supportive Q-E.V.A. and cushioning, shock-absorbing forefoot and heel padding
Provides relief from plantar fasciitis (heel pain and spurs), fallen arches, ball of foot pain, and other foot complaints
Don't forget to remove the original insoles of your shoes before placing this new orthotic inside your shoes. If you place the orthotic on top of the original insoles you will raise your feet and feel like your feet are coming out of the shoes.
In order for you to get the full benefits that the orthotics have to offer you must fit them in the correct types of shoes. Below are the 4 most important features that your shoes must provide:
✅ Firm Heel Counters: Make sure that your shoes provide support in the heel area and a padded collar at the ankle. Adequate support for the heel and ankle is extremely important if you want to keep your ankles healthy. The heel counter is the back part of the shoe, and if you are not sure where the heel counter is located take a look at the image below. Always press on the heel counter of your shoes to make sure that it feels firm and sturdy:
✅ Targeted Heel Support: Check whether your shoes provide extra cushion and support right below the heels. That extra cushion and support help absorb stress and impact on your ankles, knees, and lower back. Features like gel, EVA, and polyurethane are all good shock-absorbing options. For example, take a look at the image below of a shoe that provides extra cushion (gel) right below the heels: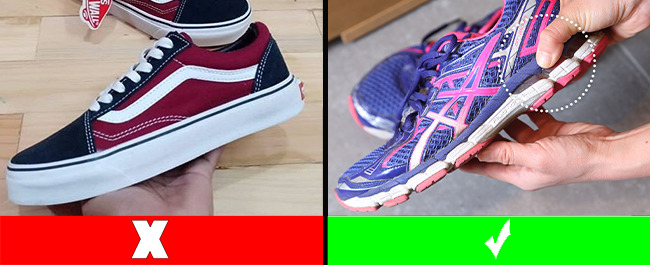 ✅ Arch Support: The shoes come with good arch support to help reduce or fully eliminate the shock that your feet receive every time they impact the ground. Shoes with arch support also help promote proper foot alignment and improve your gait.
✅ Extra Depth: This feature is key as it allows the orthotics to fit deeply inside the shoes and prevents the top part of your feet (instep) from rubbing against the top part of the shoes. Shoes that provide extra depth are also great for orthotics as they won't give you the impression that your feet are coming out of the shoes. Let me show you the difference in depth between one of the shoes I recommend and a different style: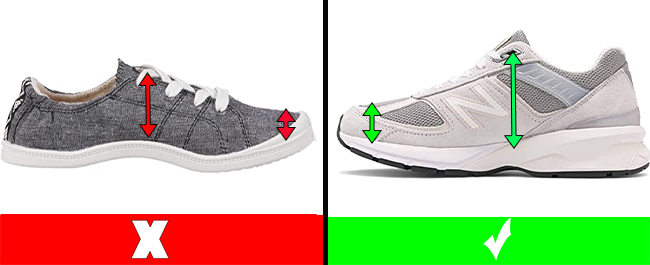 Wearing the wrong types of shoes cannot only aggravate your weak ankles, but can also lead to foot deformities (bunions) and general foot pain. If you are unsure whether you are worrying the correct types of shoes I suggest that you take a look at the article below:
Best Shoes for Women with Weak Ankles – Firm Heel Counters to Protect and Support Your Ankles!
What Causes Weak Ankles?
One of the most common causes is injuries that damage components in your lower legs, ankles, or feet. Women who have sprained their ankles are more prone to developing weak ankles and ankle pain.
Another issue that causes weak ankles is chronic ankle instability, which develops after trauma to the ankle. Wearing the wrong types of shoes that are unsupportive or they are not the correct size is another cause.
Do not hesitate to contact me if you have any further questions: comfortablewomenshoes@gmail.com