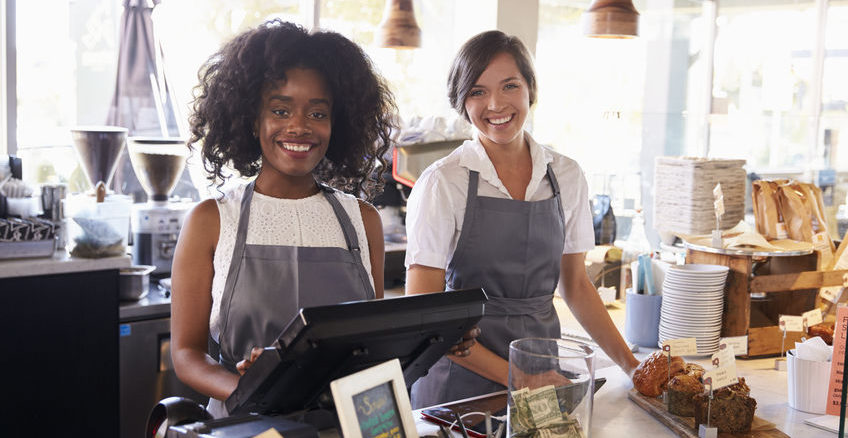 Have you been experiencing foot or leg pain during your work shift? Does your work require you to wear shoes made from a specific color which makes the quest of finding comfortable shoes even harder? Women with wide feet who work at a restaurant have a really hard time finding comfortable work shoes that are supportive and slip-resistant.
Whether you work at a fine dining establishment or a hip and trendy diner, chances are, you're going to be on your feet for most of your shift every working day!
When you work in a restaurant and are on your feet for the most of your day you need to wear shoes that provide good support for your feet. However, the most important thing is that your shoes fit the shape of your feet correctly, so if you have wide feet you need to look for shoes that provide extra depth, rounder toe-boxes, and it helps if the shoes are available in wide ("W", "EE") or extra wide widths ("XW", "EEEE").
Trust me, standing up all day in shoes that are too narrow will eventually take its toll on your poor feet, so getting the correct shoes now will make all the difference and make your working day a little easier!
Just so you know, you should never wear open-toed shoes if you work at a restaurant. I mention this because this might be your first time working at a restaurant. Shoes for restaurant workers are always closed-toe, comfortable, and slip-resistant.
My Experience Helping Women Find the Perfect Pair of Shoes for their Feet
I have been fitting women's shoes for the last 10 years. I work for a specialized shoe store that helps women with "complicated" foot shapes and foot conditions find the correct pair of shoes for their feet.
I have helped hundreds of women with wide feet find the perfect pair of shoes for their feet, and I am confident I will be able to help you as well.
Several women who come to the shoe store explain to me how all of the shoes they have tried that meet their work dress code feel too narrow for their feet. They proceed to explain how the shoes need to be made of a specific color and it's a huge plus if they are slip-resistant.
Are Clogs Better than Sneakers?
Several women have mentioned that clogs are towards the top of their work shoe list. This type of shoe provides a rocker bottom that reduces fatigue and offers shock absorption comparable to athletic footwear. Take a look at the image below to visualize how a pair of clogs look like: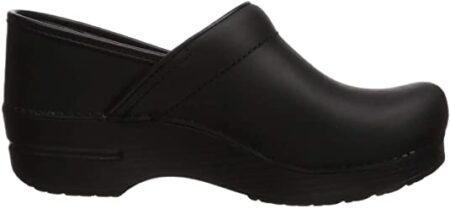 I usually recommend that restaurant workers wear sneakers instead of clogs as sneakers provide better support and stability compared to clogs.
What are my Favorite Shoe Brands for Restaurant Shoes?
There are 3 shoe brands that are my go-to ones for restaurant workers who have wide feet:
Skechers
New Balance
Dansko
What Makes the Shoes that I Recommend Ideal for Restaurant Workers with Wide Feet?
There are 5 key features that the shoes I recommend provide that makes them ideal for restaurant workers with wide feet:
✅ Round Toe-Boxes: The restaurant shoes that I recommend provide rounder toe-boxes instead of pointier ones. The shoes are available in different widths such as wide ("W", "EE") and extra wide ("XW", EEEE") to accommodate the shape of your wide feet.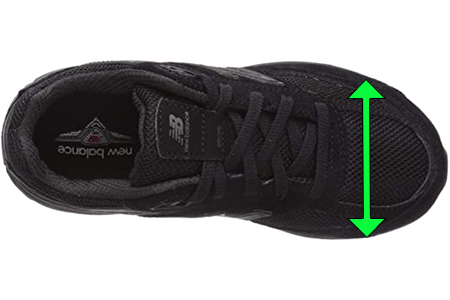 ✅ Extra Depth: This feature helps accommodate women with wide feet and high insteps. Shoes that provide extra depth help prevent that the top part of the foot rubs against the front part of the shoes.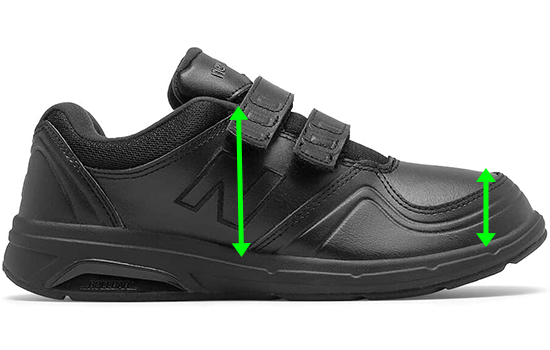 ✅ Slip-Resistant: Restaurants can be riddled with hazards, and very slippery floors. Simple spills are an injury waiting to happen for those women who are not wearing the right shoes. All of the shoes that I recommend come with a slip-resistant outsole.
✅ Substantial Outsoles: It's important that your work shoes provide good support to attenuate the impact that your feet take when they come in contact with the ground.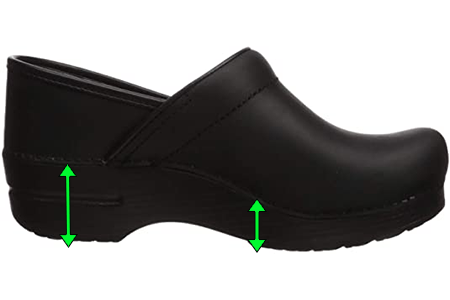 ✅ Firm Heel Counters with Targeted Heel Support: This is the back part of the shoe that provides heel and ankle support, and the firmer it is, the better.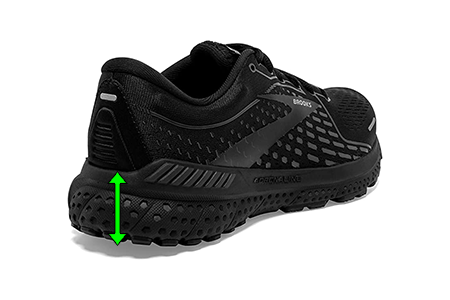 I am going to show you a selection of work shoes that provide all of these 5 important features, but you should keep in mind that if you don't order the correct shoe size online, you won't get any of the benefits that the shoes have to offer and you could end up injuring yourself and creating other foot issues.
Do You Know Your Exact Foot Shape?
Some women believe that they have wide feet when in fact they have extra wide feet. Some other women are unsure whether they have a high instep or not.
Many women wear shoes that are too narrow and too short for their feet, and what they don't realize is that they can end up causing themselves mild to severe foot related issues.
Shoes that are too short or too narrow will make your toes rub and overlap against one other, and that constant rubbing can lead to blisters or corns. Shoes that are too long or too wide will allow your feet to move too much inside the shoes, and that constant movement will also lead to the foot issues mentioned above.
Also, to get all the benefits and features that a good shoe provides, you must wear them in the correct shoe size. Most women are walking around with shoes that are either too short or too narrow for their feet.
How to Figure Out Your Exact Foot Length and Shape – Get it Right!
It's important to know your exact foot size, especially if you are going to be buying your shoes online.
One thing you should know about shoe fitting is that you also need to measure the contours of the bottom of your foot. A professional can help you measure those contours. However, if you don't have a local shoe store that you trust, you should start by reading an article that describes the simplest, yet most effective way to figure out your foot size from home. Please click on the link below:
How To Measure Your Foot Size – The Most Simple And Effective Way! 
Some of the restaurant shoes that I recommend below are available with shoelaces while some others are available with velcro closure. Several women find velcro shoes a lot more convenient when working at a restaurant, but I suggest shoes with shoelaces as they will provide better support and stability.
Do More Expensive Shoes Automatically Translate Into Better Shoes for Your Feet?
The prices of restaurant work shoes vary depending on brand and quality and they can be affordable, expensive, or very expensive. Just so you know, more expensive shoes don't automatically translate into better shoes for your feet.
I have fitted very reasonable shoes that provide the same levels of support as the more expensive ones. The key is for the shoes to fit the shape of your feet correctly.
Below you can find a selection of the most comfortable restaurant shoes for women with wide feet. Disclosure: Keep in mind that we may receive commissions when you click our links and make purchases.
Most Comfortable Restaurant Shoes for Women with Wide Feet
Take a look at the description below each shoe to check whether that specific shoe can accommodate your wide or extra wide feet.
Fits Wide Feet

Fits Wide, and Extra Wide Feet

Fits Wide Feet

Fits Wide Feet

All of these slip-resistant work shoes are made from durable, high-quality leather, so you can rest assured that they will hold up properly.
Internal shank for added stability and support.
Supportive but lightweight and flexible.
What Shoe Size Should You Order?
To prevent your toes from rubbing against the front or side part of the shoes, I highly recommend that you order these shoes half a size larger than the size that your feet measure. This translates to 0.3 inches or 0.6 centimeters of space between your longest toe and the end of the shoes.
Are There Any Other Shoe Choices Available?
Do not hesitate to contact me if you are unsure about which work shoe will work best for your feet or if you are having a hard time finding a different pair of shoes to accommodate your wide feet:
comfortablewomenshoes@gmail.com 
Why Should Restaurant Workers Invest in a Good Pair of Shoes?
Whether you work at the front or back of the house, it's highly likely that you will spend your whole day on your feet. If you wear shoes that are too narrow or unsupportive you may increase leg problems like swelling, pain, numbness, and cramps.
Wearing the correct type of restaurant shoes will take care of your comfort and protect your health by preventing trips and falls.
Have you found a specific pair of restaurant work shoes that worked well for your wide feet? Let us know in the comment section below so other women can benefit from your experiences.