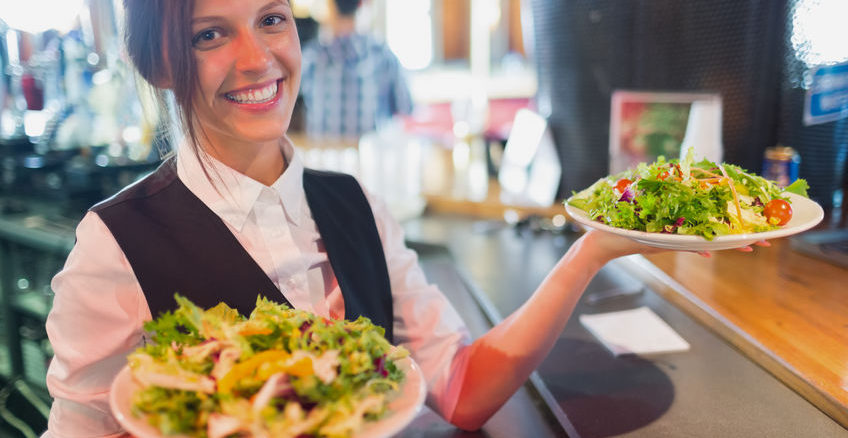 Have you been looking nonstop for a good pair of restaurant shoes? Are you becoming frustrated because you don't have a good and comfortable pair of shoes to wear to work?
When you work in a restaurant and are on your feet for the most of your day you need to wear shoes that provide good support to your feet.
Whether you work at a fine dining establishment or a hip and trendy diner, chances are, you're going to be on your feet for the most of your shift every working day!
In addition, restaurant environments are fast-paced, requiring everyone from cooks to servers to be quick and at their feet at all times. So, if you work in a restaurant you need to make sure you find an excellent pair of shoes that are both comfortable and appropriate for the job.
Any woman who's worked at restaurants can attest that you would do a lot of standing, walking and even running around throughout a typical shift. Without a doubt, you need shoes that can do the double duty of being on your feet all day but also keeping your feet healthy and comfortable.
Can you imagine having to work every shift with tight and uncomfortable shoes all day?
Trust me, standing up all day in the wrong shoes will eventually take its toll on your poor feet, so getting the correct shoes now will make all the difference and make your working day a little easier! Plus, wearing the correct type of shoe has several benefits, and will prevent you from developing blisters, calluses, and corns, among other issues.
If you work in a restaurant there are certain shoe styles that will provide better support to your feet which will prevent foot and leg pain. In addition, your restaurant shoes should also be slip-resistant, made out of leather, and be lightweight and flexible at the same time to prevent your feet and legs from easily getting tired.
I am an expert when it comes to fitting women's shoes since I have been working for a specialized shoe store for the last 10 years. Moreover, I have been helping women find the correct type of shoes and orthotics to reduce or fully eliminate the foot and leg pain that they were having. We specialize in women with foot and leg problems, but we provide regular shoe fittings as work shoes for women in the different types of work industries.
In this post, I am going to show you a selection of the best restaurant shoes for women, but first I want to make sure you know your exact foot size and the features that these shoes have to offer.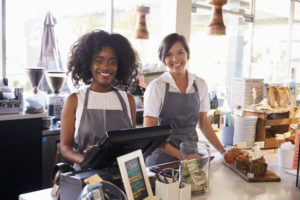 Are You 100% Sure You Know Your Exact Foot Size? – Let's Find Out!
Bear in mind that your shoes should fit just right, otherwise you could end up injuring yourself and creating other foot issues. Many women wear shoes that are too narrow and too short for their feet, and what they don't realize is that they can end up causing themselves mild to severe foot related issues.
Shoes that are too short or too narrow will make your toes rub and overlap against one other, and that constant rubbing can lead to blisters or corns. Shoes that are too long or too wide will allow your feet to move too much inside the shoes, and that constant movement will also lead to the foot issues mentioned above.
Also, to get all the benefits and features that a good shoe provides, you must wear them in the correct shoe size. Most women are walking around with shoes that are either too short or too narrow for their feet.
It's important to know your exact foot size, especially if you are going to be buying your shoes online.
One thing you should know about shoe fitting is that you also need to measure the contours of the bottom of your foot. A professional can help you measure those contours. However, if you don't have a local shoe store that you trust, you should start by reading an article that describes the simplest, yet most effective way to figure out your foot size from home. Please click on the link below:
How To Measure Your Foot Size – The Most Simple And Effective Way!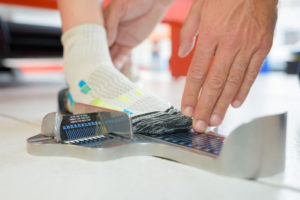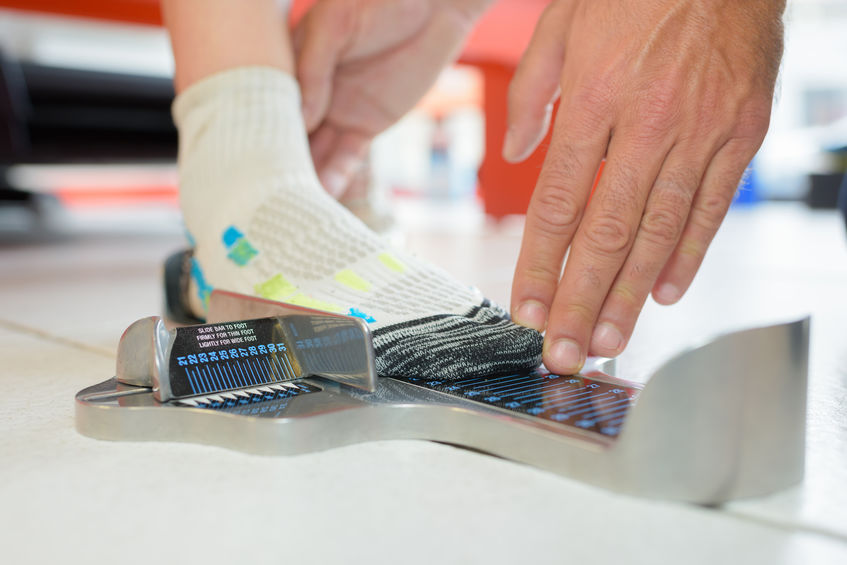 How to Choose the Right Restaurant Shoes — Wear Slip Resistant Shoes!
One of the most important things to look for when finding a pair of restaurant shoes is slip-resistance. Restaurants can be riddled with hazards, and very slippery floors. Simple spills are an injury waiting to happen for those women who are not wearing the right shoes!
You should then focus on finding a good pair of slip-resistant shoes. These types of shoes provide you with more stability and work wonders when you are keeping up at your work. Also, these shoes provide the best type of resistance that helps prevent you from slipping on watery, soapy or oily surfaces.
Without slip resistant shoes, water, ice and slippery surfaces can all make work dangerous, making you more prone to falls and injuries. You should allow yourself to work confidently and be able to walk even on wet surfaces.
Key Features Checklist ✅
On top of your shoes being slip resistant, you also need to make sure that the work shoes that you buy for yourself have the following key features:
✅ Arch Support
✅ Heel Support
✅ Anti-bacterial lining
✅ Breathable
✅ Lightweight and Flexible
✅ Cushioning soles
✅ Deep (to have the option to fix and orthotic if needed)
Nonetheless, please remember that it doesn't matter how many features a particular shoe style provides, if the shoe is not fitted properly, you will not get any of the benefits that the shoes have to offer. What's even worse, you can end up creating all sorts of foot issues to your feet such as blisters, calluses, and corns.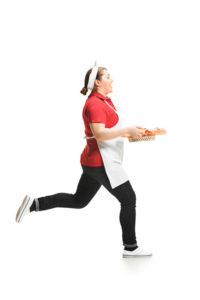 Now that you know how to figure out your foot size from home and what features your restaurant shoes must provide, you are ready to take a look at a selection of the best restaurant shoes for women.
I only review shoe styles that I have fitted before since that is the only way for me to tell how well-made the shoes are, the amount of support that they provide, and how they fit. Disclosure: Keep in mind that we may receive commissions when you click our links and make purchases.
The Best Restaurant Shoes for Women ⭐⭐⭐⭐⭐
Below you can find a selection of the best restaurant shoes for women.
Fits Narrow – Medium

Fits Narrow – Medium

Fits Medium -Wide – Extra Wide

Fits Medium -Wide – Extra Wide

Fits Narrow – Medium – Wide

All these shoe styles offer all the safety you'll need to navigate the tables and kitchen with ease!
Keep in consideration that shoes can run short, long, narrow, or wide, and depending on how they run you will need to adjust the size that you get for yourself.
You always want to wear a half size longer than the size that you measure in the shoe measuring scale to prevent your toes from rubbing against the side or the front of the shoes.
However…
If you measure a foot size 5 and the shoes fit "short", then you will need to choose the shoe size 6 to allow enough wiggle room (a whole size longer instead of half a size longer). On the other hand, if the shoes fit "long" then you will need to pick the same shoe size instead of going half a size longer (since the shoes already fit long).
To prevent your toes from rubbing against the front or side part of the shoes, I highly recommend that you order these shoes half a size larger than the size that your feet measure. This translates to 0.3 inches or 0.6 centimeters of space between your longest toe and the end of the shoes.
On the other hand, if you are seating in an office all day and are looking for comfortable office shoes, then you can take a look at an article I wrote on the most comfortable office shoes for women. Just click on the link below.
On a different note, if you have a child and you are looking to provide them with a pair of good supportive shoes, you can go to a page I created on fitting children's shoes, where you can find all information related to shoe fittings and more. Kindly click on the link below.
Fitting Children's Shoes – The Best Place to Find Kids' Shoes That Fit for Any Foot Problem!
To do a great job, you first need to be wearing comfortable shoes especially if you're on your feet all day.
Have you tried the shoes that I recommend in this article? Have you found another shoe style that has worked well for the restaurant and that you would like to recommend? Please share your thoughts and experiences below so other working women can benefit from your experiences.