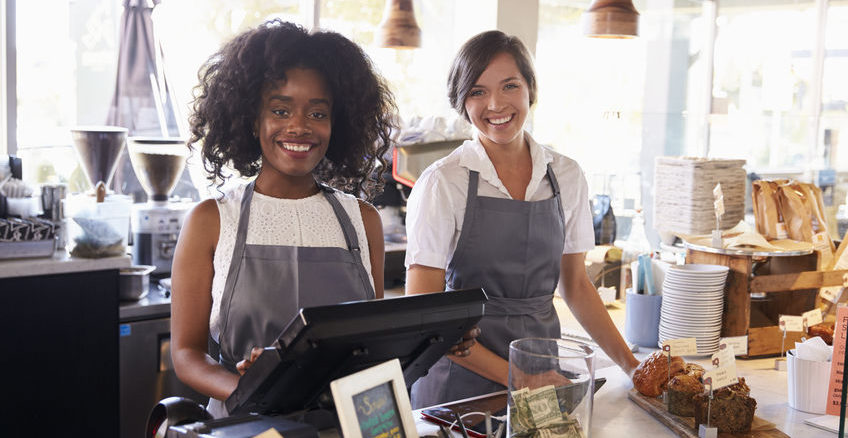 Are you in the retail industry and have been looking relentlessly for a good pair of work shoes to support your feet? Are you becoming frustrated at work since your feet and legs are hurting from not wearing a pair of good and durable pair of work shoes?
While you are working as a cashier, clerk, promoting a product or service, customer service representative, sales associate, sales consultant, assistant buyer, or bridal consultant; you should always be wearing the right type of work shoes.
As you can imagine, working in retail involves lot of activeness like constantly walking, standing and even running around.
Do you imagine having to wear tight and uncomfortable shoes all day at work?
Certain work shoes provide two key features that will guarantee to keep your feet comfortable and healthy.
✅ Extra Depth: This feature will allow your feet to fit deeply inside the shoes, preventing the top part of your feet from rubbing against the top part of the shoes. This feature is important especially for women who have wide feet and a high instep.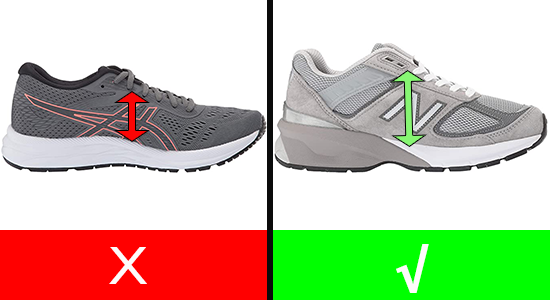 ✅ Round Toe-Box: Shoes that come with a round toe-box will prevent your toes from overlapping one another or rubbing against the side of the shoes.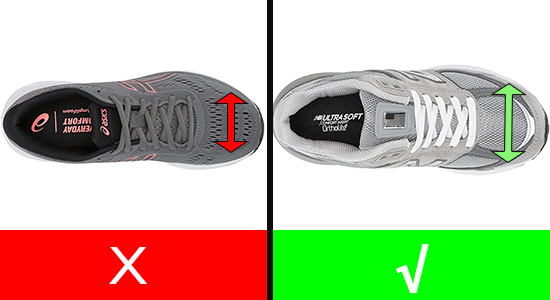 Most women are confused as to how they are supposed to find shoes that provide these two features if shoes don't come labeled as extra deep or with a round toe-box. The good news is that I know exactly which shoe styles will provide you with these two features and I will describe them shortly.
A lot of retail jobs also involve problem solving so, to facilitate your job, you first need to be wearing comfortable shoes.
Trust me, standing up all day in the wrong shoes will eventually take its toll on your feet, so getting the correct shoes now will make all the difference and make your working day a little easier. Plus, wearing the correct type of shoe has several benefits, and will prevent you from developing blisters, calluses, and corns, among other issues.
I am an expert when it comes to fitting women's shoes since I have been working for a specialized shoe store for the last 10 years. Moreover, I have been helping women find the correct type of shoes and orthotics to reduce or fully eliminate the foot and leg pain that they were having. We specialize in women with foot and leg problems, but we provide regular shoe fittings such as work shoes for women in the different types of work industries.
It's important for us to carry top quality work shoes that are available in different widths, since that's the only way we can guarantee to fit every working woman.
In this post, I am going to show you a selection of the best work shoes for women in retail, but first I want to make sure you know your exact foot size and the features that these shoes have to offer.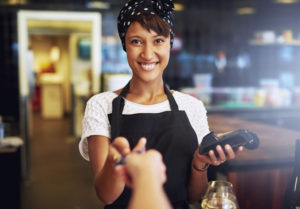 How to Choose the Right Work Shoes — Features Checklist ✅
Bear in mind that your shoes should fit just right, otherwise you could end up injuring yourself and creating other foot issues. Many women wear shoes that are too narrow and too short, and what they don't realize is that they can end up causing themselves mild to severe foot related issues.
Now, how to choose the right work shoes then?
Simple! You just need to make sure that the work shoes that you buy for yourself have the following key features:
✅ Arch Support
✅ Heel Support
✅ Breathable
✅ Lightweight and Flexible
✅ Cushioning soles
✅ Deep (to have the option to fit and orthotic if needed)
✅ Slip resistant
✅ Durable
Can we find a shoe style that provides all of these features? Yes, we can, and I will describe them below.
Please remember that it doesn't matter how many features a particular shoe style provides, if the shoe is not fitted properly, you will not get any of the benefits that the shoes have to offer. What's even worse, you can end up creating all sorts of foot issues to your feet such as blisters, calluses, and corns.
If you develop a foot issue, you will have a hard time standing on your feet all day since blisters can be extremely painful.
Are You 100% Sure You Know Your Exact Foot Size? – Let's Find Out!
Note that to get all the benefits and features that a good shoe provides, you must wear them in the correct shoe size. Most women are walking around with shoes that are either too short or too narrow for their feet.
It's important to know your exact foot size, especially if you are going to be buying your shoes online.
One thing you should know about fitting is that you also need to measure the contours of the bottom of your foot. A professional can help you measure those contours.
Start by reading an article that describes the simplest, yet most effective way to figure out your foot size from home. Please click on the link below:
How To Measure Your Foot Size – The Most Simple And Effective Way!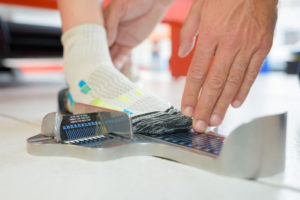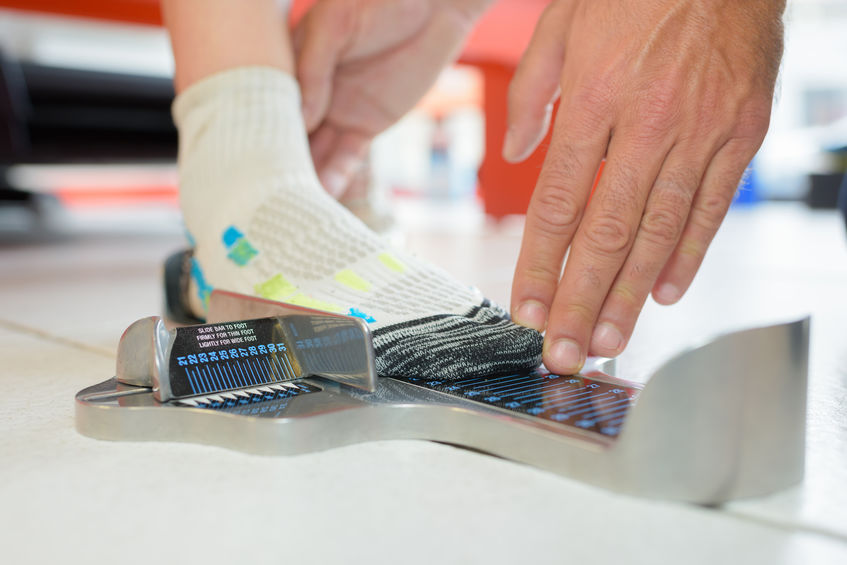 New Balance Work Shoes – Working Comfortably!
 New Balance has a particular shoe style that is most appropriate for a woman working in retail and that spends most of her day standing on her feet.
New Balance 626 Cross Training Work Slip Resistant Shoes. This shoe style has been designed to provide all day comfort when you are working. Moreover, they have an ABZORB foam lining construction, and a slip resistant outer sole. Plus, they are lightweight, which helps when you are walking or running around.
Orthofeet Work Shoes – Deep and Comfortable!
Have you heard of the shoe company Orthofeet before? They make some of the most supportive women's shoes that can accommodate all types of feet since they are available in narrow, medium, wide, and extra wide widths.
These are my to-go shoe brands for women who need extra support from their shoes or have a complicated foot shape.
Now that you know what features these shoe styles will provide and how to figure out your exact foot size from home, you are ready to take a look at a selection of the best work shoes for women in retail.
I only review shoe styles that I have fitted before since that is the only way for me to tell how well-made the shoes are, the amount of support that they provide, and how they fit. Disclosure: Keep in mind that we may receive commissions when you click our links and make purchases.
The Best Work Shoes for Women in Retail ⭐⭐⭐⭐⭐
Below you can find a selection of the best work shoes for women in retail.
Fits Narrow – Medium

Fits Narrow – Medium

Fits Medium -Wide – Extra Wide

Fits Medium -Wide – Extra Wide

Fits Narrow – Medium – Wide

Keep in consideration that shoes can run short, long, narrow, or wide, and depending on how they run you will need to adjust the size that you get for yourself.
You always want to wear half a size longer than the size that you measure in the shoe measuring scale to prevent your toes from rubbing against the side or the front of the shoes.
Although…
If you measure a foot size 6 and the shoes fit "short", then you will need to choose the shoe size 7 to allow enough wiggle room (a whole size longer instead of half a size longer). On the other hand, if the shoes fit "long" then you will need to pick the same shoe size instead of going half a size longer (since the shoes already fit long).
To prevent your toes from rubbing against the front or side part of the shoes, I highly recommend that you order these shoes half a size larger than the size that your feet measure. This translates to 0.3 inches or 0.6 centimeters of space between your longest toe and the end of the shoes.
If you are seating in an office all day and are looking for comfortable office shoes, then you can take a look at an article I wrote on the most comfortable office shoes for women. Just click on the link below.
On a different note, if you have a child and you are looking to provide them with a pair of good supportive shoes, you can go to a page I created on fitting children's shoes, where you can find all information related to shoe fittings and more. Kindly click on the link below.
Now that you know which are the best work shoes for women in retail, you are ready to keep your feet and legs healthy.
Have you tried the New Balance shoes that I recommend in this article? Have you found another shoe style that has worked well for you at your retail job and that you would like to recommend? Please share your thoughts and experiences below so other working women can benefit from your experiences.