Editor's Note: This post has been completely revamped and updated for accuracy on May 2022 and reflects an up-to-date selection of seamless socks for women.
Do you feel like every time you wear regular socks, your feet get irritated? Are you looking for a pair of good seamless socks?
If you normally avoid wearing socks with your shoes because of the seams or because they don't feel comfortable, then seamless socks are perfect for you! I have been contacted by several women who explained to me how they had to stop wearing socks because they couldn't stand how the seams felt.
Bear in mind that no seam means no irritation! Seamless socks are designed to reduce or end the irritation that often causes blisters and soreness. In addition, seamless socks have a knitting process that starts at the toe and spins upwards from there. This fully eliminates the irritating seams and makes them the best choice for sensitive, diabetic, arthritic, swollen, or extra wide feet.
Have you bought socks that claimed to be 100% seamless and been disappointed because they weren't? Don't worry because 100% seamless socks do exist, and I will show you which ones they are shortly.
I am an expert when it comes to fitting women's shoes and everything that relates to socks since I have been working for a specialized shoe store for the last 10 years. I have been helping women find the correct type of shoes and orthotics to reduce or fully eliminate the foot and leg pain that they were having. I know which shoe brands and which shoe styles are better than others, and I also know which socks styles are better made and more comfortable for women.
I will show you a selection of the best seamless socks for women but first I want to show you why it's important to wear socks with your shoes.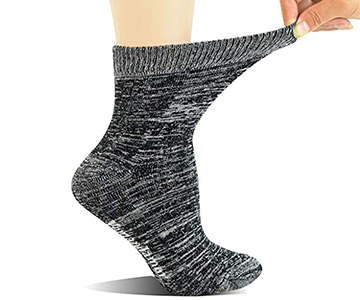 The Importance of Wearing Socks – Keeping Your Feet Healthy!
Socks play a very important role in keeping your feet comfortable and healthy as they mainly act as a barrier between your feet and the shoes. Socks prevent infections and the buildup of bacteria inside the shoes. So, something so simple as wearing socks can prevent all sorts of painful or uncomfortable foot issues!
If you don't wear socks with your shoes, then you are more prone to developing these issues and you miss out on the comfort they provide.
It's also important to choose the correct type of socks because you don't want to constrict the toes or make them overlap each other. Seamless socks are truly the best type of socks for women since they don't constrict toe movement.
Especially if you have wide or extra wide feet, it's important that you wear socks that are seamless to prevent your toes from rubbing or overlapping one another.
Benefits of Wearing Seamless Socks — Don't Miss Out!
You might get convinced to wear socks after knowing about the benefits of wearing seamless socks. Take a look below at the main benefits:
☑️ Comfortable. Seamless socks are made from high quality fibers that also cushion your feet to fit your shoes with maximum comfort.
☑️ Completely free of seams: Free of seams means that you will have reduced or no irritation at all.
☑️ Breathable: These socks are made of high-tech fibers which will wick moisture away and prevent you from getting smelly stinky feet.
☑️ Made with a unique no heel design: This will make it easier for you to put them on.
☑️ Secure fit: This will prevent the socks from slipping off your feet, and it will also prevent the wrinkling and uncomfortable bunching of the socks.
☑️ Prevent foot issues: It will prevent the formation of blisters, calluses, and corns since they will protect your feet from rubbing against the shoes.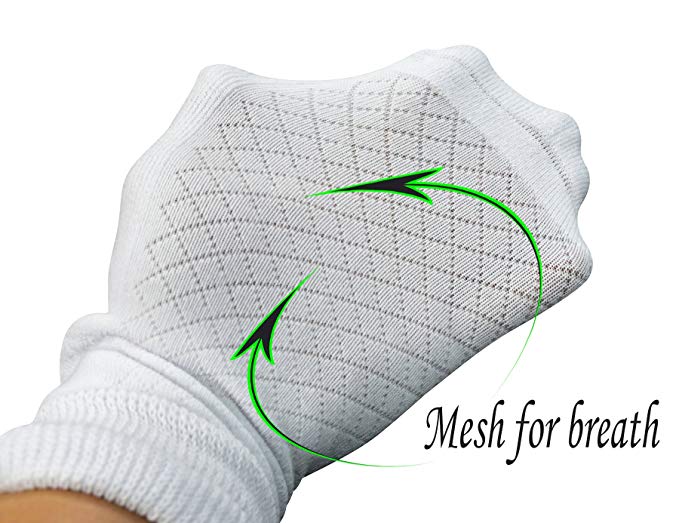 Finding Out Your Exact Foot and Sock Size — Easy & Simple!
I always underscore the importance of wearing the correct shoe and sock size.  You won't get all the benefits that socks have to offer if you don't wear the correct size.
Plus, if you know your correct foot size, you will know your correct sock size for sure. Most socks packages come with a label that reads "Fits Sock Size", and "Fits Shoe Size".
One of the most common mistakes that women make is getting confused by looking at the label that reads "Fits Sock Size".
Always refer to the label that reads "Fits Shoe Size", this way you will be able to find the correct sock size for your feet. If you are unsure about your foot size, then you can start by reading an article I wrote that describes the simplest, yet most effective way to figure out your foot size from home. Please click on the link below:
How To Measure Your Foot Size – The Most Simple And Effective Way!
Once you know your exact foot size, you will be ready to find the perfect sock size for your feet. Socks that are too short can constrict toe movement, while shoes that are too long might end up bunching up below the feet and causing discomfort. Under the sock label, always refer to where it says "fits shoe size" instead of "fits sock size".
Take a look at the examples below for better visualization purposes.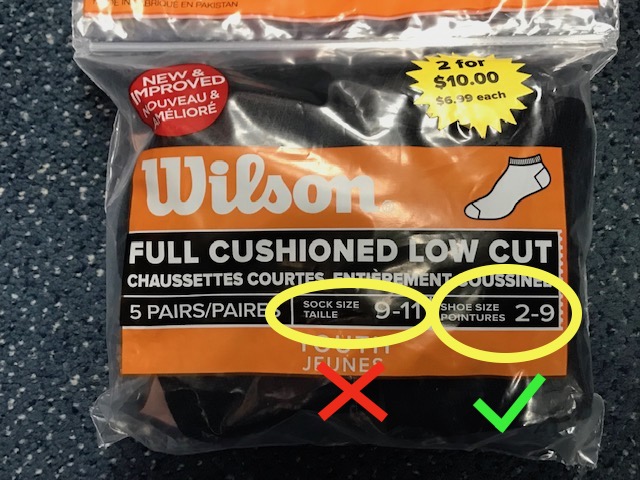 What Are Other Women Saying? – Sharing Experiences!
Take the opportunity of knowing what other women had to say about seamless socks:
"I have always hated to wear socks but now that I have tried seamless socks, I love wearing them."
I have extra wide feet and I can testify that seamless socks are the most comfortable and the best option for my feet!
"I was pregnant and had my feet ultra-swollen and I'll tell you that seamless socks and my slip-on shoes made my life easier!"
"I go for a run every morning and always use seamless socks with my shoes, but one day I couldn't find a clean pair of my seamless socks—by the end of the run my feet were irritated and hurting. Seamless socks do make a difference!
You can rest assured that I only review socks that I have fitted before since that is the only way for me to tell how well-made they are, their quality, and how they fit. Disclosure: Keep in mind that we may receive commissions when you click our links and make purchases.
Best Seamless Socks for Women ⭐⭐⭐⭐⭐
Below you can find a selection of the best seamless socks for women.
In addition, if you have kids and want to provide them with a pair of seamless socks, then you can take a look at an article I wrote where I describe the best kid's seamless socks for kids. Please click on the link below.
Seamless Socks for Kids – Stop the Struggle of Putting Socks On!
Have you already tried seamless socks? How was your experience wearing seamless socks in comparison to normal socks? Please share your thoughts and experiences in the comment section below so we can all benefit from your experiences.