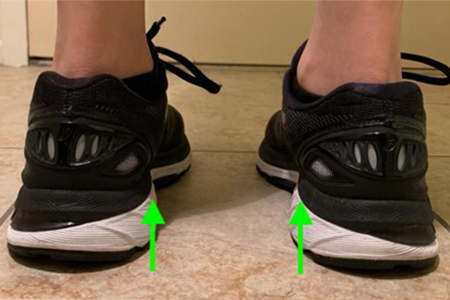 Are you dealing with a foot condition that is making it painful to perform the everyday activities that you enjoy doing? Has your medical professional recommended a pair of supportive shoes? Foot pain is not normal. It's not normal for women to feel like they can't walk from being in constant pain.
Depending on the degree of your foot condition the correct type of shoes can make a world of difference when it comes to treating and preventing foot pain.
My Experience Helping Women with Foot Pain
I have worked for a shoe store for the last 10 years that specializes in helping people with foot and leg problems. I have helped several women with "complicated" foot shapes as well as foot conditions find the correct type of shoes, and I believe I can help you too.
While I am not a doctor, I have been lucky to have helped several women with foot pain find the correct pair of shoes. It's really important for women to be proactive and don't take the "wait and see approach" when it comes to treating their foot or leg pain. The more you wait to treat your foot condition the worst it can get.
What is the Best Shoe Brand for Women?
You have no idea how many women ask me this question: "What is the best shoe brand for foot pain?"
There is no universal shoe brand that works best for women with foot pain. Just like every woman is different, every foot is different, which means there is no such thing as a perfect shoe brand or shoe style that will work for everyone.
There is among each shoe brand specific shoes that provide better support than others. Now, which specific shoe style will work best for your feet depends on your foot shape.
For example, Asics manufacture really good supportive shoes but they will only work for women with narrow or medium feet. On the other hand, New Balance manufactures certain shoes that provide really good support but they will work best for women with wide or extra wide feet.
Some women believe they have wide feet when in fact they have extra wide feet. Other women believe they have medium feet when in fact they have narrow feet.
When Was the Last Time You Checked Your Foot Size?
Your foot shape and size can change over time, and some of the factors that contribute to this change are pregnancy, aging and weight gain or loss. Over time and because of gravity, our feet might get longer and wider.
As we age, the body's ligaments and tendons lose their strength and ability to spring back. This means that our arches decrease, which flattens and lengthens the foot and toes.
This often results in an increase in shoe size by a half-size or more. You might also experience a change in foot width, meaning that even though you always ordered medium width shoes now you might have to start ordering wider shoes.
Don't insist on getting your shoes in a specific size simply because that has been the size that they always wore. I usually have to insist to them that they need to at least try the shoes in a different size to see how they feel.
Buying shoes online can be a challenge. If you are unsure of your current foot shape or foot length, I suggest that you take a look at a different resource I created where I help women determine their exact foot shape from home:
How to Measure Your Foot Shoe Size – The Most Simple and Effective Way!
What Qualifies as a Good Supportive Shoe?
I have noticed that there are two features that make a shoe supportive. To put it simply, the shoes I recommend help minimize the impact that your feet and heels take every time they come in contact with the ground because of these two features:
☑️ Targeted Heel Support: The shoes I recommend provide a heel technology cushioning system that helps attenuate shock during impact and toe-off phases. The shoes I recommend provide targeted support right below your heels, which is great for shock absorption. Take a look at the image below to visualize what I mean: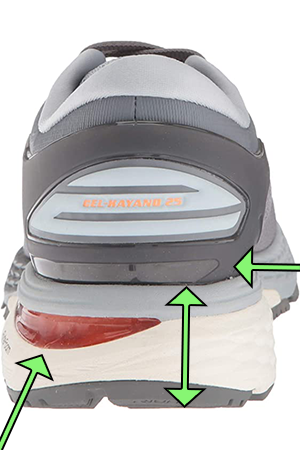 ☑️ Substantial Outsoles: The shoes I recommend also provide substantial outsoles that offer superior rear foot motion control that supports and cushions the feet. Shoes with good arch support reduce muscle strain and help you to maintain balance.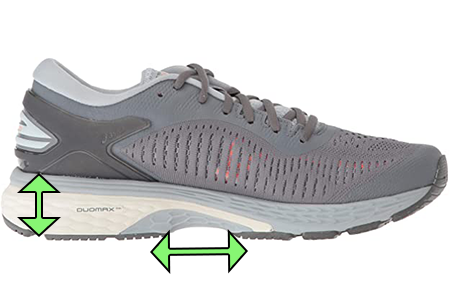 Keep in mind that the shoes I recommend provide excellent support yet offer just enough flexibility to allow the foot to naturally flex.
Finding a shoe that provides these two features might sound like a simple task, but it isn't. There is only very few women's shoes that help align the feet to their natural position and evenly distribute the body weight across your foot.
Best Supportive Shoes for Women ⭐⭐⭐⭐⭐
Remember that which shoe style will work better for your feet directly depends on your foot shape. To figure out which shoe style will be best for your foot shape, look at the description below each image to find out which foot shape that specific shoe is capable of accommodating. Disclosure: Keep in mind that we may receive commissions when you click our links and make purchases.
Fits Narrow and Medium Feet

Fits Medium, Wide, and Extra Wide Feet

Fits Medium and Wide Feet

Fits Narrow and Medium Feet

Fits Medium, Wide, and Extra Wide Feet

Fits Medium and Wide Feet

What Shoe Size Should You Order?
To prevent your toes from rubbing against the front or side part of the shoes, I highly recommend that you order the shoes a whole size larger than the size that your feet measure. This translates to 3/8 of an inch or 1 centimeter of space between your longest toe and the end of the shoes.
As far as style concern, I am not sure whether you will find these running shoes stylish enough. I wish I could provide you with a broader selection of shoes but, these are the ones I am most familiar with and that I know have helped several women with foot pain. When women are dealing with foot pain it should be all about comfort and support.
The shoes I recommended can help reduce the risk of plantar fasciitis that is a very common condition and can be difficult to treat if not looked after properly.  These shoes will help with the following conditions:
Achilles tendinitis: Obesity and tight calf muscles can increase tendon strain.
Heel spurs: Heel spurs are associated with plantar fasciitis but are usually not the source of pain.
Flat feet: When women have flat feet, pain in the heel is quite common. This is usually due to the extra burden placed on the tendons and ligaments in that area because of the lack of arch support.
The Importance of Lacing Your Shoes Correctly
Make sure that your shoes are properly tied at all times. Don't be afraid of pulling the laces comfortably tight, as the tighter you make them the more support and stability you will get from the shoes. There is a specific shoe lacing technique I recommend securing your feet and get the most support out of the shoes:
The Best Way to Tie Shoes – The Proven Method to Make Your Shoes Feel Better!
Do not hesitate to contact me if you are looking for a different pair of shoes to help treat and prevent your heel pain. Sneakers are always more effective than seasonal or dress shoes when it comes to treating foot pain. However, I will be happy to recommend a different pair of shoes for your feet:
comfortablewomenshoes@gmail.com 
Orthotics for Women with Foot Pain
If after trying any of the shoes I recommend for 5 to 6 months your foot pain is not significantly reduced or fully eliminated, I suggest fitting an orthotic inside the shoes for extra support.
I have fitted several different types of orthotics throughout the years, but there is a particular one I have found to be the most effective one in helping women walk and run straighter, and reducing or fully eliminating their feet and leg pain.
This orthotic is made of extremely comfortable materials, provides arch and ankle support, and will help align your feet and legs by preventing your feet from collapsing when walking or running (as long as they are fitted in the correct pair of shoes).
The following are the features this orthotic provides:
Designed to mold over time to fit each women's unique foot.
Made of a new soft step material that drastically increases comfort.
Made of premium medical grade PU foam for women with heel and arch support problems.
If you want to learn more about the orthotic I recommend I suggest that you take a look at a different article I wrote called:
The Best Orthotics for Women – Stop your Foot and Leg Pain!
Let me know in the comment section below if you have any further questions or have found a specific shoe style that has worked well in reducing or fully eliminating your foot pain.