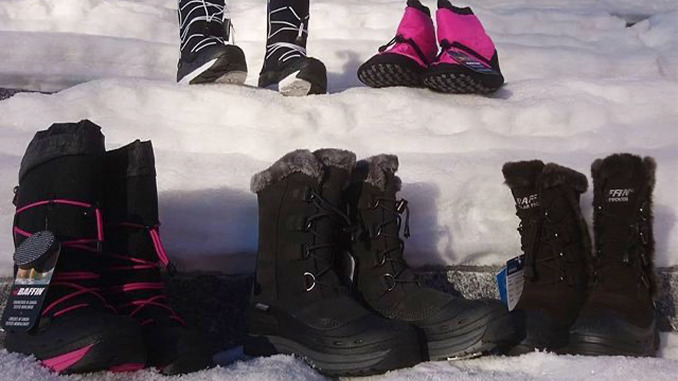 Have you been looking for a pair of lightweight snow boots that are waterproof and insulated at the same time? I have been contacted by several women who can't seem to find a single pair of snow boots that are comfortable to wear. Apparently, it's not a matter of fit, it's a matter of how heavy every single snow boot feels when walking around. I have put together a list of the best lightweight snow boots for women based on my many years of shoe fitting experience.
Why Are Snow Boots Heavy?
Snow boots are often bulkier and heavier than regular hiking boots, and the main reason for this is that their outsoles are generally thick with deep treads to add increased traction in icy and snowy conditions.
The material and interior that the snow boots are made of also play a role in how heavy they are. It's important to look for snow boots that provide an ultra-thin insulated interior to keep your feet supported and warm without adding any weight.
My Experience Helping Women Find Lightweight Snow Boots
For the last 10 years, I have worked for a shoe store that specializes in helping people with "complicated" foot shapes as well as foot conditions find the correct types of shoes. I have helped several women find the correct pair of boots for their feet, and I believe I can help you as well.
Unfortunately, there is not a large selection of lightweight snow boots, but all you need is one good pair of fitting snow boots to keep your feet comfortable, warm, and dry during the winter season.
Some women need to wear snow boots for very short periods of time, while others need to wear them for several hours a day as they might work outside.
How Do I Review Shoes for Women?
I only review shoes that I have fitted before, as I believe that's the only way to truly tell how much every single shoe weighs and how it fits.
I have fitted several different winter boot shoe brands such as:
Sorel
Kamik
Bogs
Columbia
Kee
Rocky
La Cross, Bates
Caterpillar
Red Wings
Aleader
Baffin
Sperry
Uggs
Among these shoe brands, I found a specific one that manufactures the lightest snow boots for women. In terms of weight, warmth, durability, dryness, and comfort, no snow boot even comes close to Baffin.
Best Lightweight Snow Boots for Women
The snow boots below made by Baffin are the lightest ones on the market. The outsole of the boots is made up of several advanced thermo-set polymers that are combined to achieve the right balance of warmth, protection, low weight and grip.
Take a look at the description below each boot to find out if that specific model can accommodate your foot shape (narrow, medium, wide).
Fits women with medium or wide feet
Double velcro straps and bungee collar
Order this boot a half size larger than your foot size
---
Fits women with medium or wide feet
Fleece lining and rebound cushioning provides lasting comfort
Order this boot a half size larger than your foot size
---
Fits women with medium or wide feet
Waterproof membrane seals out water and lets moisture escape 
100 grams Primaloft® Gold Eco Series synthetic insulation
Removable contoured insole
Order this boot a half size larger than your foot size
Fits women with medium and wide feet
Removable liner for quick drying
Order this boot a half size larger than your foot size
---
Fits women with medium or wide feet
Order this boot a half size larger than your foot size
---
Fits women with medium or wide feet
ICEBITE outsole provides 3X the grip on wet ice and slippery surfaces
Supportive removable insole
Removable contoured insole
Comfort rated from 50 degrees Fahrenheit to 14 degrees Fahrenheit
Order this boot a half size larger than your foot size
These snow boots can withstand the range of weather conditions that winter can throw your way! It's important that you order the boots in the correct size to prevent discomfort and foot issues.
What Shoe Size Should You Order?
To prevent your toes from rubbing against the front or side part of the boots, I highly recommend that you order these boots a whole size larger than the size that your feet measure. This translates to 3/8 of an inch or 0.8 centimeters of space between your longest toe and the end of the boots.
Are You 100% Sure of Your Foot Length and Shape?
Don't assume that just because you have always ordered a certain shoe size that's the size that you need to order in these boots. Did you know that your foot shape and size can change over time, and some of the factors that contribute to this change are pregnancy, aging and weight gain or loss? Over time and because of gravity, our feet might get longer and wider.
If you are unsure of your exact foot length and shape I suggest that you take a look at a free resource I created in which I help women retrieve their exact foot length and shape:
How to Measure Your Foot Shoe Size – The Most Simple and Effective Way!
Don't insist on getting your shoes in a specific size simply because that has been the size that they always wore. I usually have to insist to them that they need to at least try the shoes in a different size to see how they feel.
Final Thoughts on the Lightest Snow Boots for Women
I wish I could provide you with a larger selection of snow boots, but the truth is that no other snow boot that I have fitted has come even close to how light Baffin snow boots are.
I have fitted several other snow boots that are more lightweight and flexible than others, but none of them come close to the Baffin ones I recommend. If you want to see a larger selection of lightweight snow boots or the Baffin ones I recommend don't really fit your foot shape, I suggest that you contact me directly and I will be able to send you different boot recommendations based on your foot shape: comfortablewomenshoes@gmail.com
Do You Have a "Complicated" Foot Shape?
I also created other articles that describe the best women's snow boots based on their individual foot shape. Just please keep in mind that while the snow boots described in those articles are lightweight, waterproof, and insulated, they will not be as lightweight as the ones I recommend in this article:
The Best Narrow Snow Boots for Women – Waterproof, Lightweight, Comfortable, and Affordable!
The Best Extra Wide Snow Boots for Women – They Do Exist!
If you happen to have a child who also needs a pair of lightweight boots I suggest that you take a look at a different resource I created called:
Lightweight Snow Boots for Kids – Waterproof, Warm, and Flexible!
Have you tried the Baffin boots I recommend? Have you found a different type of snow boot that felt lightweight? Let me know about your findings in the comment section below so other women can benefit from your experiences.