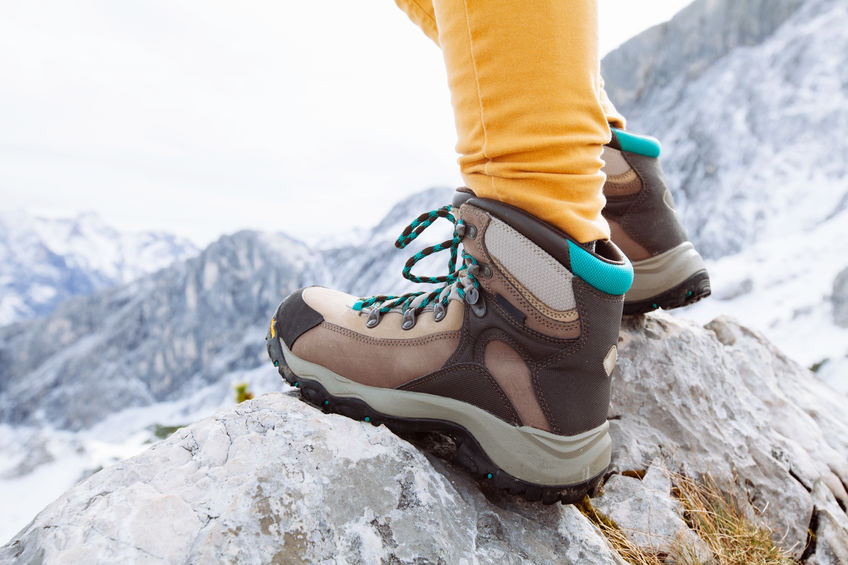 Editor's Note: This post has been completely revamped and updated for accuracy on May 2022 and reflects an up-to-date selection of women's hiking boots for snow.
Do you feel like all of the snow boots that you try feel too heavy and make your feet and legs tired easily? Have you been looking for a pair of hiking boots that you can wear in the snow? There is a small selection of hiking boots that can be worn as snow boots, and I am going to help you find them. I have put together a list of the best women's hiking boots for snow that I have fitted before, and I will show you this list shortly.
Can you Wear Hiking Boots in the Snow?
Most women don't know that they can wear hiking boots as an alternative to snow boots for those really cold and snowy days. As long as the hiking boots are insulated and waterproof, you will be able to wear them in the snow.
Snow boots are often bulkier and heavier than regular hiking boots, and the main reason for this is that their outsoles are generally thick with deep treads to add increased traction in icy and snowy conditions. The material and interior that your winter boots are made of also play a role in how heavy they are. The hiking boots that I recommend provide an ultra-thin insulated interior to keep your feet supported and warm without adding any weight.
My Experience Helping Women Find the Perfect Pair of Shoes for their Feet
I have been fitting women's shoes for the last 10 years. I work for a specialized shoe store that helps women with "complicated" foot shapes and foot conditions find the correct pair of shoes for their feet.
Several women who come to the shoe store ask me if there is a pair of lightweight winter boots that they can wear during the winter season. This is when I suggest that they try a pair of insulated hiking boots. Over the years I became familiar with the best women's hiking boots for snow.
What Makes the Hiking Boots that I Recommend Ideal for the Snow?
There are 5 features that the hiking boots that I recommend provide that make them ideal for wearing them in the snow:
✅ Insulated: This is a must-have feature if you want to wear hiking boots in the snow. This feature will help keep your feet warm even during the coldest temperatures.
✅ Waterproof: This feature will help keep your feet dry.
✅ Secure Ankle Fit: High ankle collar will help keep snow out of your winter hiking boot.
✅ Slip-Resistant: The outsoles of the boots come with higher traction and thickness to reduce slip-factor.
✅ Reinforced Toe Caps: This feature provides extra protection against the elements and terrain. Also allows you to attach snow-compatible accessories like microspikes or crampons without damaging the boot.
I know which hiking boots provide these 5 features from having fitted them before, but before I show the list of the best women's hiking boots for the snow I want to make sure that you know your exact foot size.
How to Find Out Your Exact Foot Size
Your foot shape and size can change over time, and some of the factors that contribute to this change are pregnancy, aging and weight gain or loss. Over time and because of gravity, our feet might get longer and wider.
As we age, the body's ligaments and tendons lose their strength and ability to spring back. This means that our arches decrease, which flattens and lengthens the foot and toes.
This often results in an increase in shoe size by a half-size or more. You might also experience a change in foot width, meaning that even though you always ordered medium width shoes now you might have to start ordering wider shoes.
Don't insist on getting your shoes in a specific size simply because that has been the size that they always wore. I usually have to insist to them that they need to at least try the shoes in a different size to see how they feel.
How to Order the Correct Shoe Size Online?
Buying shoes online can be a challenge. If you are unsure of your current foot shape or foot length, I suggest that you take a look at a free resource I created where I help women determine their exact foot shape from home:
How to Measure Your Foot Shoe Size – The Most Simple and Effective Way!
Below you can find a selection of the best women's hiking boots for snow. Disclosure: Keep in mind that we may receive commissions when you click our links and make purchases.
Best Women's Hiking Boots for Snow ⭐⭐⭐⭐⭐
Take a look at the description below each boot to check if that specific style can fit narrow, medium, or wide feet. Click on the image to see all the available colors that these hiking boots are available in.
Fits medium and wide feet
M Select DRY impermeable membrane seals out water and lets moisture escape 
200grams M Select WARM lightweight, low bulk insulation keeps you comfortable 
Order this boot a half size larger than your foot size
---
Fits medium and wide feet
200 Grams Thinsulate Insulation for -13°F
Rubber outsole with 7mm multi-directional lugs provides higher-traction grip
Order this boot a half size larger than your foot size
Fits medium and wide feet
Temp rating: from 10°C/50°F to -20°C/-4°F
Fix-lined inner boot system protects against the cold elements.
Order this boot a half size larger than your foot size
---
Fits medium and wide feet
Cold weather-specific outsole featuring winter rubber
Order this boot a half size larger than your foot size
What Shoe Size Should You Order?
Take a look at the description below the shoes that I recommended to find out what shoe size you should order.
Are There Any Other Boot Choices Available?
Do not hesitate to contact me if you are unsure about which boot will work best for your feet or if you are looking for a different pair of winter boots:
comfortablewomenshoes@gmail.com 
Let us know in the comment section below if you have found a specific hiking boot that has worked well in the snow. I am sure other women will benefit from reading about your experiences!