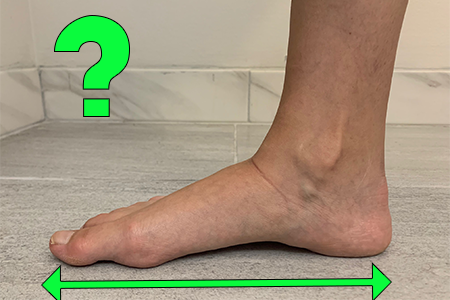 Editor's Note: This post has been completely revamped and updated for accuracy on May 2022 and reflects up-to-date information.
Have you noticed your shoes getting tighter lately? Do you feel like you have been struggling to get your shoes on and once you do you feel extra pressure around your small toe (pinky toe)?
I have been helping women find the correct type of shoes for the last 10 years. I work for a shoe store that helps women with "complicated" foot shapes as well as foot conditions such as flat feet, rolled ankles, bunions, or general foot and leg pain. Most of the women who come to the store are referred by their orthopedists.
Several studies show 35% of women wear the wrong shoe size. I have noticed that most women that come to the store I work for are wearing shoes that are either too short or too narrow.
I am not a medical professional but I know a fair amount about why some women outgrow their shoe size over time. I have talked to a woman who used to wear a 7 AAA, and now she needs a 7 1/2 EEE. There are several there examples like this one.
I want to start by saying that women need to stop buying their shoes based on the assumption that their feet have always been a certain size. A lot of women feel they are married to their shoe size, and that's problematic.
When was the last time you had your foot measured to check your shoe size? Your foot shape and size can change over time, and some of the factors that contribute to this change are pregnancy, aging and weight gain or loss. Over time and because of gravity, our feet will get longer and wider.
Wearing the wrong shoe size can affect both your walking gait and overall posture. My goal is to raise awareness so women don't develop foot issues from wearing the wrong shoe size. Hopefully now you are thinking of having your feet resized.
The issue now is that most shoe stores have been closing down. If you live in an area where you can't have your feet properly measured, I suggest that you take a look at a different article I wrote where I describe how to figure your exact foot size and shape from home:
How to Measure Your Foot Shoe Size – The Most Simple and Effective Way!
That article will help you determine your exact foot length as well as whether you have narrow, medium, wide, or extra wide feet. I will also be able to tell you whether you have a high instep or not.
I can help you determine your exact foot size and shape as I have the standard foot measuring device at home (Brannock device). I offer this service free of charge and all you need to do is to make sure that you measure your feet properly with a ruler or measuring tape and take note of those measurements in centimeters or inches. Just go over the article above and follow 2 simple steps.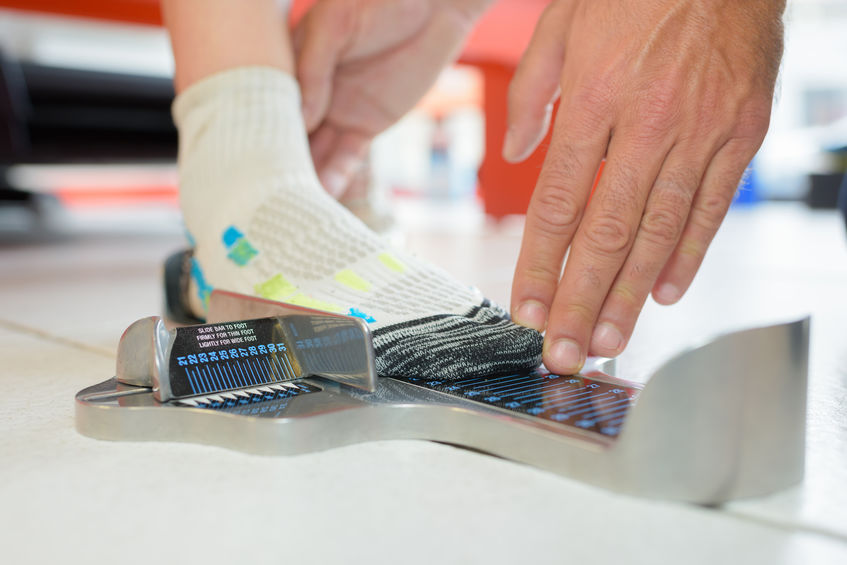 Can Women's Foot Shape Change Over Time?
As we age the body's ligaments and tendons lose their strength and ability to spring back. This means that our arches decrease, which flattens and lengthens the foot and toes.
This often results in an increase in shoe size by a half-size or more. You might also experience a change in foot width, meaning that even though you always ordered medium width shoes now you might have to start ordering wider shoes.
I think that the biggest challenge is how most women have a hard time recognizing that their foot shape has changed. Most women who come to the shoe store insist on getting their shoes in a specific size simply because that has been the size that they always wore. I usually have to insist to them that they need to at least try the shoes in a different size to see how they feel.
Most foot changes are normal, age-related changes that are going to happen. However, shifts in foot shape can also lead to several foot issues that range from blisters and calluses to general foot and leg pain. Wearing shoes that are too short or too narrow can also lead to bunions and hammertoes.
What are Common Foot Problems Women Experience as they get Older?
☑️ Plantar Fasciitis is number one. Have you been experiencing pain underneath your heel? Do you usually experience pain in the morning when you take those first steps out of bed?
☑️ Achilles Tendinitis is another common one. which is a very similar wear-and-tear condition that causes pain at the back of the heel.
☑️ Acquired Flat Foot is a condition in which the foot starts turning out as the tendons become weaker over time. It's common in a middle-aged population
If you are experiencing any of these conditions I suggest that you refer to the articles below:
The Best Shoes for Women with Plantar Fasciitis – Alleviate your Heel Pain!
How to Treat Heel Pain – The Proven and Most Effective Way!
The Best Shoes for Women with Flat Feet – Let's Support your Feet and Improve your Posture!
Don't hesitate to contact me directly if you are having trouble finding a different pair of shoes to help treat and prevent foot pain:
comfortablewomenshoes@gmail.com 
Most of these foot problems are not surgical problems and wearing supportive shoes will take care of your pain. You just need to make sure that you order them in the correct shoe size.
What Makes the Shoes I Recommend Effective for Foot Pain?
As women get older they should also be looking for more substantial and supportive shoes.
☑️ Look for shoes that provide substantial outsoles for better arch support as shown in the image below:
☑️ It's also important for your shoes to provide a firm heel counter. This is the back part of the shoe that provides ankle and heel support, and the firmer it is, the better. If you don't know where the heel counter of the shoe is located take a look at the image below for better visualization purposes. Always press on the heel counter of the shoe and make sure it feels firm.
There are certain shoes that provide targeted support to the heel area and they are extremely effective in reducing heel pain. For example, the shoe in the image below provides targeted cushion and support right below the heels. The shoe comes with infused gel around that area: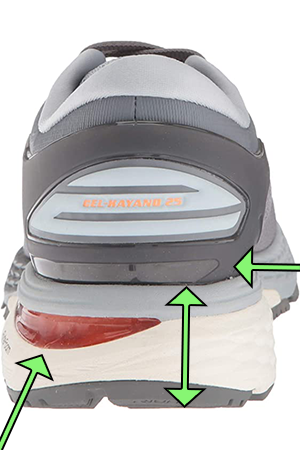 I know exactly which women's shoes are more supportive than others from having fitted them before. Just remember that it all starts with wearing the correct shoe size. If you don't wear the correct shoe size you will defeat all of the benefits that the shoes have to offer.
I am a firm believer that the correct pair of shoes can be life-changing. I have experience this after helping so many women who were not able to exercise or live an active and healthy lifestyle find the correct type of shoes.
Pretty much 100% of people will need to wear a bigger and wider shoe size as they get older.
Are your shoes starting to feel tighter? Have your feet changed with age? Let us know in the comment section below so other women can learn from your experiences.