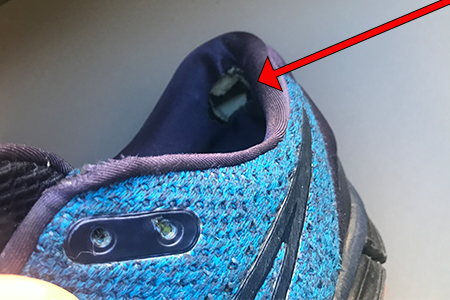 Editor's Note: This post has been completely revamped and updated for accuracy on May 2022 and reflects up-to-date information on why does my heel hurts when I run?
Have you been experiencing heel pain when running? Do you feel a sharp pain right around your heels that is causing you discomfort? I have helped several women significantly reduce and in some cases fully eliminate their heel pain, and I believe I can help you too.
I have seen that most women experience heel pain from wearing unsupportive shoes. However, before we move any forward I want you to inspect your shoes for any signs of wear and tear around the heel area.
I have been working for a specialized shoe store for the last 10 years and just the other day this woman walked into the store complaining that she suddenly started experiencing heel pain. Just to give you a little bit of background, the store that I work for specializes in women with "complicated" foot shapes and foot conditions. I proceeded by taking a look at the shoes she was wearing to make sure they were providing the correct amount of support.
The first thing I always check when a woman complains about heel pain is the heel counter of the shoes. This is the back part of the shoes that provides ankle and heel support. Take a look at the image below to visualize where the heel counter of the shoe is located: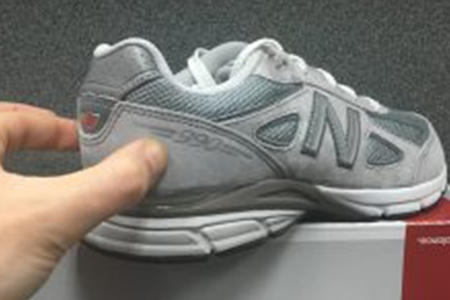 If you are experiencing heel pain I want you to press on that part of the shoe and check whether it feels firm or soft. If it easily bends (as shown in the image below) you should start looking for a new pair of shoes:
After I inspected the shoes the woman was wearing to check whether they were supportive or not, I noticed that the shoes were damaged right inside the heel area of the shoe. I slid my finger around that area and I didn't feel anything sharp, but I did notice that as I pressed harder I could feel a sharp plastic piece poking out the shoes. Let me help you visualize what I am describing: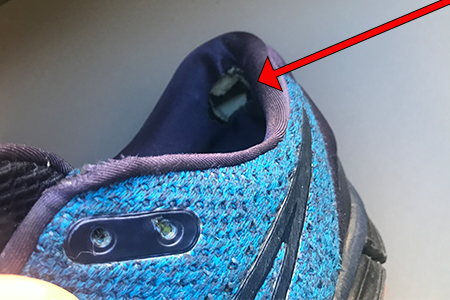 Some of the area was surrounded with padding (green arrow) but the deeper I pressed my finger against that area of the shoe I could feel a sharp plastic piece.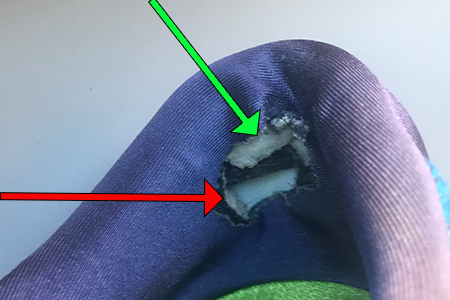 I fitted this woman in a different pair of shoes and after 2 weeks of wearing the shoes her heel pain was completely gone. In this specific case the woman was experiencing heel pain from wearing defective shoes, so I strongly suggest that you inspect your shoes before going to your foot doctor.
Even shoes that appear to be well-made may encounter issues in quality if examined closely. Apart from wear and tear caused by the usage of the shoes, a manufacturer may also be responsible for some defects found in shoes. The woman wore the shoes for over a year so it wasn't a manufacturer defect.
Running Shoes with Heel Support – Always Look Out for These 2 Features!
In addition, you need to make sure that your running shoes provide good ankle and heel support if you want to prevent heel pain. These are the 3 most important features that your running shoes should provide if you are dealing with heel pain:
☑️ Targeted Cushion and Support Around the Heels: The running shoes I recommend provide extra padding right below your heels to support and protect your ankles. Your running shoes need to cushion and protect your heels to prevent any pain around this area.
I have fitted certain running shoes that provide infused gel and/or a ROLLBAR for maximum heel and ankle support. Take a look at the image below for visualizations purposes: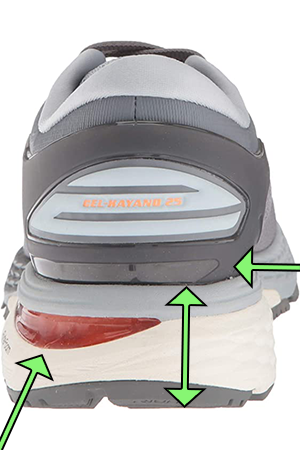 ☑️Substantial Outsole: The substantial outsole of the running shoes helps provide shock absorption by minimizing the impact that your feet take when they come in contact with the ground.
If you want to see a selection of the best running shoes for women with heel pain I suggest that you take a look at the article below:
Best Running Shoes for Women with Heel Pain – Firm Heel Counter and Extra Cushion!
There is a specific shoe lacing technique that I learned from a coworker who has been in the shoe business for over 30 years.  This specific shoe lacing technique works wonders for women with heel pain as it pushes the foot back, supporting and securing the foot against the back part of the shoes. If you want to learn how to apply this shoe lacing technique in your shoes I suggest that you take a look at the article below:
The Best Way to Tie Shoes – The Proven Method to Make Your Shoes Feel Better!
Do You Buy Your Shoes Online? – Are You 100% Sure of Your Foot Size?
Before you buy your shoes online you need to know your exact foot size, otherwise, you will be returning the shoes back and forth. It's also important that you order the correct shoe size to prevent foot issues such as heel pain and other common issues such as blisters. Let me show you how the wrong shoe size can contribute to heel pain:
Shoes that are too long will allow for too much foot movement inside the shoes and won't allow you to get the full benefits and support that the shoes have to offer. This means that you might be wearing a pair of supportive shoes with heel support but they won't be effective if the shoes are fitted too long.
Shoes that are too short will cramp your toes and make you uncomfortable. This won't lead to heel pain but it will lead to other issues such as blisters.
If you are unsure of your exact foot size I suggest that you take a look at a different article in which I help women determine whether they have narrow, medium, wide, or extra wide feet. I also help them determine whether they have a high instep or not:
How to Measure Your Foot Shoe Size – The Most Simple and Effective Way!
Dealing with heel pain can be discouraging and prevent you from staying active. Before you go to your doctor about your heel pain start by checking the shoes you are wearing. Something so simple such as wearing a different type of shoe can make a tremendous difference in significantly reducing or fully eliminating your heel pain.
Before you leave I wanted to mention that if you are wearing a pair of supportive shoes and your heel pain persists, you can try a pair of heel cups inside your shoes for extra cushion and support. There is one specific heel cup I have fitted before which has proven to be the most effective one for women with heel pain. If you want to learn about this heel cup and how to fit it inside your shoes go to the article below:
The Best Heel Cups for Heel Pain – The Most Effective Way to Stop Your Women's Heel Pain
Don't hesitate to contact me if you are wearing supportive shoes and your heel pain persists, I will show you what steps you should take:
comfortableowmenshoes@gmail.com 
Have you been dealing with heel pain? Have you found a specific shoe that has worked well in reducing or fully eliminating your heel pain? Let us know in the comment section below so other women can benefit from your experiences.