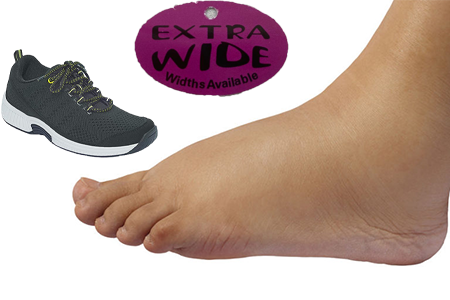 Are you looking for an extra wide width shoe to fit the shape of your extra wide feet and high instep? Has it been a frustrating and long overdue search?
Finding shoes in extra wide widths can be a frustrating and time-consuming experience, especially if you don't know what shoe brands or shoe styles to look for. However, shoes in extra wide width do exist!
Some women are born with wide feet, others develop wider feet as they age, and for others, it can also be a result of a foot condition, deformity, or swollen foot.
In any case, you need to ensure that you get an exact and comfortable fit.
I am always emphasizing to women how it doesn't matter how wide their feet are, there is always at least one particular shoe style that will fit the shape of their feet perfectly and I will help you find them!
I have been fitting women's shoes for over 10 years and I have a complete understanding of the subject as well as a great deal of experience. I have learned a lot with each case, and I have been helping women find the correct type of shoes and orthotics to reduce or fully eliminate the foot and leg pain that they were having. Even though we specialize in women with foot and leg problems, we also provide regular shoe fittings.
One of the most common mistakes that I see women make is to assume that once they find a pair of shoes that are labeled as extra wide ("EEEE"), that shoe style will automatically fit the shape of their feet. There are two other key features that your shoes need to provide:
✅ Extra Depth: This will allow your feet to sit deeply inside the shoes and prevent the top part of your feet (instep) from rubbing against the top part of the shoes.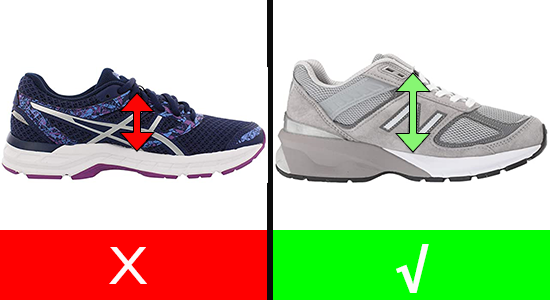 ✅  Rounder Toe-Box: This will prevent your toes from overlapping one another or rubbing against the side of the shoes.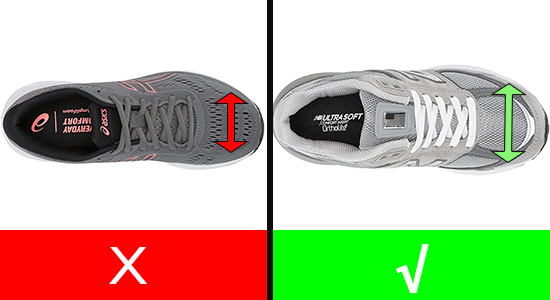 The issue is that most women are confused as to how they are supposed to find shoes that provide these 2 features since shoes don't come labeled as with extra depth or with a round toe-box. I am going to make things easy for you and provide you with a selection of the best extra wide width shoes for women. However, I want to first make sure that you know your exact foot size to be able to order the correct shoe size.
I have seen firsthand the difference that good shoes make for many women, and how sizing plays such a key role. Remember that you need to allow your foot to function properly in the correct shoe style and size.
I will show you a selection of the best extra wide width shoes for women, as well as give you the information you need and show you how you can figure out your correct foot size.
Determining Your Foot Size — Length, Width, and Instep!
Let's agree that women's feet are all different in size, shape, and width!
It's important to consider your specific requirements. The very first thing to do is figure out your correct foot size, also accounting for any foot issues that you may have.
When trying to find the correct shoe size, we are looking to figure out your actual foot width (remember that shoes come in different width such as narrow, medium, wide, and extra wide). It may be the case that you believe that you have extra wide feet and in reality, you just have wide feet.
So, there are 3 things you need to consider:
The length of the foot.
The width of the foot.
Other foot issue or deformity.
If you are unsure of your foot size you can start by reading an article that I wrote that describes the simplest, yet most effective way to figure out your foot size from home. Please click on the link below:
How To Measure Your Foot Size – The Most Simple And Effective Way!
Extra Wide Width Shoes — 3 Additional Features to Keep Your Feet Healthy!
Aside from getting your shoes in extra wide widths, extra depth, and a rounder toe-box, these are 4 additional key features that will keep your feet healthy:
✅  Lightweight and flexible: While shoes need to be supportive, they still need to be lightweight and flexible to prevent your feet and legs from easily getting tired.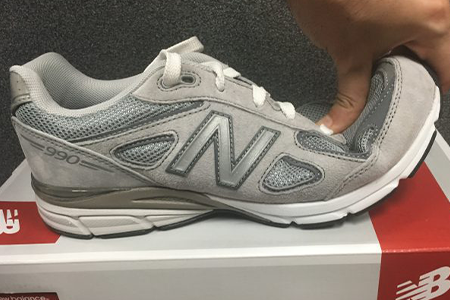 ✅  Shock absorption/Arch Support: This will reduce the impact that your feet take every time they come in contact with the ground and relieve the stress on your feet and legs. This will also help prevent your feet from collapsing and turning inwards.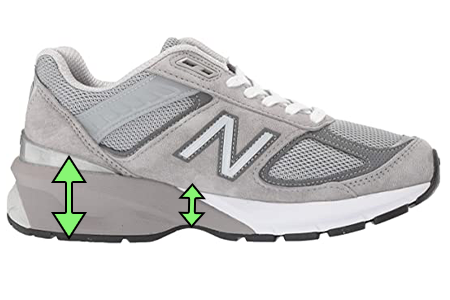 ✅  Ankle support: This will help protect and support your ankles.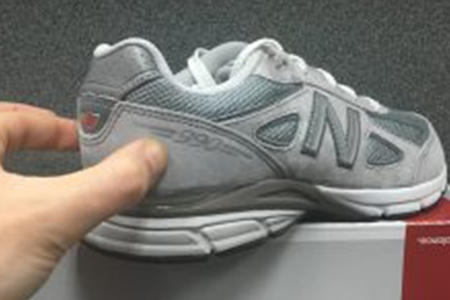 Regardless of the many good features shoes may have, if the shoe is not fitted properly, you will not get any of the benefits that the shoes have to offer. What's even worse, you can end up creating several foot issues to your feet such as blisters, calluses, and corns.
Now let me give you an overview of my recommended brands for extra wide widths.
New Balance
Very few shoe companies make shoes in all widths, but New Balance makes shoes in a full range of widths extra narrow, narrow, medium, wide, and extra wide. Also, their shoes are available for women, men, and children.
New Balance also has a full range of models/styles, so you should be able to find the perfect shoe for your gait and foot shape.
There is a particular shoe style (990V4) that is most appropriate for women with extra wide widths. This shoe style is available in W and XW sizes and has a deep toe box for maximum support without a cramped fit. It also has a specialty midsole cushioning and a soft fabric lining all keep your feet comfortable and shielded from injuries that may be caused by bumps or trips.
Orthofeet 
Orthofeet is also my go-to brand for extra wide widths. The innovative shoe construction along with the anatomical orthotic insoles have proven to help thousands of women improve mobility, enhance comfort from heel to toe, and get relief of heel, foot, knee, and lower back pain
This shoe style will add spring to your step with an air cushioning system that cradles your feet to reduce pain from swelling, bad circulation, and stiffness. The non-binding upper and seam-free interior lining limits chafing and gives your feet more than enough room to breathe, and the premium orthotic insole adapts to your foot with each step for a more secure-yet-soft feel.
These two brands are excellent, and you won't regret making them your #1 choice!
It's important to understand that not all shoe styles from these two brands are capable of accommodating extra wide feet with high insteps. I have made it easy for you and selected the best styles among these 2 shoe brands for women with extra wide feet.
I only review shoe styles that I have fitted before since that is the best and only way for me to tell how well-made the shoes are, the amount of support that they provide, and how they fit. Disclosure: Keep in mind that we may receive commissions when you click our links and make purchases.
The Best Extra Wide Width Shoes for Women ⭐️⭐️⭐️⭐️⭐️
See below a selection of the best extra wide shoes for women.
Choose X-Wide

Choose X-Wide

Choose X-Wide

Choose X-Wide

Choose X-Wide

Choose X-Wide

Bear in mind shoes can run short, long, narrow, or wide, and depending on how they run you will need to adjust the size that you get for yourself.
To prevent your toes from rubbing against the front or side part of the shoes, I highly recommend that you order these shoes half a size larger than the size that your feet measure. This translates to 0.3 inches or 0.6 centimeters of space between your longest toe and the end of the shoes.
What Are Other Women Saying? – Sharing & Learning !
You can take a look at the questions and comments I have received on this matter.
"I just recently tried New Balance shoes and they are fantastic! They do not squeeze my extra wide feet."
"I have the highest instep which makes it almost impossible to find shoes that fit. The Orthofeet style was able to accommodate the shape of my instep perfectly. Now I finally get what you meant by wearing shoes that provide extra depth."
"Since I read your article, Orthofeet has been my to-go shoe brand to fit my extra wide feet and high instep"
The Importance of Wearing Socks – Seamless and Breathable!
Please don't underestimate the importance of wearing socks, they are meant to protect the feet and act as a barrier against irritation and infection.
Even if your feet are not prone to sweating excessively, moisture on the skin can create myriad problems, such as blisters, the growth of odor-causing bacteria, and fungus, such as Athlete's Foot. Moisture on the skin is also a problem during cold weather, as moisture pulls heat away from the skin at a significantly higher rate than air.
See below a selection of the best seamless socks for women with extra wide feet:
Additional Colors Available

Additional Colors Available

Additional Colors Available

Additional Colors Available

Additionally, if you have a kid(s) and are interested in becoming more informed or are looking for a good pair of shoes for their extra wide feet, then you can take a look at the article I wrote on the best shoes for kids with extra wide feet.
Shoes For Extra Wide Feet – Stop Hurting Your Children's Feet
Have you tried any of the shoe brands that I recommend in this article? Is there another brand or particular style that has worked well for your feet? I encourage you to share your thoughts and experiences in the comments section below so other women can benefit from your experiences.