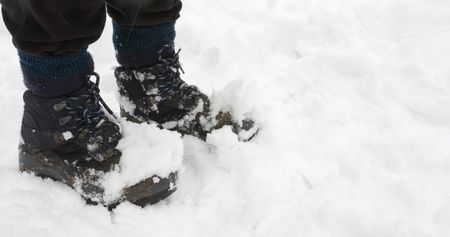 Are you having a hard time finding a pair of winter boots to accommodate the shape of your extra wide feet? Do you feel like every single pair of boots that you try pinches your toes and puts a lot of pressure on the top of your feet?
Some women in addition to having extra wide feet have a high instep as well. The instep is the top part of the foot, and when it's high it makes it really hard to find shoes that fit.
One of the most common mistakes that I see women make is to assume that once they find a pair of shoes that is labeled as extra wide ("XW", "EEEE"), that shoe will automatically accommodate the shape of their extra wide feet. There is actually another key feature that your shoes must provide which is extra depth.
Shoes that provide extra depth allow the feet to fit deeply inside the shoes, which prevents the top part of the feet from rubbing against the top part of the shoes. The issue is that most shoes don't come labeled as "extra deep", so women are confused as how they are supposed to find them. The good news is that I know exactly which shoe styles provide extra depth from having fitted them before.
You are in good hands because I am an expert when it comes to fitting women's shoes since I have been working for a specialized shoe store for the last 10 years.  We specialize in women with foot and leg problems, but we provide regular shoe fittings as well.
I have noticed how most women don't put a lot of thought in the type of winter boots that they wear, since they might wear them once in a while and for very short periods of time. You might want to rethink this. It only takes a couple wears in the wrong shoe style to develop a foot issues such as blisters, calluses, or corns.
Never settle for a pair of winter boots that is too narrow, even if you feel like you have tried hundreds of pairs and none of them fit. Snow boots that are too narrow are going to cramp your toes against one another or the side of the boots.
In addition to fitting the shape of your extra wide feet, the winer boots need to keep your feet dry and warm. I have made things easy for you and compiled a selection of the best extra wide winter boots for women that are waterproof and insulated.
The Best Extra Wide Winter Boots for Women ⭐⭐⭐⭐⭐
I have fitted these winter boots for several women with extra wide feet and high insteps, and they were the only styles capable of accommodating their extra wide feet.
Please find below a selection of the deepest and widest winter boots for women. Refresh your browser if you can't see the recommendations.
In order to be able to order the correct boot size, you need to be 100% sure of your foot size. If you are unsure about your foot size please proceed to taking a look at another article which will help you identify it:
How To Measure Your Foot Shoe Size – The Most Simple And Effective Way!
If you already know your foot size then you can proceed to order your snow boots. Please make sure that you order a whole size longer of the size that you normally wear, since these boots tend to fit "short".
All of the four winter boot styles that I recommend will provide the following features:
✅ Waterproof: Your feet will stay warm and dry with these styles that have been specifically designed to keep water out.
✅ Insulated: This feature will help keep your feet warm, even in damp conditions.
✅ Lightweight and Flexible: Most winter boots tend to be very heavy and clunky. The styles that I recommend are actually lightweight and flexible, which will prevent your feet and legs from easily getting tired.
Let me show you what other women who already tried these boots had to say about them!
Winter Boots for Extra Wide Feet – Reviews from other Women!
These are reviews from women just like you that have waited years to find a pair of comfortable winter boots to fit the shape of their extra wide feet. There is no reason why you have to purchase mens boots to accommodate the shape of your extra wide feet anymore, these boots got you covered!
Have you found a particular winter boot that has worked well in accommodating the shape your extra wide feet? Please share your findings below so other women can benefit from your experiences.