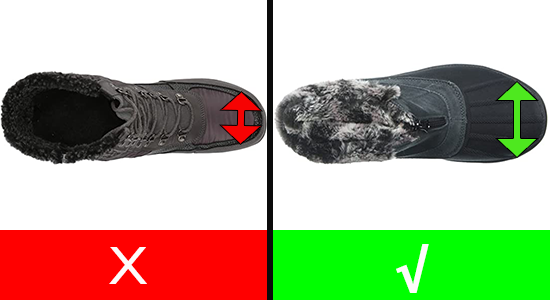 Have you been looking for a pair of snow boots to fit your wide or extra wide feet? With the cold winter season approaching us, it's important to find winter shoes that will keep your feet dry and warm. But most importantly, it is crucial that they properly fit the shape of your feet (the boots need to be the correct length and the correct width).
I have been helping women find the correct pair of shoes for their feet for the last 10 years. I work for a specialized shoe store where we specialize in women with "complicated" foot shapes such as extra wide feet. Over the years I became familiar with the best extra wide shoe boots for women.
I have been contacted by several women with extra wide feet that want to know the answer to this important question: Do snow boots for women with extra wide feet exist?
I have fitted the best type of snow boots that will accommodate a woman with extra wide feet and a high instep as well, and I will share these snow boots styles with you.
What Makes the Snow Boots I Recommend Effective for Extra Wide Feet?
First of all, they are available in extra wide widths (XW), but another awesome feature is that they are also the deepest snow boots that I have fitted before (your feet will fit deeply inside the snow boot), and they also come with the roundest toe-boxes (this will prevent your toes from overlapping or rubbing against each other).
☑️ Rounder Toe-Boxes: This feature helps prevent your toes from overlapping and rubbing against one another or the side of the boots. Let me show you the difference in toe-boxes between one of the boots I recommend and a different style:
☑️ Extra Depth: This feature is particularly important if you have a high instep as it allows the feet to fit deeply inside the boots and prevents the top part of your feet from rubbing against the top part of the boots: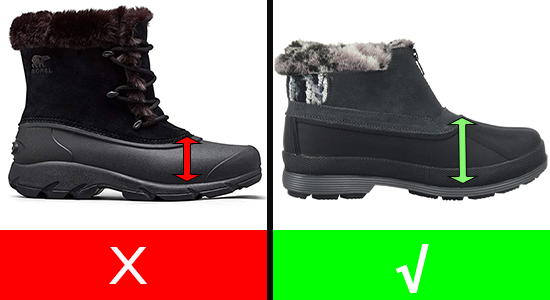 Many women have told me that in many cases they had to wear sneakers with thick socks during the winter because they couldn't find a single snow boot that fits.
Even though some women may argue that there is a small selection of snow boots available in extra wide widths, all you need is one good pair of  properly fitted shoes to keep your feet and legs healthy!
Features of Snow Boots – Keep Your Feet Dry and Warm!
In addition to fitting your extra wide feet, the following are the features that a snow boot must provide to keep your feet healthy:
It must be insulated to keep your feet warm.
It must be waterproof to keep your feet dry.
It must fit the shape of your feet to prevent the creation of blisters, calluses, and corns.
It must be lightweight to prevent your feet and legs from getting tired.
Luckily for you, I have fitted snow boots that provide all the features mentioned above and that will fit the shape of your extra wide feet.
What Shoe Brands Manufacture Boots in Extra Wide Widths?
There is a particular snow boot brand that I have fitted before that makes snow boots in extra wide widths, so let's get more familiar with that brand.
Have you heard of the boot brand Propet? This is one of the snow boot brands that you might want to start getting familiar with since this brand makes actually snow boots in wide and extra wide widths. These boot styles come actually labeled as wide and extra wide.
Propet snow boots are great because they are lightweight, flexible, and provide great traction! They come temperature rated to -30 Fahrenheit and with an anti-microbial insole that provides odor protection to keep your feet feeling fresh.
Propet snow boots are designed to keep out the elements (rain, sleet or snow), and  they will keep your feet warm and dry, while the easy on/off zip closure (certain styles) means you can leave them by the door and go.
You might also want to note that this boot brand makes stylish yet comfortable snow boots!
If you really want to enjoy the winter season you must find a pair of good snow boots that are also available in your size (length and width)! If you want to be out in the freezing weather and play in the snow the only way to do it comfortably is by wearing a pair of waterproof, insulated snow boots.
I am aware that it's a challenge to find shoes for a wide or an extra wide foot. However, I have put together the selection below, so you can find the best extra wide snow boots for women.
The Best Extra Wide Snow Boots for Women ⭐⭐⭐⭐⭐
Make sure that you select the extra wide width (XW) choice. Disclosure: Keep in mind that we may receive commissions when you click our links and make purchases.
Medium – Wide – Extra Wide (Not Insulated)

Medium – Wide – Extra Wide (Not Insulated)

Medium – Wide – Extra Wide

Medium – Wide – Extra Wide

Extra Wide

To prevent your toes from rubbing against the front or side part of the boots, I highly recommend that you order these boots half a size larger than the size that your feet measure. This translates to 0.3 inches or 0.6 centimeters of space between your longest toe and the end of the boots.
Keep in mind that you should always round up when purchasing snow boots (since most of them are not available in half sizes). For instance, if your foot size measures a size 6 1/2 you should get a size 7. If you are unsure of your exact foot size and shape I suggest that you take a look at a different article called:
How to Measure Your Foot Shoe Size – The Most Simple and Effective Way!
In the article, I also help women identify whether they have a high instep or not.
If you happen to have a child that has extra wide feet who needs a pair of snow boots, I created an article where I describe the best snow boots for children with extra wide feet and you can find it here:
What Makes Propet Snow Boots so Special? 
This shoe company offers great comfort and excellent value in their boots, since they truly understand the importance of providing boots with the right support, cushion, and protect your feet on top of also being lightweight and stylish.
The Propet styles are all waterproof and provide an outsole with great traction that grips on snow and ice and will prevent you from falling.
Below you can take a look at the outstanding features that these boots provide:
Large selection of widths, sizes and styles.
Made from durable lightweight materials.
Insulated and waterproof.
Roomy, rounded toe box.
Provide heel and arch support.
Provide excellent traction.
Orthotic-friendly, shock absorbing removable memory foam foot bed, able to accommodate custom orthotics and arch support insoles.
You might also find it very useful to know that this brand is committed to offer true value with high quality shoes at affordable prices.
Don't miss out on a pair of boots or any shoes just because you suppose that they won't fit the shape of your feet. Keep in mind that there is at least one particular shoe style out there that will fit the shape of your feet perfectly, and I will do my best to help you find it!
Don't Forget About the Socks! – Keep Your Feet Comfy and Warm!
Are you aware that socks play a key role when it comes to keeping your feet healthy? You should know that socks act as barrier between our feet and the shoes, preventing infections and the build-up of bacteria inside the shoes.
Socks can also prevent blisters around our toes and ankles by preventing the toes from rubbing against certain areas of the shoe.
Sometimes when we are in a bit of a hurry we decide not to wear socks and that is an awful mistake. Socks will also make you feel more comfortable and in cold weather they can even make you feel warmer!
If you need a pair of socks to go with your snow boots, you can find a selection of the warmer, yet most breathable socks for the winter:
Hiking Socks

Hiking Socks

Hiking Socks

Hiking Socks

Cheer up! Snow boots for women with wide and extra wide feet do exist! You can keep your feet warm, dry, and healthy while enjoying the snow!
Keeping your feet dry and warm, especially during the winter season, is extremely important to be overall healthy!
Don't hesitate to contact me if you are having trouble finding a different type of shoes for your extra wide feet: comfortablewomenshoes@gmail.com 
Have you tried any of the snow boot styles that I recommend? Have you found a particular snow boot style that has worked well for your extra wide feet? Please share your thoughts and experiences below so we can all benefit from them!