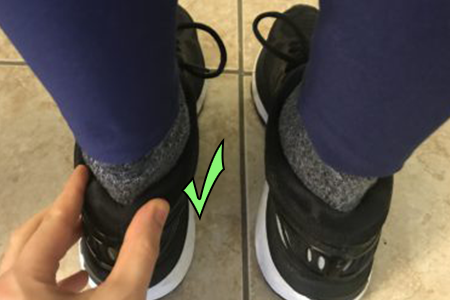 Editor's Note: This post has been completely revamped and updated for accuracy on May 2022 and reflects up-to-date information on how to prevent shoes from slipping off.
Do you feel like your feet are always slipping off your shoes? Have you tried several different shoe styles but none of them seem to prevent your heels from slipping off?
I have fitted certain shoe styles that come with a very narrow heel counter, and they have worked very well for most women with narrow heels. However, even after trying those shoe styles some women still felt that their heels were still coming out of the shoes.
There are a few ways to prevent shoes from slipping off, but my #1 recommendation for an immediate and effective solution is using tongue pads.
Do you know what a tongue pad is? Tongue pads are adhesive-backed pads that go in the tongue of the shoes and they work in all enclosed shoes. Tongue pads are particularly effective for women with narrow feet.
Tongue pads are highly recommended since they prevent heel slippage by snugging up a loose-fitting shoe. They can make the way shoes feel totally different and while they are used for several different reasons, tongue pads are best known for solving two main things:
Preventing the heel from slipping
Preventing the foot from sliding forward
When there is too much heel movement in a shoe it will start rubbing against your ankles, which can create several foot problems such as blisters and corns.
So, if you frequently have to deal with your heels slipping out of your shoes every time you walk, you are the perfect candidate for trying a tongue pad.
Experience the amazing results for yourself, you will see the great difference a tongue pad will make. Plus, it will significantly reduce or completely eliminate heel slippage, and you won't have to worry about tripping, falling, or feeling unstable in your shoes.
My vast experience from working for a specialized shoe store for the last 10 years has granted me great expertise in fitting women's shoes, and all that it entails. In addition, I have been helping women find the correct type of shoes and orthotics to reduce or fully eliminate the foot and leg pain that they were having. While we specialize in women with foot and leg problems, we also provide regular shoe fittings. I am familiar with the best women's shoe brands and the best shoe products.
I usually recommend women to wear tongue pads for the following reasons:
If they have narrow feet with skinny ankles
If they want to wear a slip-on shoe
If their foot moves too much inside the shoe, in this case, the shoe might have been fitted too wide or too long to begin with
In this informative post, I will show you a few ways on how to prevent women's shoes from slipping off but first make sure you know your correct foot size.
Finding Out Your Exact Foot Size — Top Priority!
Do you know your foot size; when was the last time you had your foot measured? You cannot expect the tongue pad to solve everything for you.
Your #1 Priority should be knowing your correct foot size and width, also accounting for any foot issues you may have.
When trying to find the correct shoe size, you must figure out your actual foot width (remember that shoes come in different width such as narrow, medium, wide, and extra wide) and whether you have any other anatomical thing to consider.
So, if you want to make sure you get your correct shoe size, there are three things you need to consider:
The length of the foot
The width of the foot
Other foot conditions (flat feet, bunions, rolled ankles, etc.)
You can start by reading an article I wrote that describes the simplest, yet most effective way to figure out your foot size from home. Please click on the link below:
How To Measure Your Foot Size – The Most Simple And Effective Way!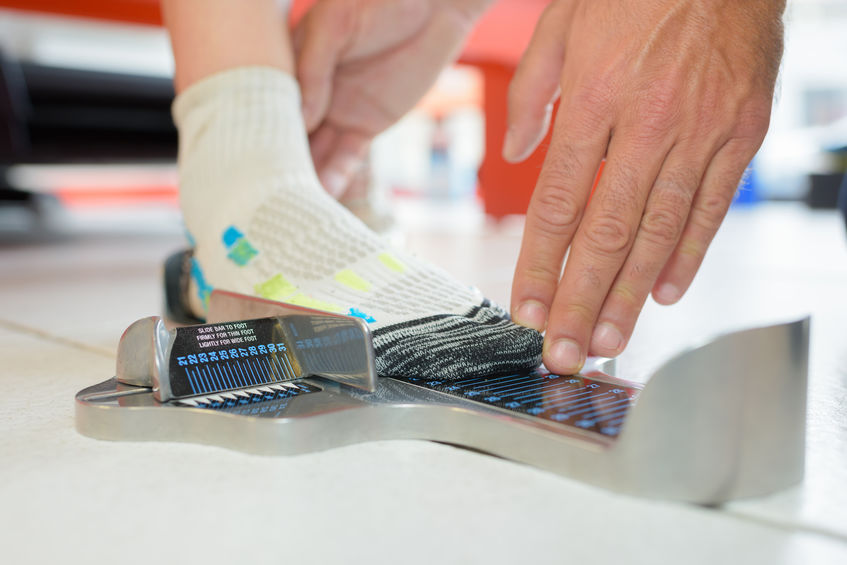 Advantages of Wearing Tongue Pads – Get All the Benefits!
Aside from being an effective fix with a short turnaround, you can get many benefits from wearing a tongue pad. Take a look at the list below:
Easy to apply (it can be applied in a matter of seconds)
Economic choice (affordable)
Easy to adapt in most shoes
They can help reduce or eliminate the pain caused by the crease of a shoe
They will eliminate heel slipping
They will prevent the shoes from sliding forward
Before I show you a selection of the best tongue pads, I want to first show you which are the most effective shoe styles for women with narrow heels. Keep in mind that you might have a wide foot at the front and narrow at the back, or your feet might be narrow. Please refer to the following articles:
Women's Shoes with a Wide Toe-box and a Narrow Heel – Let me Help You Find Them!
Narrow Shoes for Women – The Best Shoe Styles for Women with Narrow Feet
If you try any of those shoes and your heels are still coming out of the shoes, then you should definitely proceed to try a tongue pad.
The Best Tongue Pads for Women's Shoes 
Please be rest assured that I only review shoes and things that I fitted before since that is the best and only way for me to better advise you. Take a look at the selection below of the best tongue pads for women's shoes.
How to Fit Tongue Pads in Shoes? –  Easy & Simple!
You might be wondering how to fit a tongue pad in your shoes? I get that in some cases the instructions that the manufacturer provides might not be as clear or as simple as we would want.
But you don't have to worry, I will help you out!
Fitting a tongue pad in a shoe is actually quite simple since they are self-adhesive. They can be easily placed in the tongue of the shoe, the only question that might arise is how to know which side goes where?
I always place the wider end closer to the opening of the shoe, that is the correct way of doing it! Below you can find a picture of the wider part of the tongue pad, and that is placed in the top of the tongue.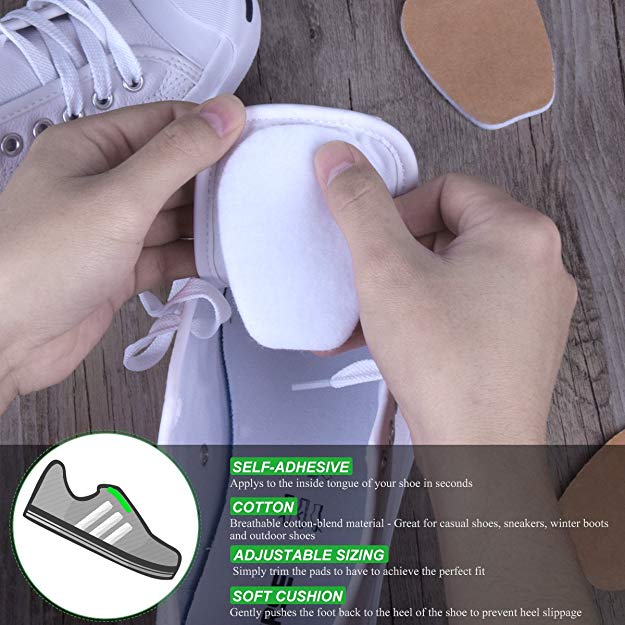 Alternatives to Prevent Shoes from Slipping Off – Shoe Lacing & Insoles
Aside from using a tongue pad there are a couple of alternatives that you can try to prevent shoes from slipping off. Take a look at the following alternatives:
Shoe Lacing Technique
The first alternative is using a particular shoe tying technique that I recommend for preventing shoe slippage. I also recommend this method for women who wear orthotics inside their shoes, since it helps to keep the orthotics in place and prevents the heel from slipping off the shoes.
Follow these simple steps:
Start by lacing up your shoes as you would normally do but leave the first top two holes (eyelets) of the shoes unlaced.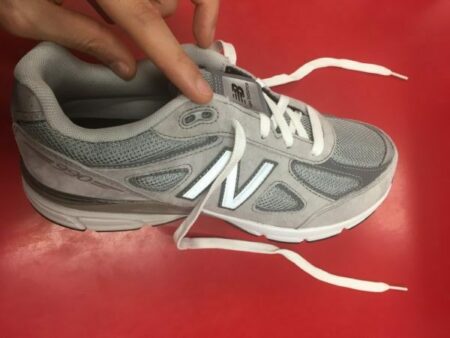 Loop the lace through the top hole first as shown in the image below.
Loop the lace through the hole that we left open and make sure you tie them properly.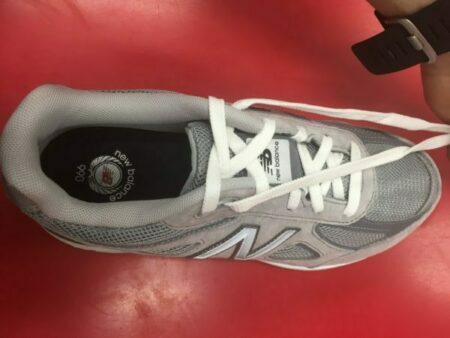 This method will push feet back, securing the heels against the back of the shoes, which will fill up any remaining gap and prevent your heel from slipping off the shoes.
You can see for yourself how secure the heels are once we apply this shoe tying method!
Wearing full Length Insoles
The second alternative is placing a full-length insole inside the shoes. This will fill up some of the extra space inside the shoe.
Although, you should note that this approach may be more expensive, and I have always found placing a tongue pad to be more effective.
In addition, do you have a child that is having trouble with their shoes slipping off? I wrote a focused article for kids on how to prevent the heel from slipping out of the shoe. Please go to the link below.
How To Prevent the Heel from Slipping Out of the Shoe – Follow These Easy Steps!
Is there another method you have used to prevent your shoes from slipping off? Please share your thoughts and experiences in the comments section below so we can all learn and benefit from them.
If after this informative article you are still having trouble finding a particular pair of shoes that prevent slippage, please do not hesitate to contact me. From experience, I am confident to tell you that there is always at least one particular shoe style out there that will fit the shape of your feet perfectly, and I will help you find it.