Are you dealing with ankle pain? Have you been looking relentlessly for shoes that will provide you with good ankle support?
Ankle pain in women is more common than you might think of, especially in women who are active and are involved in high impact activities or sports.
It's important to always keep your ankles protected and supported since the ankle is the joint where two bones meet; and it connects the foot and the leg.
The most effective way to reduce or fully eliminate your ankle pain is by wearing shoes that provide targeted support around the heel area.
I can tell you without a doubt that certain shoe styles provide more ankle support than others and that will significantly reduce or fully eliminate the pain. Trust me, the right shoes can do that for you!
Before you go to your doctor or physical therapist you should check whether the shoes are the main source of your pain.
Allow me to elaborate, when women experience ankle pain, the first thing to do should be to evaluate if the shoes that you are wearing are providing you with the right amount of ankle support.
My rich knowledge and experience in fitting women 's shoes are a result of working in a specialized shoe store for over 10 years. In addition, I have been helping women find the correct type of shoes and orthotics to reduce or fully eliminate the foot and leg pain that they were having. While we specialize in women with foot and leg problems, we also provide regular shoe fittings. I can tell you I have helped several women find shoes with great ankle support.
In addition, I have noticed that the most common cause of ankle pain in women is associated with wearing shoes that lack ankle support, and these shoes end up causing pain and weakening the ankle.
Certain shoe styles provide targeted support around the ankle area, and those are the shoe styles that I will recommend shortly. The most important feature that your shoes must provide is a firm heel counter. The firmer the heel counter is, the more ankle support that it provides.
I am going to show you shortly an up-to-date selection of the best shoes for women with ankle support.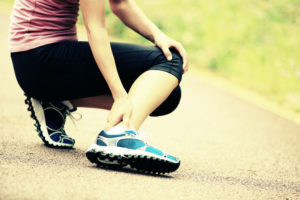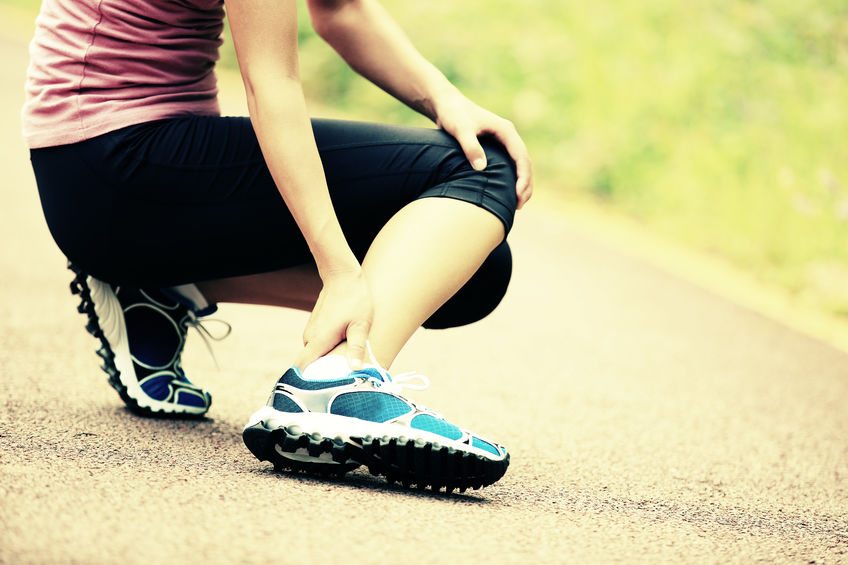 The Importance of the Ankles & Ways to Strengthen It!
The ankle connects our foot with our leg and helps carry the weight of our body. We need our ankles to be healthy to have the proper motion and perform well.
The ankle is a tricky area but is important as it has to provide a moveable joint to push you forward when walking, while at the same time being able to twist in all directions to allow you to balance and adapt to the different levels on the ground.
To sum up, I have put together a list of things to wear or do to keep your ankle healthy and even strengthen it:
Wearing proper shoes that provide ankle support
Wearing the correct shoe size
Wearing an ankle brace
Flexibility and therapeutic exercises
Although there is a disclaimer with wearing an ankle brace—while it can be great for support, if you wear it every day, you are likely to weaken your ankle from the consistent use and limiting the motion.
Strengthening your ankles will also help you walk better and prevent your hip and knee muscles from being weakened!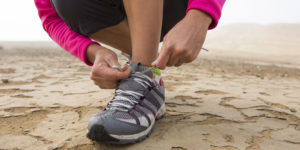 Finding Out Your Exact Foot Size — Easy & Simple!
Knowing your correct shoe size is key for feeling comfortable and keeping your ankle and feet healthy. You should especially know your correct shoe size if you are going to be buying your shoes online and to avoid scrolling through lots of shoes that won't be good enough.
In reality, online shopping is becoming more popular every day, and women are more likely to purchase their shoes online. There is nothing wrong with this, as long as you know exactly which shoe style you need and what your exact shoe size is. If not, you will end up creating more issues on your feet.
If you get shoes that are too short, long, too narrow, or too wide, you won't get the full support that the shoes have to offer.
So, if you want to make sure you get your correct shoe size, there are three things you need to consider:
The length of the foot
The width of the foot
The instep of the foot.
You can start by reading an article I wrote that describes the simplest, yet most effective way to figure out your foot size from home. Please click on the link below:
How To Measure Your Foot Size – The Most Simple And Effective Way!
Factors that Guarantee Good Ankle Support – The Checklist!
Altogether, the following factors will guarantee good ankle support and will thus allow you to keep your ankle and feet healthy:
✅ Firm Heel Counter: The heel counter is the back part of the shoes that provides ankle support, and the firmer it is, the better. In case you are not sure what the heel counter of the shoe is, you can see the picture below: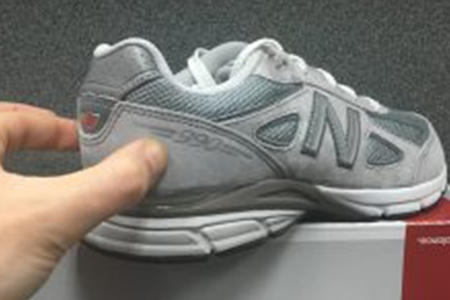 ✅ Substantial Sole: The sole of the shoe is the part that provides arch support and provides shock absorption, and we need the sole of the shoe to be well-padded and supportive (especially below the ankle area), since this will target to reduce the impact that your feet take every time they come in contact with the ground. Let me show you a picture of a shoe that comes with a substantial sole and extra padding around the ankle area: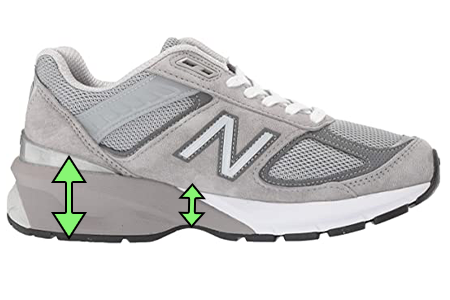 ✅ Depth: Deep shoes allow your feet to sit deeply inside the shoes and your ankles will be fully protected and supported.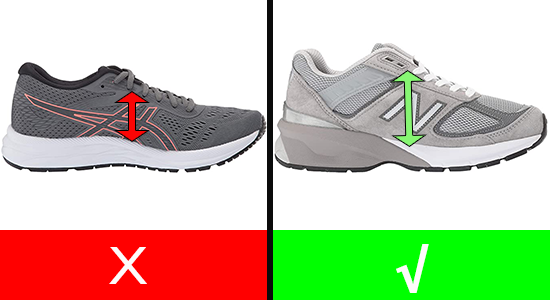 ✅ Lightweight and flexible: While your shoes must be supportive, they should also be lightweight and flexible, so you can prevent your feet from easily getting tired. Your shoes should always bend at the ball of the foot but no further. The picture below shows the difference between a shoe with the correct amount of flexibility versus a shoe that is too flexible and won't provide you with the correct amount of support.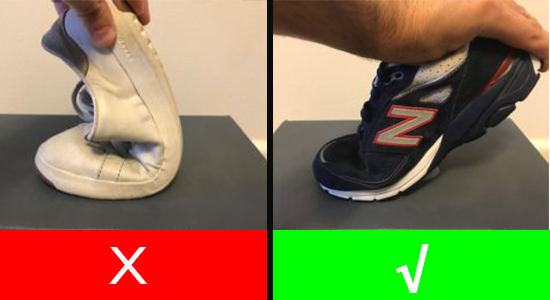 ✅ Breathable: This will allow your feet to breathe and prevent the formation and build-up of bacteria inside the shoes.
✅ Traction: Having good traction will help prevent you from slipping and twisting your ankle.
✅ Shoelaces: Stay away from Velcro shoes or shoes that come with toggle shoelaces. Always go for shoes that come with traditional shoelaces since they will provide much more support than other type of closure. Shoelaces secure the heel area and provide maximum support.
You can rest assured that I only review shoe styles that I have fitted before since that is the best and only way for me to tell how well-made the shoes are, the amount of support that they provide, and how they fit. Disclosure: Keep in mind that we may receive commissions when you click our links and make purchases.
Best Shoes for Women with Ankle Support ⭐⭐⭐⭐⭐
Let me show you a selection of the best shoes for women with ankle support that I have fitted before and have proven to reduce, or completely eliminate the pain.
Medium – Wide – Extra Wide

Medium – Wide – Extra Wide

Medium – Wide – Extra Wide

Medium – Wide – Extra Wide

Medium – Wide – Extra Wide

Available in Narrow Widths (N)

Regarding the width, these shoe styles are available in all different widths, narrow (N), medium (M), wide (W), or extra wide (XW) feet. So, no matter what your foot width is, the shoes will fit the contour of the exact shape of your feet as long as you choose the correct shoe width.
The Asics shoe style will fit a woman with narrow or medium width feet better. The New Balance and Orthofeet shoe styles will fit a woman with medium, wide, or extra wide feet better.
There is a particular way you can lace your shoes that will allow you to get more support, especially around the ankles.
The following shoe lacing technique will push your heels back against the shoe, securing your feet and allowing them to get the full benefits that the shoes have to offer. This shoe lacing technique will also allow your shoes to hug your feet better providing you with maximum support and stability.
✅ Begin by lacing the shoes normally with a crisscross.
✅ Keep the lace ends on the same side and enter each end under the next eyelet down.
✅ Lace the usual crisscross pattern but leave the two top eyelets (shoe holes) open.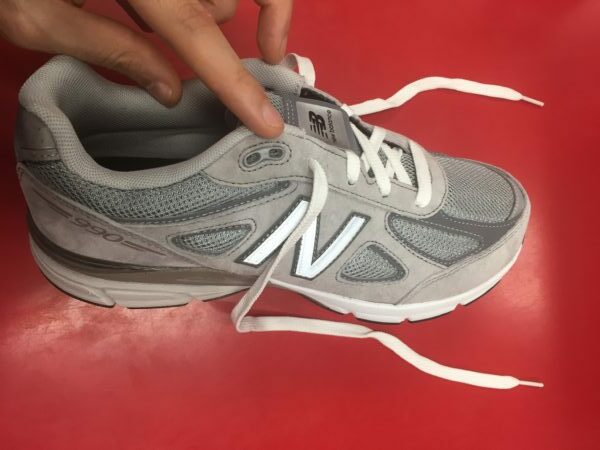 ✅ Go through the top hole first as shown in the picture below.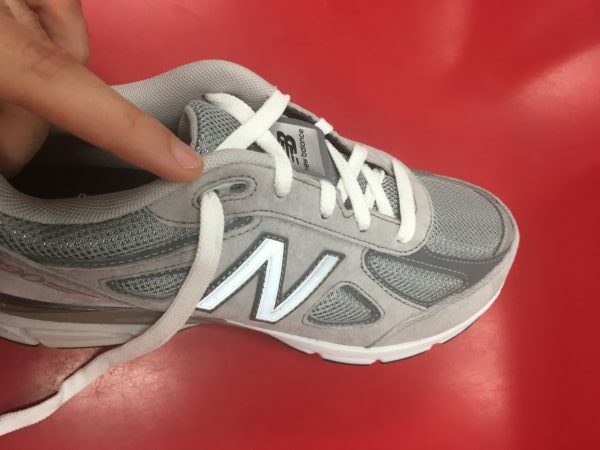 ✅ Go through the two holes that you left open as shown in the picture below.
That's it, you are all set! You will notice a great difference right away.
By the way, if you use braces for added ankle support and are looking for shoes that fit braces, then you can take a look at an article I wrote on the best women's shoes that fit braces. Please go to the link below:
Women's Shoes that Fit Braces – Deep, Supportive, and with a Round Toe-Box!
In addition, do you have a child that is experiencing ankle pain and also needs a pair of shoes with ankle support? I wrote an article where I describe the best kids' shoes with ankle support. Please go to the link below:
Is there another shoe style that has given you good ankle support and that you would like to recommend? Be encouraged to share your thoughts and experiences in the comments section below so we can all benefit from your experiences.