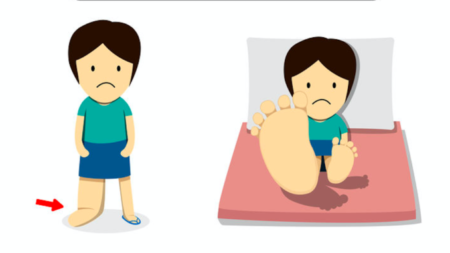 Do you have a side of your body that is bigger than the other? Have you been diagnosed with hemihypertrophy and are struggling to find a pair of shoes to fit the shape of your larger foot?
Hemihypertrophy is an uncommon disorder in which one side of the body grows more than the other due to an excess production of cells. Moreover, in this condition, there is an excessive (hyper) growth (trophy) of only one side (hemi) of the body, and it can cause asymmetry in the right or left side.
When a woman has hemihypertrophy in one of her legs, two different sized shoes are usually required. It's important for you to know that many shoe stores have the policy to offer a "Buy One Get One 50% Off "deal for circumstances where two different sizes are required. In any case, discount or no discount your comfort and health are totally worth it!
You are in great hands because I am an expert when it comes to fitting women's shoes since I have been working for a specialized shoe store for the last 10 years. I have been helping women find the correct type of shoes and orthotics to reduce or fully eliminate the foot and leg pain that they were having. We specialize in women with foot and leg problems, but we provide regular shoe fitting as well.
I have fitted a few women with hemihypertrophy and all of them required two different sized shoes. I also noticed that there are 3 key features that the shoes must have to fit a woman with hemihypertrophy:
✅ Extra Wide Widths: This will allow you to fit the shape and size of your feet.
✅ Extra Depth: This feature will allow your feet to fit deeply inside the shoes and prevent the top part of your feet from rubbing against the top part of the shoes. Shoes that provide extra depth are also easy to get on and off.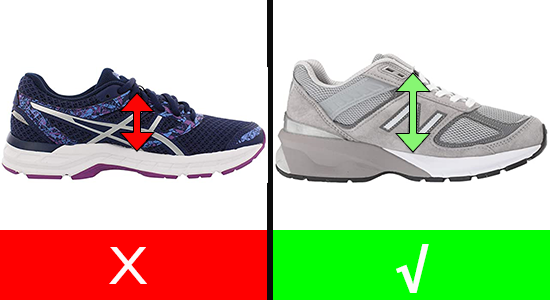 ✅ Round Toe-Box: This feature will prevent your toes from overlapping each other or rubbing against the side of the shoes.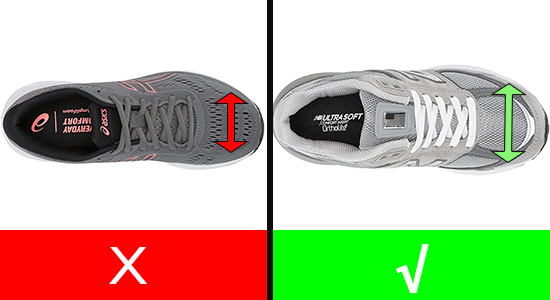 On top of these key features, the shoes must also be supportive, lightweight, and flexible.
I will provide you with a selection of the best shoes for women with hemihypertrophy shortly, but first I will show you how you can figure out your exact foot size from home.
Finding Out Your Exact Foot Size — Easy & Simple!
You wouldn't believe the number of women that are wearing shoes in the wrong shoe size! This is something that gets often underestimated. We tend to believe that we are a foot size based on a shoe style or brand that we have worn before.
Knowing your exact foot size is key for feeling comfortable and keeping your feet healthy. You should especially know your correct foot size if you are going to be buying your shoes online.
Wearing a great pair of shoes with great features but in the wrong foot size is truly a waste. But, that doesn't have to be the case anymore!
You can start by reading a detailed an article that describes the simplest, yet most effective way to figure out your foot size from home. Please click on the link below:
How To Measure Your Foot Size – The Most Simple And Effective Way!
The key is to find a shoe style that will allow us to fit the shape of your feet without getting the shoes too long. Just so you know, once you measure your feet, the next step is to try to fit the shoes a "half a size to a whole size longer" of the size that your measure in the shoe measuring scale (Brannock device) to prevent your toes from rubbing against the side or the front of the shoes.
If you are dealing with hemihypertrophy, it's highly likely that we will need to find a pair of shoes that are a whole size and a half to two whole sizes longer of your foot size.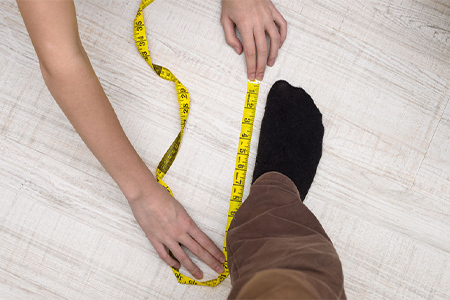 What Are Other Women Saying About Hemihypertrophy? – Sharing Experiences!
Certainly, we can all benefit from other women's experiences, so take a look at what other women had to say about hemihypertrophy:
"I have hemihypertrophy and my feet are pretty sensitive, it has been a true nightmare to find shoes that fit and feel comfortable. "
"I have very thick feet and I also wear orthotics that take a lot of space inside of the shoes. I use the New Balance shoes in extra wide and it's wonderful since it allows the orthotics to fit comfortably inside the shoes."
"I have hemihypertrophy involving the upper and lower right extremities and my leg length discrepancy can be noted by my pelvic tilt and it's been very hard to find shoes that fit. I am now using Orthofeet and they are true lifesaver!"
"I have discovered that New Balance shoes fit my extra wide feet and orthotics very well."
"I have the widest feet ever, they are thick, and I have a very high instep, which makes it near to impossible to find shoes to accommodate the shape of my feet"
I have tried many different shoe styles by New Balance and the only one that seems to work for me is the 990v4 style. All other shoes left marks on the top of my feet!"
The Perfect Shoes for Hemihypertrophy – Deep and with a Round Toe-Box!
Fitting shoes when having hemihypertrophy can be an uphill battle, but I will show you two show brands that I have found to be the most effective ones when fitting women with hemihypertrophy. Their shoe styles fulfill all the requirements that I mentioned before and are my go-to shoe style for women with this condition.
Now, let's take a look at the 2 best shoe brands that offer great shoe styles for hemihypertrophy.
New Balance ✅
New Balance has a particular shoe style (990V4) that is most appropriate for women with hemihypertrophy.
This shoe style is available in W and XW sizes, provides extra depth, and comes with a substantial sole for maximum support without a cramped fit. It also has a specialty midsole cushioning and a soft fabric lining all keep your feet comfortable and shielded from injuries that may be caused by bumps or trips.
Orthofeet ✅
Orthofeet is also my go-to brand for hemihypertrophy.
This shoe company manufacturers certain shoe styles that add spring to your step with an air cushioning system that cradles your feet to reduce pain from swelling, bad circulation, and stiffness. The non-binding upper and seam-free interior lining limits chafing and gives your feet more than enough room to breathe, and the premium orthotic insole adapts to your foot with each step for a more secure-yet-soft feel.
I only write reviews of shoe styles that I have fitted before, otherwise, I wouldn't know how well-made they are, the amount of support that they provide, and how they fit. Disclosure: Keep in mind that we may receive commissions when you click our links and make purchases.
The Best Shoes for Women with Hemihypertrophy ⭐⭐⭐⭐⭐
Below you can find a selection of the best shoes for women with hemihypertrophy. These shoes are all available in wide (W) and extra wide (XW) widths.
Choose X-Wide

Choose X-Wide

Choose X-Wide

Choose X-Wide

Choose X-Wide

Keep in consideration that shoes can run short, long, narrow, or wide, and depending on how they run you will need to adjust the size that you get for yourself.
All of these shoe styles fit "true to size", which means that you might need a whole size and a half to two whole sizes bigger of the size that your feet measure at the standard foot measuring scale (Brannock device) to prevent your toes from rubbing against the front part of the shoes.
The Best Socks for Hemihypertrophy – Breathable & Seamless!
You shouldn't underestimate the important role that socks play in keeping your feet healthy as they mainly act as a barrier between your feet and the shoes. Socks prevent infections and the formation of bacteria inside the shoes.
Why is it important to wear the right type of socks for women with hemihypertrophy?
It's important to choose the correct type of socks because you don't want to constrict the toes or make them overlap each other. Seamless socks are ideal for women with swollen or extra wide feet, since they don't constrict toe movement.
Below you can find a selection of the best seamless socks for women with hemihypertrophy.
Additional Colors Available

Additional Colors Available

Additional Colors Available

Additional Colors Available

In addition, if you have a child with hemihypertrophy and you are having a hard time finding a pair of shoes to fit the shoe of his/her feet, you can take a look at an article I wrote where I describe the best children's shoes for hemihypertrophy. Please click on the link below. 
The Best Children's Shoes For Hemihypertrophy – Extra Wide And Deep!
Have you tried the brands and shoe styles that I recommend in this article? Have you found another brand or shoe style that has worked well for hemihypertrophy? Please share your thoughts and experiences below so other women can benefit from your experiences.