Do you have extra wide feet and have been looking endlessly for a pair of shoes? Do you feel like all the shoes that you try are too narrow and run against the side and the top of your feet?
Every woman is unique and so are their feet! You should not have to make yourself adapt to a poorly fitting shoe, on the contrary, the shoes should adapt to your feet. Women's feet are different in size, shape and width!
You may have different reasons for looking for extra wide shoes. Some women are born with extra wide feet, others develop wider feet as they age and it can also be a result of a foot condition, deformity, swollen foot, or a situation that requires you to wear an extra wide width shoe.
Regardless of the reason why you need extra wide shoes, I am sure you agree with me that wearing tight shoes that cause you pain or discomfort are not worth it!
Now, I know that finding a pair of extra wide can be a time-consuming experience and can even become discouraging, especially if you don't know what shoe styles to look for.
Shoes in extra wide widths do exist and it doesn't matter how wide your feet are, there is always at least one particular shoe style that will fit the shape of your feet perfectly and I will help you find them.
It is key that the shoes that you wear allow your foot to function properly and of course, not all shoe companies make their shoes in wide or extra wide sizes. In addition, I have fitted some of the widest women's feet in the correct pair of shoes, and I know which shoe styles are better than others.
Most women make the common mistake of assuming that once they find a shoe that is labeled as extra wide ("XW" or "EEEE"), that shoe will automatically fit the shape of their extra wide feet. In addition to finding a shoe that is labeled as extra wide, the shoes need to provide two other key features:
✅ Extra Depth: This will allow your feet to sit deeply inside the shoes and prevent the top part of your feet (instep) from rubbing against the top part of the shoes.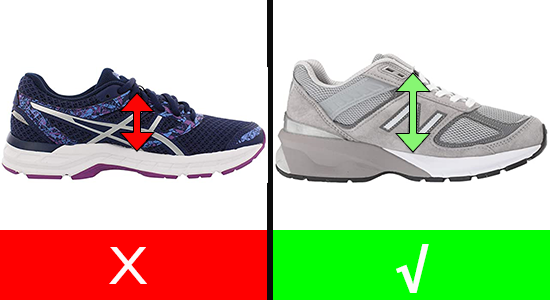 ✅  Round Toe-Box: This will prevent your toes from overlapping one another or rubbing against the side of the shoes.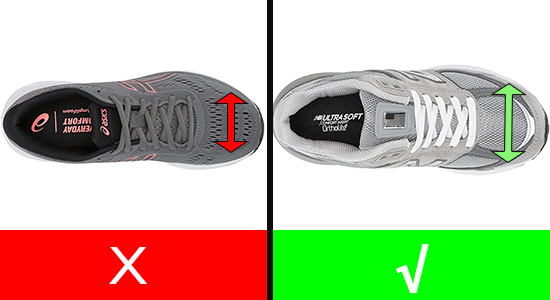 The issue is that most women are confused as to how they are supposed to find shoes that provide these 2 features if shoes don't come labeled as with extra depth or with a round toe-box.
My broad experience and extensive knowledge in fitting women 's shoes are a result of working in a specialized shoe store for over 10 years. I have learned a lot with each case and I have been helping women find the correct type of shoes and orthotics to reduce or fully eliminate the foot and leg pain that they were having. Even though we specialize in women with foot and leg problems, we also provide regular shoe fittings.
I will show you a selection of the best extra wide shoes for women, as well as give you relevant information and show you how you can figure out your correct foot size from home.
Foot Sizing — Length, Width & Other Considerations!
To buy the most comfortable, easy-to-wear shoes for you, it's important to consider your specific requirements. The very first thing to do is figure out your correct foot size, also accounting for any foot issues you may have.
When trying to find the correct shoe size, we are looking to figure out your actual foot width (remember that shoes come in different width such as narrow, medium, wide, and extra wide). It may be the case that you believe that you have extra wide feet and in reality, you just have wide feet.
Therefore, there are 4 things you need to consider:
The length of the foot
The width of the foot
The instep of the foot.
Other foot issue or deformity.
Please start by reading an article I wrote that describes the simplest, yet most effective way to figure out your foot size from home. Please click on the link below:
How To Measure Your Foot Size – The Most Simple And Effective Way!
If you are unsure whether you have a high instep or some type of foot condition, please do not hesitate to contact me directly and send me pictures of your feet: comfortablewomenshoes@gmail.com  
REMEMBER: shoes that are too tight or narrow can cause pain, blisters, and certain deformities, such as:
Bunions
Hammer toes
Calluses
Crossover toe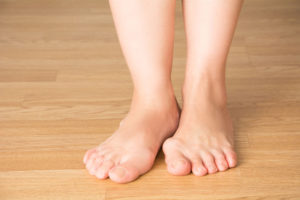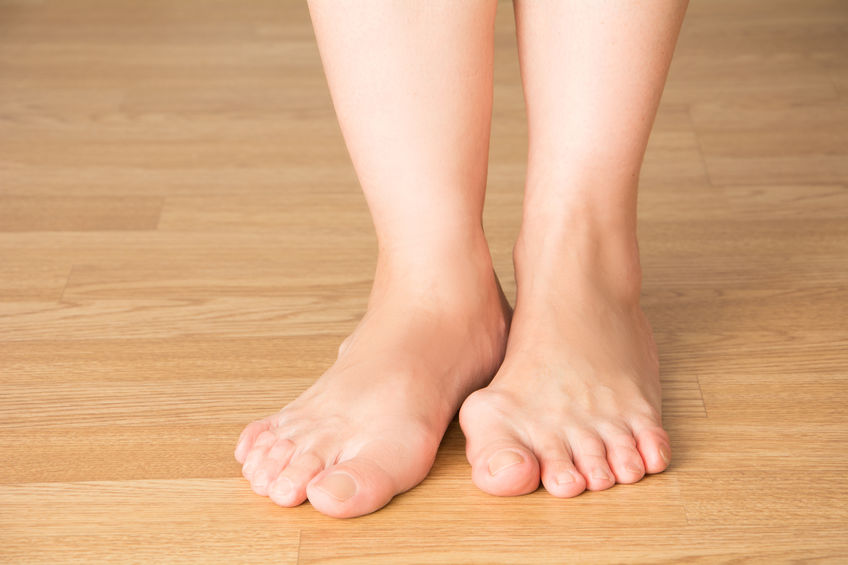 Extra Wide Shoes — The Shoe Requirements
On top of providing extra depth, a rounder toe-box, and fitting the shape of your feet perfectly, the shoes that you will wear for your extra wide feet must meet the following requirements.
✅ Provide Arch Support: This feature will prevent your feet from collapsing and turning inwards.
✅ Provide Ankle Support: This feature will help protect and support your ankles.
✅ Provide Shock Absorption. This feature will reduce the impact that your feet take every time they come in contact with the ground and relieve the stress on your feet and legs.
✅ Be lightweight and flexible: While shoes need to be supportive, they still need to be lightweight and flexible to prevent your feet and legs from easily getting tired.
Please don't forget that it doesn't matter how many features a particular shoe style provides, if the shoe is not fitted properly, you will not get any of the benefits that the shoes have to offer. What's even worse, you can end up creating all of the above-mentioned foot issues.
The Best Extra Wide Shoes for Women ⭐️⭐️⭐️⭐️⭐️
You can rest assured that I only review shoe styles that I have fitted before, seeing that is the best and only way for me to tell how well-made the shoes are, the amount of support that they provide, and how they fit. Disclosure: Keep in mind that we may receive commissions when you click our links and make purchases.
Choose X-Wide

Choose X-Wide

Choose X-Wide

Choose X-Wide

Choose X-Wide

Choose X-Wide

Please recall that shoes can run short, long, narrow, or wide, and depending on how they run you will need to adjust the size that you get for yourself.
I always suggest wearing half a size longer than the size that you measure in the shoe measuring scale to prevent your toes from rubbing against your bunion or the front of the shoes.
To prevent your toes from rubbing against the front or side part of the shoes, I highly recommend that you order these shoes half a size larger than the size that your feet measure. This translates to 0.3 inches or 0.6 centimeters of space between your longest toe and the end of the shoes.
How Can You Tell if Your Shoes Are Too Narrow? – Let's Find Out!
Have you noticed a small bump pressing against the side of the shoes? That is one of the most common signs that the shoes are too narrow: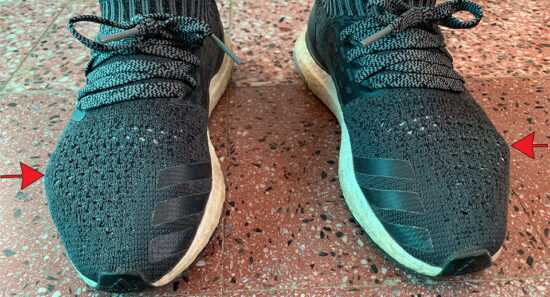 If you feel like your toes are rubbing against the top front part of the shoes, that is another of the most common signs that the shoes are too narrow.
What Are Other Women Saying? – Sharing & Learning!
Let's take stock at  what other women had to say about their own experiences.
——————–
"It's been impossible finding shoes that fit my wide feet. After trying the orthofeet sneaker my feet fit deeply inside the shoes and feel extremely comfortable".
"Since I tried Orthofeet shoes I never looked back, they are truly comfortable and adapt very well to the size of my feet!"
"In the past I didn't need extra wide shoes, now it feels like it's the only size that fits. All previous shoes used to rub against my instep and I had red marks on the top of my feet every time I took them off. My small toe was also always pressed against the side of the shoes. I am so happy I was able to find a pair of shoes that accommodate my instep".
"I never thought it was going to be possible to find stylish and functional shoes to accommodate the shape of my extra wide feet".
——————–
Never settle for shoes that are too narrow for your feet or shoes that fit "wider than others". Shoes in extra wide widths with extra depth and a rounder toe-box do exist.
If you happen to have children, it's highly likely that they have extra wide feet as well. Expanding on this, if you have children and are interested in becoming more informed or are looking for a good pair of shoes for their extra wide feet, then you can take a look at the article I wrote on shoes for extra wide feet.
Shoes For Extra Wide Feet – Stop Hurting Your Children's Feet
Is there another brand or particular style that has worked well for your extra wide feet? I encourage you to share your thoughts and experiences in the comments section below.