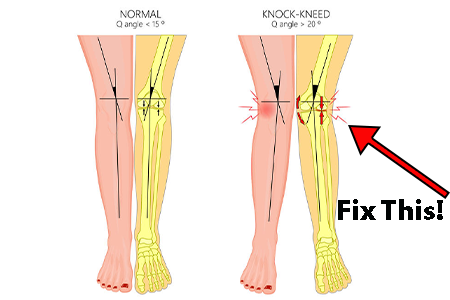 Are your knees turning inwards when you stand or walk? Have you been dealing with stiff joints, knee pain, and walking with a limp?
If you have been diagnosed with knock knees, there are simple steps that you can take to improve the way you walk and your overall posture, and I will guide you through these steps.
Knock knees (Gene Valcum) is a knee misalignment that turns your knees inward, and you will notice your two knees touching each other while standing straight. It's important to understand that knock knees are opposite of bow legs, since in the case of bow legs, the knees are far away from each other.
This is a condition that happens mostly in children between the ages of 3 and 7, but it  can also develop later in life from:
☑️  Injury/Infection in your knee or leg.
☑️  Severe lack of vitamin D and calcium.
☑️  Obesity.
☑️  Arthritis in the knee.
What is the Fastest Way to Fix Knock Knees?
The appropriate treatment will depend on what is the cause of your condition. If you are lacking vitamin D your doctor will probably recommend certain supplements and if you are dealing with obesity you will probably have to get involved in a weight loss program.
Before considering a more invasive alternative such as surgery, I always recommend wearing the correct type of shoes and in certain cases orthotics, since they can be extremely effective in improving your posture and allowing you to walk and run straighter.
The issue is that there are only certain shoe styles that will help treat and prevent this condition. The good news is that I know exactly which shoe styles will work better for knock knees from having fitted them before.
I have been working for a specialized shoe store for the last 10 years, and we help women fit foot conditions as well as "complicated" foot shapes. We specialize in women with foot and leg problems but provide regular shoe fittings as well. Over the years I became familiar with the best shoes for women with knock knees.
Examples of Women with Knock Knees
The simplest way to figure out whether you have knock knees is to stand straight and notice if the knees come together, you need to make sure you are indeed standing straight.
You should be aware that knock knees is a condition that can be painful and, in some cases, may require surgery to reduce or fully eliminate the pain, but if you buy the correct pair of shoes (substantial and supportive), you can significantly improve the way you walk and reduce or even eliminate the pain completely.
What a Difference the Correct Pair of Shoes Can Make! – Before and After Images!
Your feet are the foundation for your entire body. If your feet are not properly aligned, the rest of the body will follow. Let me prove this to you.
BEFORE
Below is an image of a woman that is flat-footed wearing a pair of unsupportive shoes. Do you notice how her feet are collapsing and turning inwards?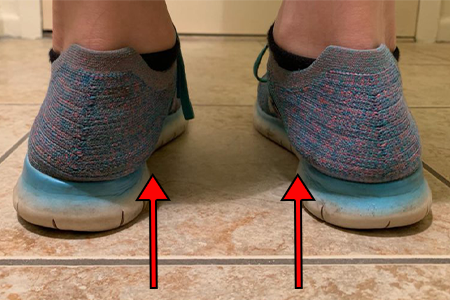 AFTER
Now let's take a look at a picture of the same woman wearing a pair of supportive shoes. Do you notice how much straighter her feet are? What a difference the correct pair of shoes can make!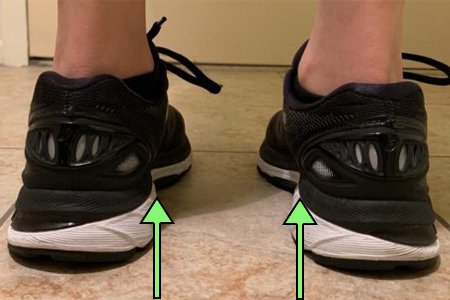 The correct type of shoes are going to help straighten your feet and your legs and knees will follow.
We also carry orthotics in case the shoes are not fully correcting the condition. We are one of the most popular premier specialty shoe stores in the country, and I am lucky enough to help a great number of women and children on a daily basis.
What Makes the Shoes I Recommend Effective for Women with Knock Knees?
The following are the 3 most important features that the shoes I recommend provide that make them ideal for women with knock knees:
✔️  Substantial Outsole: Choosing a shoe with a substantial outsole and good arch support will reduce or fully eliminate the shock that your feet receive every time they impact the ground. The substantial outsole of the shoe helps prevent your feet from turning inwards or outwards and help straighten your feet and legs up to your knees.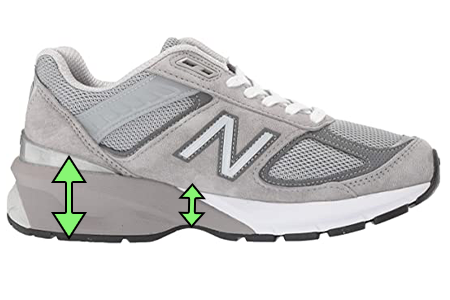 ✔️  Firm Heel Counter: This feature helps strengthen as well as straighten your ankles. The heel counter is the back part of the shoe. If you are not sure where the heel counter is located take a look at the image below: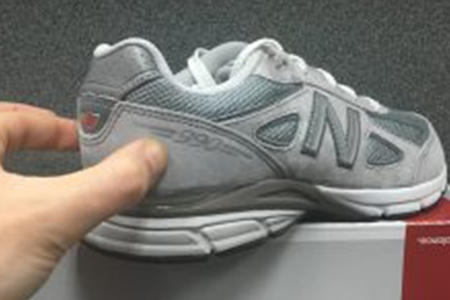 ✔️  Lightweight and Flexibility: While the shoes must be supportive, they need to be lightweight and flexible at the same time to prevent your feet from easily getting tired.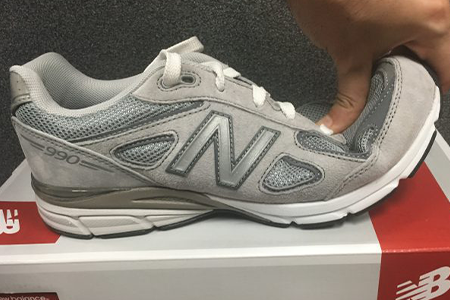 It is also important for the shoes to provide extra depth. Your shoes need to be deep in case you need to fit an orthotic inside them for extra support.
What Are the Causes and Symptoms of Knock Knees in Women?
There are several potential causes of knock knees, including metabolic bone and genetic disorders. Other causes are related to obesity, arthritis (particularly in the knee) and deficiency of vitamins, such as vitamin D and calcium.
Knock knees might cause pain especially when you are involved in sports or high impact activities.
Please be mindful about consulting a doctor or a physical therapist, they might advise you to be fitted in braces and orthotics to support the legs and possibly correct them in time. But if you have a case of severe knock knees the doctor might consider surgery.
Some of the symptoms of knock knees may include:
✅  Limping.
✅  Knee pain.
✅  Foot pain.
✅  Lack of balance when standing.
✅  Stiff pain.
✅  Ankle pain.
Be cognizant that I only write reviews of shoe styles that I have fitted before, otherwise, I wouldn't know how well-made they are, the amount of support that they provide, and how they fit.
Without further ado, let's take a look at a selection of the best shoes for women with knock knees. Disclosure: Keep in mind that we may receive commissions when you click our links and make purchases.
The Best Shoes for Women with Knock Knees ⭐⭐⭐⭐⭐
Below you can find the best shoes for women with knock knees that are available in medium (M), wide (W), and extra wide (XW).
Medium – Wide – Extra Wide

Medium – Wide – Extra Wide

Medium – Wide – Extra Wide

Medium – Wide – Extra Wide

Medium – Wide – Extra Wide

Available in Narrow Widths (N)

To prevent your toes from rubbing against the front or side part of the shoes, I highly recommend that you order these shoes half a size larger than the size that your feet measure. This translates to 0.3 inches or 0.6 centimeters of space between your longest toe and the end of the shoes.
If you are unsure of what shoe size to order online I suggest that you take a look at a different article I wrote where I help women figure out their exact foot size from home:
How To Measure Your Foot Shoe Size – The Most Simple And Effective Way!
Do you happen to have a child with knock knees? I wrote an article where I describe the best shoes and orthotics for children with knock knees. Just click on the link below:
I have seen many women come back to the shoe store to thanks us for the great difference the shoes have made in their daily lives. Remember that good supportive shoes will work in cases where knock knees are not severe, and the ankles are not that far apart.
In mild cases of knock knees where the ankles are further apart, you may have to wear braces or orthotics to correct the issue, straighten the ankles and reduce or fully eliminate the pain.
Best Orthotics for Women with Knock Knees 
All of the shoe styles that I recommend above can support braces and orthotics, so you will be able to fit an orthotic in any of these shoe styles to provide support for your feet and legs.
If you have tried a pair of good supportive shoes that are the correct size, but they haven't improved the way you walk and the pain persists, then it's time to try an orthotic inside your shoes.
Wearing the correct type of orthotics may help correct the foot position, and indirectly the alignment of the knee joint.
Fits Women with Shoe Size 5 1/2 to Shoe Size 9

In addition to straightening your feet and knees, this orthotic will help alleviate and prevent common injuries such as plantar fasciitis, metatarsalgia, shin splints, iliotibial band syndrome, achilles tendonitis and other conditions of the foot, knee, and hip. They provide optimal arch support, which will help prevent your feet from collapsing and align your feet and legs.
For example, let's take a look at a picture of a woman with flat feet and knock knees standing barefoot. Do you notice how her feet are collapsing and turning inwards?
Now let's take a look at a picture of the same woman standing in a pair of orthotics. Do you notice how her feet are much straighter?
Knock knees can be very painful and can limit your lifestyle. The condition should be monitored as early as it starts to develop and when it seems to be getting worse, visit your doctor or physical therapist for advice on the steps to take.
Just be aware that surgery is usually the last resort to correct this issue and is mostly just considered for severe cases.
Have you found a particular shoe style or orthotic that has helped you in improving this condition? Please share your feedback below so other women can benefit from your experiences.