Have you been looking for good, comfortable, and yet fashionable shoes for you to wear with ankle-foot orthoses (AFO)? As a fashionable woman, you shouldn't have to be forced to choose between comfort and style, you should be able to have both!
To be on the same page, let me clarify what an AFO is. It is a device, usually made of plastic, with support intended to control the position and motion of the ankle, compensate for weakness, or correct deformities. AFOs can be used to support weak limbs, or to position a limb with contracted muscles into a more normal position.
AFOs are often used by women suffering from neurological or orthopedic conditions such as stroke, multiple sclerosis, cerebral palsy, fractures, sprains and arthritis.
They will help correct your overall posture or other biomechanical problems with the foot by holding the foot and ankle in the correct position.
I understand that finding stylish shoes that can accommodate all the extra space that an AFO takes can be a frustrating and time-consuming experience, especially if you don't know what shoe styles to look for.
Most shoe companies do not make shoes for women who need to wear AFOs. Very often, many women can't find a single pair of stylish shoes that can also be able to accommodate the shape of the AFOs. Hence, these women end up using the wrong shoes and as a result, the functionality and benefit of the AFOs is impacted.
I am an expert when it comes to fitting women's shoes since I have been working for a specialized shoe store for the last 10 years. Moreover, I have been helping women find the correct type of shoes and orthotics to reduce or fully eliminate the foot and leg pain that they were having. We specialize in women with foot and leg problems, but we provide regular shoe fittings as well.
As I mentioned in this post I will share with you which is the best brand, a selection of these stylish shoes for women who wear AFOS, and also the shoes' key features. The shoes I will recommend can be worn with or without the AFOS, although I strongly suggest wearing them without the AFOs and limiting the amount of time you wear them to no more than 5 hours a day.
Finding Stylish Shoes for AFOs — Orthofeet Shoes!
There is a small selection of good, comfortable shoes that will work with your AFOs, but the selection gets even smaller when it comes to finding a pair of stylish shoes.
It can be extremely challenging and time-consuming to find stylish shoes that accommodate AFOs. It is already a hassle having to wear an AFO to also have to wear ugly, clunky shoes. The great news is that there is a particular shoe company, called Orthofeet, which offers contemporary fashion and stylish shoes as well as well-engineered design.
Orthofeet is the most effective and proven shoe company which makes customized footwear that does not compromise style. Their shoes are fully customized to fit your feet measurements, meaning that they can accommodate any type of orthotic out there from AFO, KAFO, DAFO, and SMO braces.
Shoes for AFOs — Key Features
There are 3 key features that your shoes must have to accommodate the AFOs in your shoes.
✅ Wider Opening: This feature will prevent you from shoving your foot in the shoes every time you have to put your shoes on.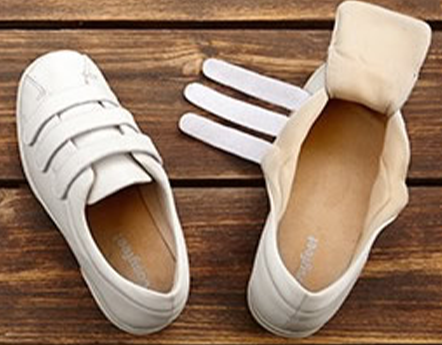 ✅ Extra Depth: This feature will allow the AFO to fit deeply inside the shoes and prevent the top part of your feet from rubbing against the top part of the shoes. Also, having extra depth will prevent giving you the impression that your feet are coming out of the shoes as you walk.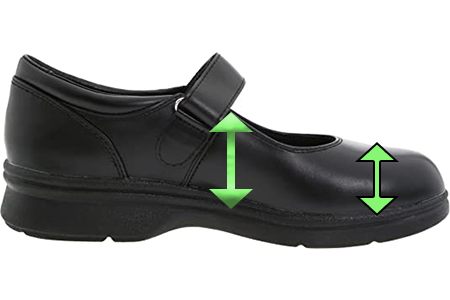 ✅ Round Toe-Box: This feature will prevent the AFO from poking a hole in the front of the shoes.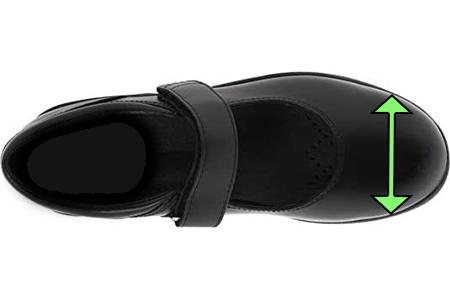 If you don't have these 3 important features in the shoes that you buy, then it would only be time before you see holes in the shoes.
Please remember that it doesn't matter how many features a particular shoe style provides, if the shoe is not fitted properly (with sufficient room to fit the AFOs), you will not get any of the benefits that the shoes or the AFOs have to offer. What's even worse, you can end up creating minor to severe foot issues.
If you are unsure of your foot size I suggest that you take a look at a different article I wrote where I describe the most effective way to figure out your foot size from home:
How To Measure Your Foot Shoe Size – The Most Simple And Effective Way!
FAQs on Shoes for AFOs
I get contacted by women on a daily basis who are frustrated about not being able to find a good pair of shoes other than their everyday sneakers for them to wear with their AFOs.
I have noticed that many women who are new to AFOs wear have frequently the same questions and concerns. They have the same worries and frustrations; the good news is that I will share with you what I have learned over all my years of professional shoe fitting.
How to accommodate an AFO?
Your shoes require a wider opening to easily slide the foot in with the AFO on. Also, the shoe should have extra depth to accommodate for the additional room taken up by the AFO. 
Do stylish shoes that fit an AFO exist?
They do! Orthofeet has a selection of stylish shoes that can perfectly accommodate AFOs.
How to avoid most common mistakes when fitting an AFO?
Many women make the common mistake of buying longer shoes to be "able" to accommodate the AFOs. This usually leads to compromising their stability, making them more prone to falling and hurting themselves, and defeating the whole purpose of wearing an AFO. Another common mistake women make is to assume that a shoe that is labeled as "extra wide" will automatically fit the AFO. 
How to clean AFOs?
The AFO may be cleaned by wiping it with a damp cloth.  You may also use rubbing alcohol on the plastic to remove any body oils and residue.  Do not submerse in water as it may harm the metal fasteners and straps.
Can stylish shoes for AFOs be worn all day every day?
Please note that fashion/stylish shoes are not meant to be worn as everyday shoes. You should wear everyday supportive shoes with your AFOs for most of the day and wear your stylish shoes for no more than 4 to 5 hours a day.
I only review shoe styles that I have fitted before since that is the only way for me to tell how well-made the shoes are, the amount of support that they provide, and how they fit. Below you can find a selection of the best stylish shoes for women who wear AFOs.
The Most Stylish Shoes for Women Who Wear AFOs ⭐⭐⭐⭐⭐
These shoes are available in different width such as medium (M), wide (W), and extra wide (XW) widths. These shoes can be worn with or without the AFOS, although I strongly suggest wearing them without the AFOs and limiting the amount of time you wear them to no more than 5 hours a day.
Fits Medium -Wide – Extra Wide

Fits Medium -Wide – Extra Wide

Fits Medium -Wide – Extra Wide

Fits Medium -Wide – Extra Wide

Keep in consideration that shoes can run short, long, narrow, or wide, and depending on how they run you will need to adjust the size that you get for yourself.
To prevent your toes from rubbing against the front or side part of the shoes, I highly recommend that you order these shoes half a size larger than the size that your feet measure. This translates to 0.3 inches or 0.7 centimeters of space between your longest toe and the end of the shoes. If you plan to wear these shoes with your AFOs then I suggest that you order a whole size larger: 0.6 inches or 1 centimeter of space.
Are Any Other Shoe Choices Available?
Do not hesitate to contact me if you have any further questions or can't seem to find the correct pair of shoes for your feet: comfortablewomenshoes@gmail.com
Shopping for stylish shoes that can accommodate an AFO no longer has to be a challenge. Orthofeet has you covered with stylish yet comfortable shoes!
In addition, if you have kids and want to provide them with a pair of stylish shoes so they can fit their AFOs, then you can take a look at an article I wrote where I describe the most stylish shoes for AFO braces. Please click on the link below.
 Stylish Shoes for AFO Braces – Mary Jane's Shoes, Boots, Dress Shoes, and Casual Sneakers!
Have you tried any of the stylish shoes made by Orthofeet before? If so, what has been your experience? Please share your feedback and experiences below so other women can benefit from your experiences.