Editor's Note: This post has been completely revamped and updated for accuracy on May 2022 and reflects an up-to-date selection of the best hiking socks for women.
Are you a hiker and are looking to find a good pair of hiking socks? Are you frustrated because you don't even know where to start when looking for the best hiking socks?
First off, let me tell you that socks play a key role in keeping your feet healthy since they act as a barrier between your feet and the shoes, preventing the formation of blisters and the growth of bacteria inside the shoes.
Certain hiking socks provide extra cushion to targeted areas of your feet, and these are the type of socks you need to look for to keep your feet healthy while hiking. These socks will also prevent your feet from rubbing against your hiking shoes, preventing the formation of blisters around the toes or the ankles.
Your hiking socks should be the same length as the hiking boots, and I strongly recommend having you trying the hiking boots with the same type of socks that you will be wearing with the boots.
Moreover, certain socks help provide more warmth and cushioning for those really cold days. Also, using socks specifically meant for hiking boots will allow your feet to breathe better. There are certain sock materials such as merino wool which would be ideal for hiking or for when you are walking or running for long periods of time. Merino is an ultra-soft, naturally anti-microbial, breathable material.
Always remember, wearing the correct type of hiking boots along with a good pair of hiking socks is a great way of keeping your feet healthy and also enjoying a hike full of adventure and comfort.
It doesn't matter how many features your hiking boots provide, if you don't wear the correct type of socks, you will feel uncomfortable during your hike and you might end up creating all sorts of foot issues to your feet such as blisters, calluses, and corns. In addition, if you're wearing cotton socks, your feet will perspire, and you will end up with cold, damp feet.
Certain hiking socks are made from high quality materials and that come with extra padding in targeted areas of the feet that will make your hiking experience much more pleasant.
Since I have been working for a specialized shoe store for the last 10 years, I am an expert when it comes to fitting women's shoes and socks. We specialize in women with foot and leg problems, but we provide regular shoe fittings as well as socks and other foot related products.
We need to carry socks that complement the fitting of shoes and are necessary for certain shoe styles, in this case for hiking boots.
I am going to show you a selection of the best hiking socks for women, but first I want to show you what is the best material for hiking socks and how to make sure you get the correct sock size.
The Best Sock Material for Hiking – Merino Wool
When looking for hiking socks, the type of material that you want to start getting familiar with is Merino wool. You can rest assured that if you wear a pair of socks made of Merino wool, you will keep your feet warm and comfortable during your hiking.
This doesn't mean that your feet will get too hot inside your hiking boots since Merino wool has the capacity of keeping your feet warm during the winter and cool during the summer. Wool is a breathable fabric that can wick the moisture away from your skin, which will keep your feet dry and cool.
You won't have to worry about your feet getting cold or sweating too much inside the hiking boots.
All of the sock styles that I will describe below come with a higher percentage of wool which means a higher level of thermal protection. Below is a summary of the two main benefits that Merino Wool hiking socks will provide to your feet:
☑️ Breathability: I mentioned before how wool is a breathable fabric that can wick the moisture away from your skin, which will keep your feet dry and cool. This will also help f you suffer from sweaty, smelly feet. The odor of smelly feet is caused by bacteria, which needs a moist and warm environment to thrive in. Since wool is extremely effective in removing moisture, the bacteria cannot multiply enough to cause the odor.
☑️ Comfort: Merino wool is soft and thinner in diameter compared to other sock materials, which means that you won't feel itchy when wearing these socks.
☑️ Absorbing Capacity: Merino wool socks absorb much more moisture than other sock materials such as cotton. Wool can actually hold a third of its weight in moisture before it even starts to feel "wet."
I am always explaining to women how it doesn't matter how many features a particular sock or hiking boot style provides, if the sock or the shoes are not fitted properly, you will not get any of the benefits that they have to offer. What's even worse, you can end up creating all sorts of foot issues to your feet such as blisters, calluses, and corns.
The Most Effective Way to Get the Correct Sock Size
It's important to be consistent and get the appropriate hiking socks for your hiking boots.
If your hiking socks are fitted too short, you will end up constricting your toes and make them overlap and rub against each other (this can lead to blisters). On the other hand, if the socks are fitted too long, they will end up bunching up below your feet and you will feel uncomfortable.
Let me show you the most effective way to get your hiking socks in the correct size.
Most socks come in a package with labels that read "fits sock size", " fits ages from…" , " fits shoe size". When trying to find the correct sock size, please ignore the label the reads "sock size" or "age guidelines".
In order to find your correct sock size, you must always look under the label "shoe size" in the sock's tags. This is the most effective way to find your correct sock size. Take a look at the two pictures below for clarification: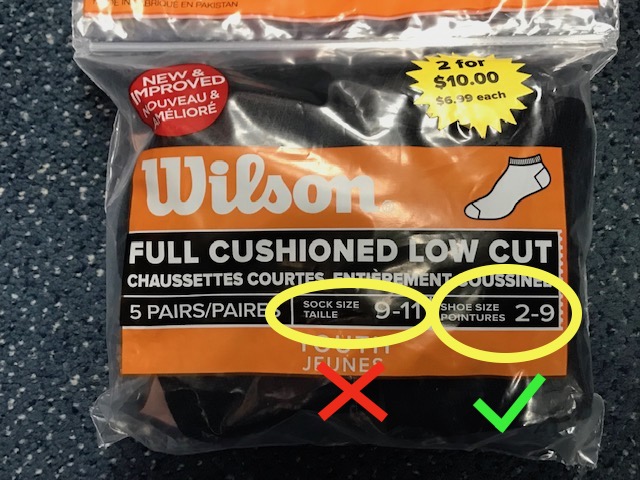 Now that you know what materials your hiking socks should be made of and how to get the correct socks size, you are ready to take a look at the best hiking socks for women.
I only review shoes and socks that I have fitted before since that is the only way for me to tell how well-made the socks are, the quality of the materials, and how they fit. Disclosure: Keep in mind that we may receive commissions when you click our links and make purchases.
The Best Hiking Socks for Women ⭐⭐⭐⭐⭐
There are a lot of socks out there that state to be made out of wool but when you look closely at the description the socks are made only from 50% wool material or less. These are still considered wool socks, but the benefits that you will get out of those socks will be less if the content is less.
Below you can find a selection of the best hiking socks for women:
If you are also interested in knowing which are the best waterproof hiking boots for women, you can go to an article I wrote on this topic. For your convenience just click on the link below.
The Best Waterproof Hiking Boots for Women -Keep your Feet Dry and Warm!
Please remember that the hiking boots and the socks will work together in keeping your feet dry and comfortable.
Have you found another sock style that has worked well for hiking? Please share your thoughts and experiences below so other women can benefit from your experiences.