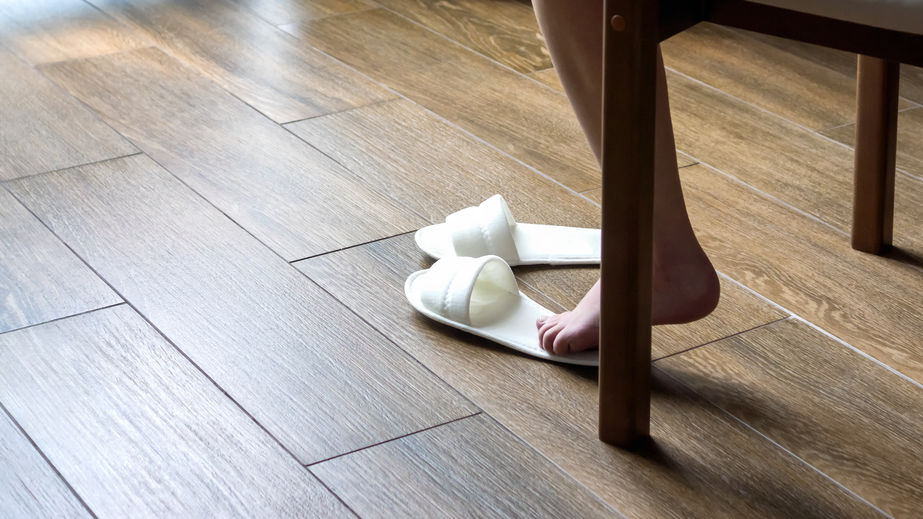 Do you have plantar fasciitis and have been looking for a pair of slippers to wear at your house? Is it becoming frustrating because you don't know where to find a slipper with good support?The best way to treat and cure plantar fasciitis is by wearing the appropriate footwear. Wearing the proper shoes can make the world of difference when it comes to healing your plantar fasciitis condition. So in this post I will go show you a selection of the best house slippers for plantar fasciitis.
My Experience Fitting Women's Shoes – Over a Decade of Shoe Fitting Experience
I have been working for a specialized shoe store fitting women's shoes for the last 10 years. Moreover, I have been helping women find the correct type of shoes and orthotics to reduce or fully eliminate the foot and leg pain that they were having. We specialize in women with foot and leg problems, but we provide regular shoe fittings as well as slippers. Over the years I became familiar with the best house slippers for plantar fasciitis.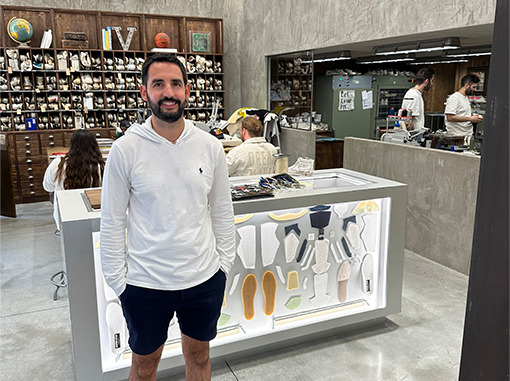 I can tell you that women who suffer from plantar fasciitis could experience great discomfort or cause their feet minor to severe problems by walking and standing on uncomfortable shoes/slippers while working or doing the regular chores at home.
All of the slippers that I will describe below come with a podiatrist-designed footbed that provides good support and promotes stability from the ground up.
Many women wear highly supportive shoes to their work every day, so there is no reason to stop supporting your feet at home while you are still being active.
What is Plantar Fasciitis?
To be on the same page, I will clarify what plantar fasciitis is. It's a medical condition that is caused by the inflammation of the connective tissue of the foot known as the plantar fascia. The plantar fascia runs through the arch of the foot, connecting the heel and the toes. When it becomes inflamed, you start experiencing pain in your heels or your arches.
If you have plantar fasciitis and already use the right type of shoes for work or being outside, then there is no reason for you to let down your guard and use just any pair of slippers at home.
Most women would usually spend a considerable amount of time on their feet walking around the house in the morning and before going to bed. There is a great chance that you are feeling tired and maybe experiencing foot pain. So, you want to avoid sliding into flimsy, non-supportive slippers or going barefoot.
Unfortunately, there is only a small selection of house slippers that will provide cushion and support to your feet while you are at home. The good news is that I will show you which styles will provide more support to your feet. I am going to show you a selection of the best house slippers for plantar fasciitis shortly, but first I want to make sure you know your exact foot size.
Find Out Your Correct Shoe Size
Moreover, if you prefer online shopping and are going to be buying your slippers online, you need to be absolutely sure that you know your correct foot size. I wrote an article that describes the simplest yet most effective way to figure out your foot size from home. Please click on the link below:
How To Measure Your Foot Size – The Most Simple And Effective Way!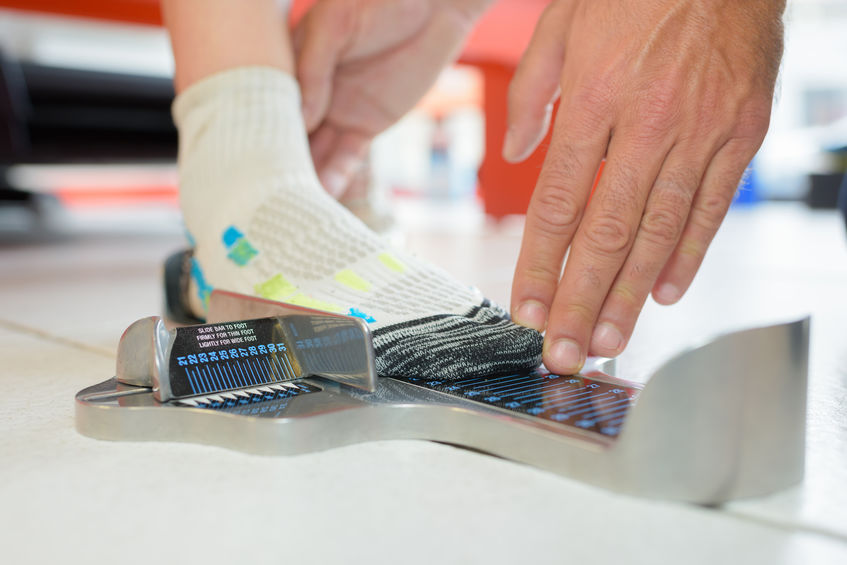 Supportive Slippers for Plantar Fasciitis – Let's Support Your Feet!
Trust me, a pair of good supportive shoes will cushion and protect your heel, allowing you to walk and run straighter, and reduce or fully eliminate the pain that you may be experiencing due to your plantar fasciitis.
A good pair of house slippers will also keep your feet healthy and will enable you to keep up with your daily routine without having any foot issues.
The right house slippers for you should come with arch support to help realign the muscles, bones and tendons in your foot. Also, slippers should be lightweight and flexible to allow the feet to move naturally with a stable base of support. Believe me, your feet will thank you when you treat yourself to a new pair of cozy and comfy slippers.
In addition, wearing the right pair of slippers will help reduce the risk of skin irritations and injuries. One of the reasons being that these slippers are made to give sufficient room around the toe area.
Let's take a look at the best two shoe brands that make support slippers. I will describe the best house slippers among these two shoe brands shortly.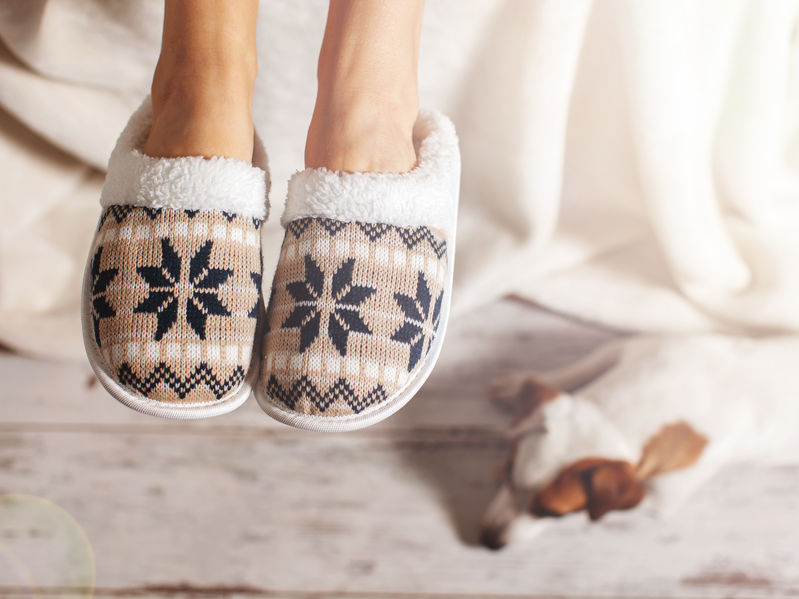 Orthofeet & Vionic House Slippers
Now, I would like to recommend you two brands that have the best house slippers for women that have plantar fasciitis.
 Vionic Slippers 
Vionic' s slippers will provide you with arch support and also come with extra cushion below the heel area for extra heel support.
This shoe brand makes functional slippers.
Of course, in your case you need to find slippers that will help your plantar fasciitis condition and will ease your walking at home.
Designed and made with cutting edge technology, Vionic house slippers are the perfect combination of comfort and support. Some of their slippers even have rubber soles so that you can wear them outside.
 Orthofeet Slippers 
Women who suffer from foot conditions, such as plantar fasciitis, know that finding the correct pair of shoes as well as slippers may be a challenging task.
Orthofeet offers supportive and well-fitted house slippers, which are built-in with unique comfort features.
Their slippers are designed to fit the unique shape and contours of your foot.
They offer specific features for sensitive feet and other foot issues and even for bad posture. Moreover, they use high technology to bring you the highest level of comfort and protection for your feet, lower back and knees. That is why I am certain that they will be the best for your Plantar Fasciitis.
Some of their unique comfort features are:
Arch support
Extra depth
Available in all widths including narrow, medium, wide and extra-wide widths
With no doubt, these two brands of slippers will change the quality of your daily routines at home.
Now that you know how to figure out your exact foot size from home and which are the best house slippers shoe brands for women with foot pain, you are ready to see a selection of the best house slippers for plantar fasciitis.
I only review shoes and slippers that I have fitted before since that is the only way for me to tell how well-made they are, the amount of support that they provide, and how they fit. 
Below you can find a selection of the best house slippers for plantar fasciitis.Disclosure: Keep in mind that we may receive commissions when you click our links and make purchases.
The Best House Slippers for Plantar Fasciitis — Keep your Feet Healthy and Comfortable at Home!
Fits medium and wide feet
The entire sole-hugging footbed is biomechanically contoured and podiatrist-designed with foot health in mind
A deep heel-cup for stability, ultimate arch support, and ball-of-foot cushioning realigns your stride
---
Fits medium and wide feet
Textile Covered EVA footbed
Adjustable hook-and-loop strap over vamp
Keep in consideration that slippers can also run short, long, narrow, or wide, and depending on how they run you will need to adjust the size that you get for yourself.
What Shoe Size Should You Order?
I suggest that you order these slippers half a size larger than your largest foot size.
On a different note, if you have a child with a particular foot condition such as plantar fasciitis, you can go to the page I created on fitting children's shoes, where you can find all information related to shoe fittings and more. Kindly click on the link below.
Fitting Children's Shoes – The Best Place to Find Children's Shoes that Fit for Any Foot Problem
Thank you for reading, we hope that you this post informative and helpful. Please feel free to share this post with your community on social media as well as your experiences in the comments section below. If you have any questions or need any further assistance, you can also contact us via e-mail and we will get back to you as soon as possible.