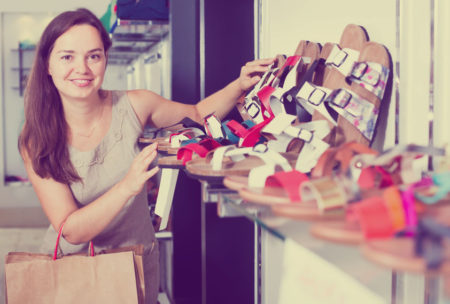 Editor's Note: This post has been completely revamped and updated for accuracy on May 2022 and reflects an up-to-date selection of the best sandals for women with small feet.
Are you having a hard time finding a pair of sandals that are available in your foot size? Do you feel like all of the supportive and stylish sandals that you like are not available in your size? Women with small feet have the hardest time finding shoes that fit, but this doesn't have to be the case anymore.
I have helped several women with small feet find the perfect pair of shoes for their feet, and I believe I can help you too.
Did you know that if you wear a women's shoe size 8 1/2 or smaller you can get the kids' version of the shoe and save a lot of money? Most women are not aware of how this shoe size conversion works or are skeptical of trying the kids' version of the shoes because they feel they might not be as comfortable or supportive. I am here to tell you that thousands of women are already wearing kids' shoes and not just women with small feet.
Are You 100% Sure of Your Foot Length and Shape?
This shoe size conversion will work as long as you are a foot size 5 or smaller. Don't assume that you are a certain foot size or shoe size just because you wore that specific shoe size all your life. Your foot shape and size can change over time, and some of the factors that contribute to this change are pregnancy, aging and weight gain or loss. Over time and because of gravity, our feet might get longer and wider.
As we age, the body's ligaments and tendons lose their strength and ability to spring back. This means that our arches decrease, which flattens and lengthens the foot and toes. This often results in an increase in shoe size by a half-size or more. You might also experience a change in foot width, meaning that even though you always ordered medium width shoes now you might have to start ordering wider shoes.
If you are unsure of your exact foot shape and length I suggest that you start by taking a look at this article:
How to Measure Your Foot Shoe Size – The Most Simple and Effective Way!
My Experience Helping Women with Small Feet Find Shoes
For the last 10 years, I have worked for a shoe store that specializes in helping people with "complicated" foot shapes as well as foot conditions find the correct types of shoes. The shoe store specializes in children and adult shoes, and I learned about a shoe size conversion between women's and kid's shoes that I believe you can strongly benefit from.
Women and Kids' Shoe Size Conversion
The magic formula: Your women's shoe size – 1.5 = Your kids' shoe size!
If your foot size measures a size 5 you will get the kids size 3 1/2. If you measure a foot size 4 1/2 you will get the kids size 3. Makes sense?
Below is also a shoe size translation chart between children's shoe sizes and women's shoe sizes so you can easily convert your women's shoe size to a kids' shoe size!
I have put together a list of the best sandals for women with small feet that are supportive, stylish, and affordable. Some of the sandals I recommend are meant to be worn for everyday walking while some others are dressier sandals that should be worn for a couple of hours and once in a while.
Best Sandals for Women with Small Feet ⭐⭐⭐⭐⭐
Take a look at the description below each shoe image to check whether that specific sandal can accommodate your foot shape (narrow, medium, wide, or extra wide). Remember that to get the correct kids' shoe size you need to subtract one shoe size and a half of your women's shoe size.
---
---
---
---
Fits medium and wide feet
Order this shoe a whole size larger than your foot size
---
---
What Shoe Size Should You Order?
Take a look at the description below the shoes that I recommended to find out what shoe size you should order.
Are There Any Other Sandals Available for Women with Small Feet?
I hope you find the selection I have put together about the best sandals for women with small feet helpful. Do not hesitate to contact me if there is a different type of shoe that you are looking for to accommodate the shape of your small feet:
comfortablewomenshoes@gmail.com
In the meantime I suggest taking a look at the articles below as they might answer some of your questions:
Best Dress Shoes for Women with Small Feet – These Kids' Shoes are Stylish, Comfortable, and Affordable!
Best Shoes for Women with Small Feet – Try These Stylish, Supportive, and Comfortable Kids' Shoes!
Let me know in the comment section below if you have found a specific pair of sandals that have worked well for your small feet! I am sure other women will benefit from your experiences.