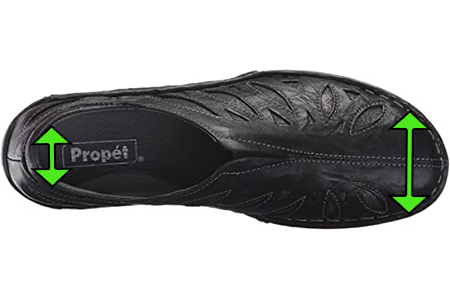 Are you looking for a pair of slip-on shoes but can't seem to find one that fits the shape of your narrow feet? Do you feel like every shoe style that you try keeps popping out of your feet?
Slip-on shoes are great, and women just love how these easy-on, easy-off sneakers can be worn with everything in your closet from casual to dressy outfits. They are the ideal sneakers for various occasions, including warm weather getaways, walks around the shopping mall, or traveling with and going through security!
I have been working for a specialized shoe store for the last 10 years. We specialize in women with foot and leg problems, but we also provide regular shoe fittings as well. I have fitted numerous shoes for women with different foot issues, and I know which shoe styles and which shoe brands fit better than others. Over the years I became familiar with the best narrow slip-on shoes for women.
At the store, I have spoken with many women who agree that buying shoes for requires function to be the priority! While slip-on shoes are not meant to be worn as everyday shoes, they are great because they can be worn to various places and they are easy for you to put on and take off.
Slip-on shoes are a fantastic addition to your wardrobe, but keep in mind that they shouldn't substitute your everyday shoes. In spite of the great benefits these shoes provide, they are meant to be worn for only short periods of time. For example, if you were going to the shopping mall, to grab dinner, or to take a short walk, they would be the perfect choice!
Slip-on shoes are perfect for those days when you are in a hurry and must run out of the house! Please keep in mind that they are not meant for running around or for performing any sort of high impact activity, since they don't provide much support or stability.
While slip-on shoes are great and facilitate your day to day routine, I know it is a challenge finding these in narrow widths.
But…
Slip-on shoes for women with narrow feet do exist, and I will help you find the best styles.
Did you know that is much harder to fit a woman with narrow feet than a woman with wide or extra wide feet?
In addition, I have fitted a vast selection of slip-on shoes that come in wide and extra wide widths, but the selection of slip-on shoes that come in narrow widths is actually way smaller. The main problem is that shoe companies are not making shoe styles in narrow widths.
In this post, I describe the best slip-on shoes for women with narrow feet! These are all shoe styles that I have fitted before and I know they will fit a woman with narrow feet since I have tested them on their feet.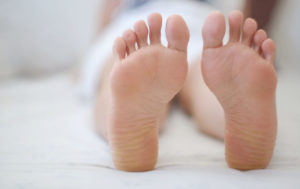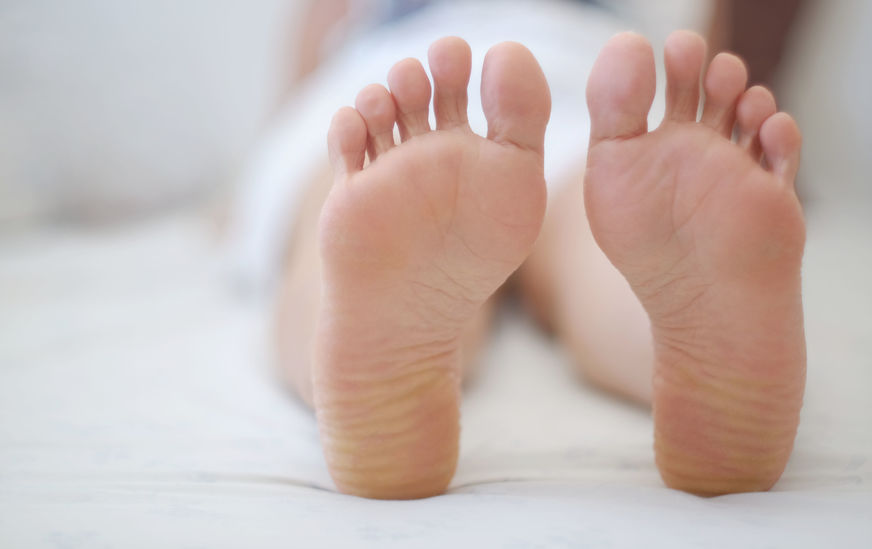 As stated before, finding a pair of narrow shoes for women can be quite time-consuming, and you might end up empty-handed if you don't know which shoe styles to try.
A slip-on shoe that is too wide means that your feet will move too much inside the shoe, and this constant friction between your feet and the shoe will lead to blisters, calluses, and corns.
Brands that Carry Slip-On Shoes for Narrow Feet – Take Note!
I have fitted a few brands that have proven to be by far the best type for women with narrow feet and you might want to start getting familiar with them. You might even have heard of these  brands before: Propet and Naturalizer.
Have you heard of the shoe brand Propet before? This is one of the best shoe manufacturing company for women. Propet shoes are designed for women who are looking for comfortable shoes without wanting to compromise style.
Most importantly, Propet shoes are available in narrow widths. I love the fact that they are one of the few shoe companies that offer shoes in all different types of widths, since this allows women to be able to try their shoes no matter how wide or how narrow their feet are.
Propet makes excellent quality, supportive shoes that will fit a woman with narrow feet perfectly. These slip-on shoes will also provide comfort, flexibility, and breathability!
The other brand that you have probably heard about before is Naturalizer. This shoe brand has been manufacturing healthy and quality shoes for women since 1927.
Naturalizer has a line of slip-on shoes which is stylish, comfortable, easy to slide in and available in narrow widths.
These shoe companies use advanced technology in the production of the women's shoes. They truly understand the importance of keeping women's feet healthy and comfortable!
The Best Narrow Slip-On Shoes for Women ⭐⭐⭐⭐⭐
Below you can find a selection of the best narrow slip-on shoes for women that I have fitted before. Make sure that you select the narrow width (N) when selecting your size.
Additional Colors Available

Additional Colors Available

Additional Colors Available

Additional Colors Available

In order to prevent your toes from rubbing against the front or side part of the shoes, I highly recommend that you order these sneakers a half a size larger than the size that your feet measure. This translates to 0.3 inches or 0.6 centimeters of space between your longest toe and the end of the shoes.
While these are the narrowest shoe styles of slip-on shoes that I have fitted before, this doesn't automatically mean that they will fit the shape of your feet. If these shoe styles are still too wide for your feet, I can show you some recommendations that I have used before to make the shoes feel and fit better.
Fitting Narrow Feet into Slip-On Shoes – Fit Them Right!
I will share the most popular and effective way of making slip-on shoes more suitable for narrow feet.
The first step is to insert a tongue-pad inside and under the tongue of the shoe, which is a great method that will prevent your shoe from slipping off the foot. A tongue pad is an adhesive pad that is placed under the tongue of the shoe. It pushes your heels back against the end of the shoes, preventing the shoe from slipping off! Take a look at the picture below for clarification!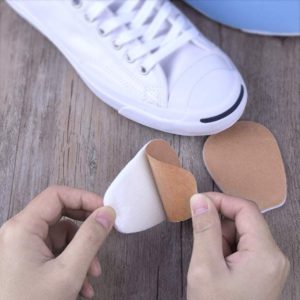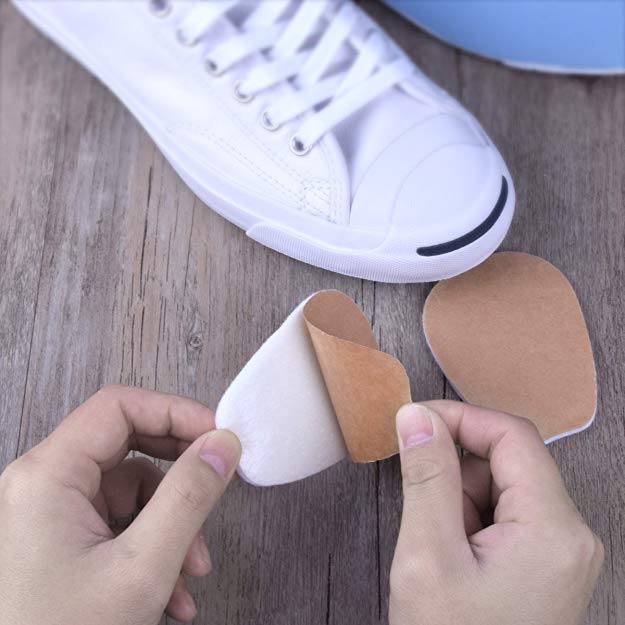 In the picture below you can see what a tongue pad looks like and where the tongue pad fits inside the slip-on shoe: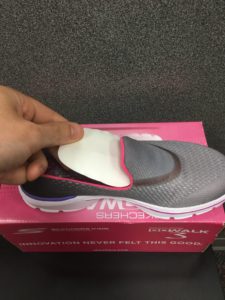 In case you don't like how the shoes feel with the tongue pad, then you can easily remove it by pulling it off.
Tongue pads work great for women with narrow feet. This is a proven method that I have tested several times and found that it works! Most women with narrow feet refuse to purchase a pair of slip-on shoes , but if the shoes are not available in a narrow width a tongue pad is all you need to allow you to wear slip-on shoes!
If you want to learn more about tongue pads and where to get them for the best price, you should take a look at an article I wrote where I describe the best tongue pads for women:
Which is the Best Tongue Pad for Shoes? – STOP Heel Slippage!
Buy the Kids Version that Fits Your Feet – Save BIG!
Are you looking to save some money? Did you know that if you wear a women shoe size 8 ½ or smaller, you will be able to fit in the kids' version of the shoe and save a lot of money? I explain how this shoe translation works in more detail in an article I wrote called:
Women And Kids Shoe Size Conversion Chart – Save Big Buying Kids Shoes!
If you are a woman who wears a shoe size 8 ½ or smaller, remember that you can wear the kids version of the shoe (get the same support and comfort) for a much lower price.
I may also be able to tell you whether a particular shoe style runs short, long, narrow, or wide. So please, don't hesitate to contact me on this regard. Remember that every shoe style will fit a little bit different, even among the same shoe brand.
Do you have a slip-on shoe style that you recommend for narrow feet? Please share your thoughts and experiences below, so we can all benefit from them!