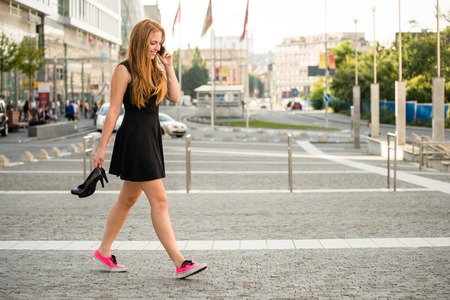 Editor's Note: This post has been completely revamped and updated for accuracy on May 2022 and reflects up-to-date information on what is the best women walking shoe?
Are you looking for a pair of supportive and comfortable walking shoes? Regardless of being a constant walker or not, you should always do it in supportive and comfortable shoes.
Please note that I am an expert when it comes to fitting women's shoes since I have been working for a specialized shoe store for the last 10 years. Moreover, I have been helping women find the correct type of shoes and orthotics to reduce or fully eliminate the foot and leg pain that they were experiencing. We specialize in women with foot and leg problems, but we provide regular shoe fittings as well.
There is a particular walking shoe style that has proven to be the most supportive and comfortable one since it has been women's #1 choice for the last 10 consecutive years. This is one of New Balance's core product, and I will show you this style shortly, but I want to dig in first in the benefits of walking and the features that this shoe style will provide to your feet.
Let's first briefly dive into some of the most important and relevant facts of walking.
As you may know, being active is really important for your overall health. Moreover, walking is a great option as it only requires you nothing but a good pair of walking shoes and trust me you will be rewarded with amazing mental and physical benefits.
Most doctors and physical therapists agree that at least a 30-minute walk every day can improve your overall health.
In addition, most doctors and physicians recommend walking over running because walking is a low-impact exercise and it's less hard on the heart and joints. Also, walking does not require you to have a fit condition and it can be done regardless of age.
Also, walking is one of the exercises that won't cost you anything beyond time and a good pair of walking shoes. Which if you choose well and get the right pair of walking shoes, they will last you for several years!
On the other hand, if your work or daily routine requires you to be on your feet all day, can you imagine doing so in shoes that are not comfortable or that don't offer enough support to your feet?
If you frequently find yourself having to take off your shoes because you are uncomfortable or feeling tired walking around, then let me show you which is the best shoe style for walking.
You should know that walking shoes must provide good arch and ankle support. Shoes with arch support will protect and cushion your feet every time they impact the ground, and the same exact applies to ankle support, since your heel is the one who touches the ground first when you're walking.
From my years of experience, I can tell you that many women don't know their true shoe size and end up getting the wrong shoe size. If you are not 100% what your foot size is, please start by reading an article I wrote where I describe the simplest, yet most effective way to figure out your foot size from home:
How To Measure Your Foot Shoe Size – The Most Simple And Effective Way!
It is really important that you wear your shoes in the correct size, which involves the correct shoe length and the correct shoe width, or you won't get any of the benefits that the shoe has to offer and you will end up creating all sorts of issues to your feet.
Let me show you which is the best women walking shoe that I have fitted before, and that it's available in different widths such as narrow, medium, wide, and extra wide.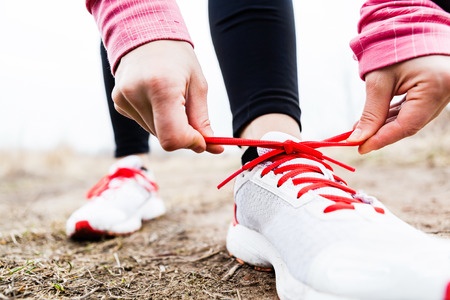 Benefits of Walking – Improve Your Health!
In general, walking has a ton of benefits for your physical and mental health and even makes you more likely to extend your lifespan. The following are some of the main benefits:
Improves your overall health
Helps with weight loss
Helps improve your circulation
Strengthens your bones
Helps improve your digestion
Enhances and boosts your mood
Helps improve your sleep
Tips on Making the Most of Your Walk – Let's Find Out!
While I will show you a selection of the best walking shoe style, I would also like you to take a look at the tips below on making the most of your walking experience.
Walk in areas designated for pedestrians and also look for well-lit areas if possible
Wear sturdy shoes with good heel and arch support
Wear shoes that are flexible, lightweight but also breathable
Drink plenty of water before and after your walk to stay hydrated
Tie your shoes properly
Wear breathable and comfortable socks
The Best Walking Women Shoe – You Will Get all of These Features!
☑️ Lightweight and Flexible: These features will make it easy for you to move around every time you take a step. When looking for shoes, always make sure you grab the shoe and flex it at the front to check whether it's flexible enough. The shoe should bend easily; take a look at the picture below for clarification: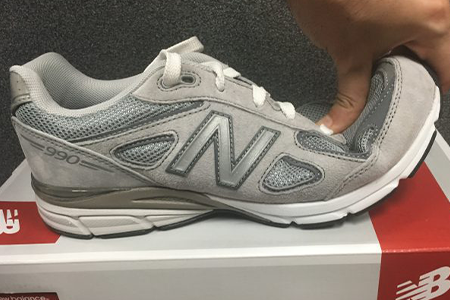 ☑️ Arch and Ankle Support: Shoes with arch support will protect and cushion your feet every time they come in contact with the ground, and the same exact applies to ankle support, since your heel is the one who touches the ground first when you're walking. The picture below shows a shoe with arch support, so always look in that part of the shoe to make sure the shoe provides good arch support. Slide your finger inside the shoe and check if you feel like a bump, that will guarantee you that the shoe provides good arch support.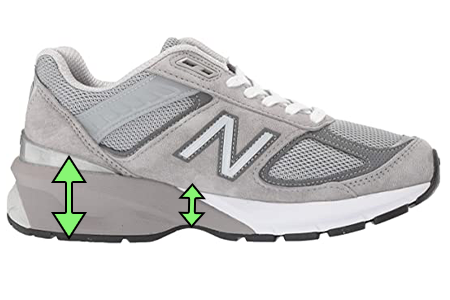 To check if the shoe provides good ankle support, always feel the back of the shoe (heel counter), and the firmer it feels, the better. The picture below shows you where the heel counter of the shoe is located: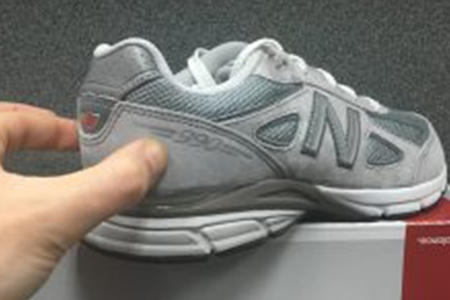 ☑️ Extra Padding: A shoe with good padding will provide comfort to your feet and protect them against blisters and bruises. Let me show you how well padded these shoes are:
Now that you know what features this shoe style will provide and how to make sure that you choose the correct shoe size, you are ready to see what is the best women's walking shoe.
You might be eager to know what is the best women walking shoe. Well, let me tell you from my years of experience, New Balance manufactured a style (W990v4) that is ideal for walking.
The Best Women Walking Shoe ⭐⭐⭐⭐⭐
The New Balance W990v4is the #1 choice for women who are looking for a pair of walking shoes that are comfortable, supportive, lightweight, flexible and durable. Below you can find the best women walking shoe. Disclosure: Keep in mind that we may receive commissions when you click our links and make purchases.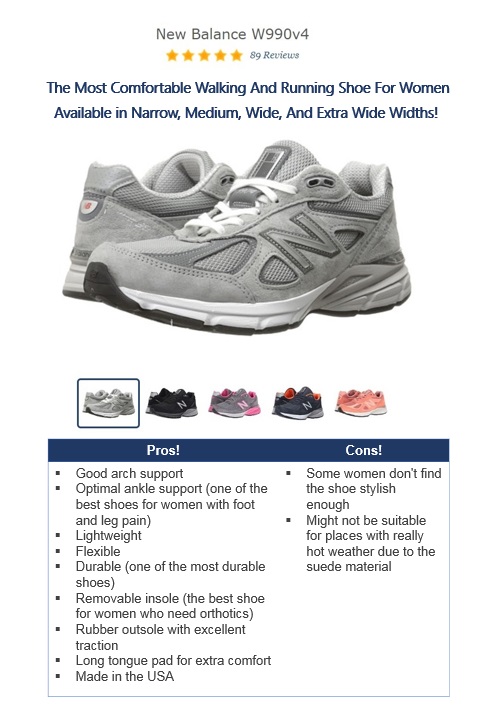 What Shoe Size Should You Order?
Take a look at the description below the shoes that I recommended to find out what shoe size you should order.
You can wear this walking shoe style for your everyday activities, going to work, running errands, or any other activity that you might think of.
The Best Women's Socks – Breathable, Seamless, and Comfortable!
Socks play a huge role in keeping your feet healthy, since they act as a barrier between your feet and the shoes, and help cushion and protect your feet against infections, blisters, and calluses.
Did you know that getting the correct sock size has the same importance as getting the correct shoe size? If you wear socks that are too small they will constrict toe movement and squeeze the toes together, making them overlap each other which can lead to blisters and corns. On the other side, when socks are too big, they tend to fold behind your feet causing discomfort.
Below you can find a selection of some of the better made, breathable, seamless, and comfortable women's socks:
80% Bamboo 17% Polyamide 3% Elastane
Made of high-quality bamboo fiber which is softer and more comfortable than cotton
---
97% Polyester, 2% Spandex, 1% Other
Breathable lightweight construction with mesh panels for ventilation
X-Temp technology adapts to your body temperature for all day comfort
Moisture Wicking Cool Comfort fabric keeps you cool and dry
On a different note, do you have a child that needs a pair of everyday shoes? I wrote an article where I give you a guide on picking the perfect pair of shoes for your children. You will also find a great selection of articles addressing very useful and relevant topics. The article below will show you which are the best shoe brands for children and the best styles among those brands. Please go to the link below.
Have you tried the New Balance W990v4 walking shoes that I recommend in this article? Is there any other shoe style or brand that has worked well for your feet? Please share your thoughts and experiences below so other women can benefit from your experiences.