Wearing AFOs means that your socks need to provide you with protection and comfort. Your socks will basically act as a barrier between your feet and the AFOs, preventing rubbing and irritations. By wearing the correct type of socks you will maximize your skin health and wear the AFO without any discomfort.
The socks I recommend are designed to accommodate women from foot to knee, allowing the sock to be rolled over the top of the AFO, which ensures the sock will stay up all day long!
These might not be the most fashionable AFO socks but they are some of the best when it comes to comfort. Remember that these socks are completely seam-free and provide comfortable protection under the AFOs.
I work for a shoe store that helps women with "complicated" foot shapes and conditions find the correct pair of shoes and orthotics. Over the years I became familiar with the best AFO socks for women. The socks I recommend will protect your skin and soft tissues from forces when wearing AFOs.
Socks that provide targeted padding and cushion  in the foot area are especially helpful for women who plan to be active or who have conditions such as neuropathy that compromise the ability to feel damage to the feet.
What Makes the Socks I Recommend Effective for Women Who Wear AFOs?
☑️ 100% Seamless:  The socks I recommend are completely free of seams. I mention this because there are certain socks that claim to be seamless but still have a flat or hand-linked seam across the toes. The seamless construction helps prevent pressure points and provide you with a comfortable fit against sensitive skin.
☑️ Breathable: The socks feature Coolmax polyester that allows your feet to breathe and wicks moisture away.
☑️ Socks Stay Up: The socks provide a non-binding Halo Top that prevents the socks from slipping down and irritating indentions.
☑️ Conforming Fit: The socks conform to any size or shape leg as they come with a spandex material that provides triple the stretch of regular socks.
Best AFO Socks for Women ⭐⭐⭐⭐⭐
These AFO socks are all made in the United States and can help minimize soreness, discomfort, and damage to your skin. Disclosure: Keep in mind that we may receive commissions when you click our links and make purchases.
Small – Medium – Large – X-Large

Medium – Large

Medium – Large

Make sure that you order the correct sock size as socks that are too small or too big can wrinkle or bunch inside your shoe, causing discomfort and foot issues.
You should always order your socks based on your shoe size. Take a look at the image below to make sure that you order the correct sock size: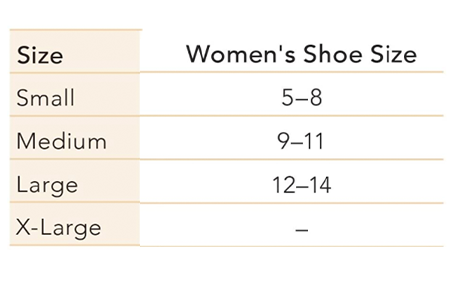 Most women often wear thin socks that offer little protection to the lower leg. Investing in a good pair of socks that offers good cushion and padding will protect the interfaces between the AFO and your lower leg, and the foot in particular.
I suggest that you monitor your skin regularly and do not hesitate to contact me if problems arise with your AFOs: comfortablewomenshoes@gmail.com
If you want to see a selection of the best shoes for women who wear AFOs I suggest that you take a look at the article below:
Women's Shoes that Fit Braces – Deep, Supportive, and with a Round Toe-Box!
Let me know in the comment section below if there is a specific sock that has worked well with your AFOs.