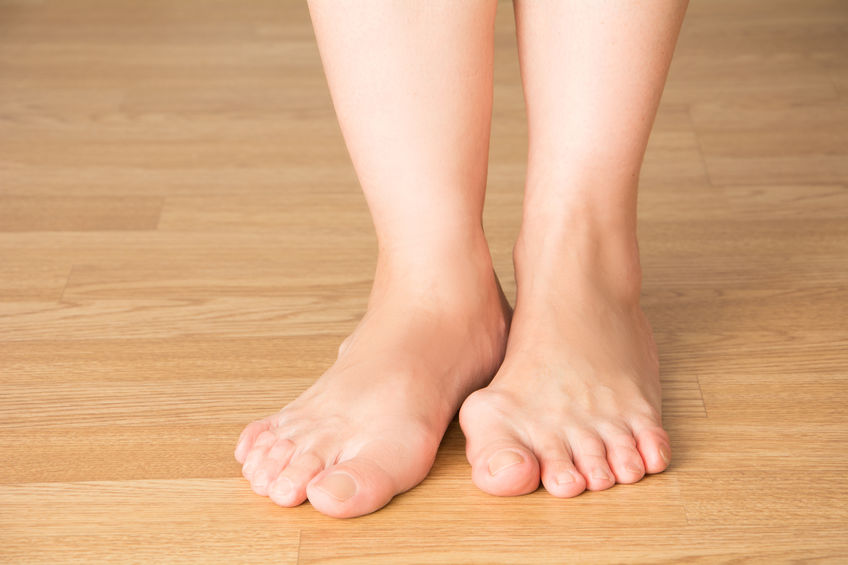 Are you having a difficult time finding the right pair of walking shoes to accommodate your bunions? If you can relate, then this article is perfect for you!
Finding a pair of shoes to accommodate your bunion can be a frustrating and time-consuming experience if you don't know what shoe styles to look for. The most common mistake that women make when trying to find shoes for their bunions is to think that they just need to find a pair of wider shoes, when in reality, the two most important features that they need to look for is shoes that come with extra depth and a round toe-box.
There should be no shame in having bunions! They are actually very common and can also be prevented.
Moreover, a bunion is a bony bump that forms on the joint at the base of your big or little toe. It forms when your big toe/little toe pushes against your next toe, forcing the joint of your big toe/little toe to get bigger and stick out. Sometimes, the skin over the bunion might be a little bit red and/or sore.
Here is an image that will show you how a bunion looks like. Besides being painful and making you feel uncomfortable, bunions can also make the rest of your toes more prone to develop issues, since bunions might make your toes overlap and rub against each other. Notice how this woman also developed blisters and corns on her toes from having a bunion.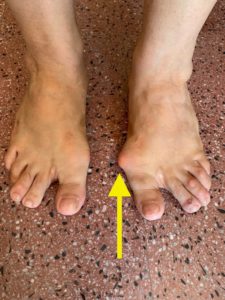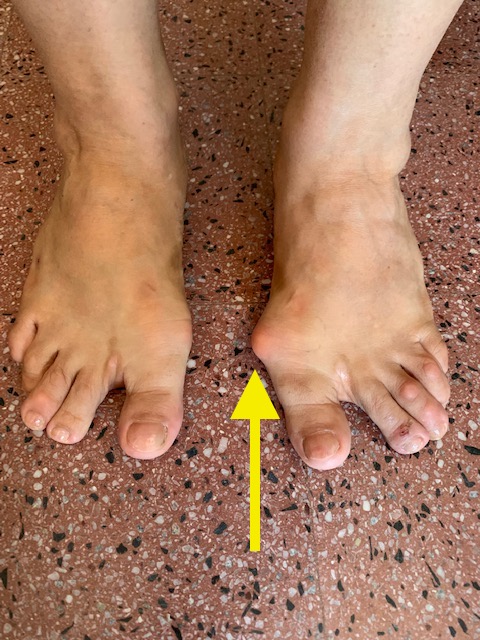 The main problem with bunions is trying to fit them in the right shoes. Not all shoe styles will be able to accommodate your bunion, in fact, there will be only a small selection of shoes.
Deep shoes that come with a round toe-box are the most effective ones when it comes to preventing and treating bunions. When you fit your feet in a pair of deep shoes, the feet will fit deeply inside the shoes, and this will prevent the feet from rubbing against the top or the sides of the shoes. A shoe with a round toe-box will prevent your small toe or the bunion from being cramped against the shoe.
The issue is…How can you identify which shoes are deeper than others when shoes don't come labeled as "deep" or with a "round toe-box"?
The good news is that I know which walking shoe styles will fit a woman with bunions better, since I have fitted them before.
I am an expert when it comes to fitting women's shoes since I have been working for a specialized shoe store for the last 10 years. Moreover, I have been helping women find the correct type of shoes and orthotics to reduce or fully eliminate the foot and leg pain that they were having. We specialize in women with foot and leg problems, but we provide regular shoe fittings as well.
Over the years I became familiar with the best walking shoes for women with bunions.
What Makes the Running Shoes I Recommend Ideal for Women with Bunions?
☑️ Round Toe-Box: This feature helps prevent your running shoes from putting pressure around your bunion: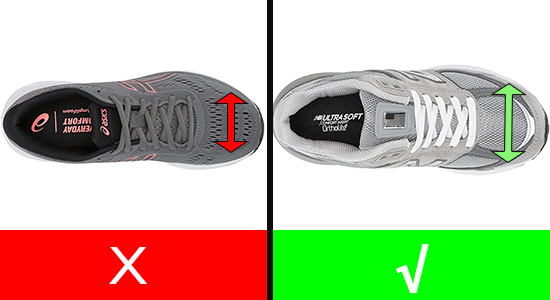 ☑️ Extra Depth: This feature is really important if you tend to have high insteps, as the deeper the shoes are, the deepest your feet will fit inside the shoes. This will help prevent your bunion from rubbing against the top part of the shoes.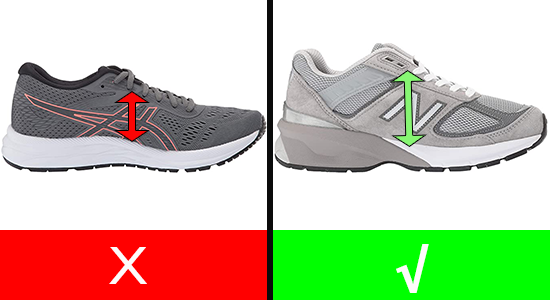 You should be aware that wearing tight, narrow shoes might be the reason for having bunions or the reason they worsen. Bunions also can develop as a result of an inherited structural defect, stress on your foot or a medical condition, such as arthritis.
I want you to take a look at the shoes that you are wearing now and check if you notice a small bump on the side of the shoes. Take a look at the image below which shows a woman wearing a pair of shoes that are too narrow. That bump that you notice on the side of the shoe is the small toe being pressed against the side of the shoe by the other toes.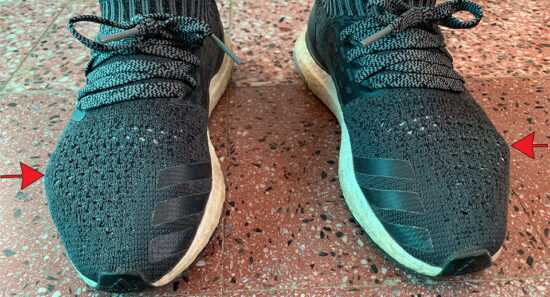 Comfortable shoes should not be underestimated. Especially if your work or daily routine requires to be on your feet all day. Can you imagine walking all day in shoes that are not comfortable or that feel too tight around your bunion?
Are You 100% Sure You Know Your Exact Foot Size? – Let's Find Out!
Keep in mind that in order to get all the benefits and features that a good walking shoe provides, you must wear them in the correct shoe size. Most women are walking around with shoes that are either too short or too narrow for their feet.
I am going to show you a selection of the best walking shoes for women with bunions shortly, but first, I want you to make sure you know your exact foot size and the features that these shoes have to offer. It's important to know your exact foot size, especially if you are going to be buying your shoes online.
Start by reading an article that describes the simplest, yet most effective way to figure out your foot size from home. Please click on the link below:
How To Measure Your Foot Size – The Most Simple And Effective Way! 
Treating & Preventing Bunions – Keep Your Feet Healthy!
Let's part from the fact that women who wear shoes that are too tight, too narrow or too pointed are more susceptible and prone to develop bunions. As well as wearing high heels, since you force your toes into the front of your shoes and as a result, your toes end up smothered.
To prevent bunions, you should:
Fit shoes for the exact shape of your feet without squeezing or pressing any part of your foot, especially bunions.
Wear shoes that have are deep and have a wide toe box (no pointy toes).
Have enough space between the tip of your longest toe and the end of the shoe.
Keep in mind that even though bunions most of the times do not require medical treatment, you should see your doctor or physical therapist if you have persisting big toe/little toe or foot pain and/or decreased movement of your toe or foot, or any other symptom that might be concerning.
Walking Shoes for Bunions – The 3 Most Important Features
Besides being deep and coming with a round toe-box, these walking shoe styles will provide the following features:
☑️ Substantial and Supportive Outsole: This will help reduce the impact that your feet and legs take every time they become in contact with the ground.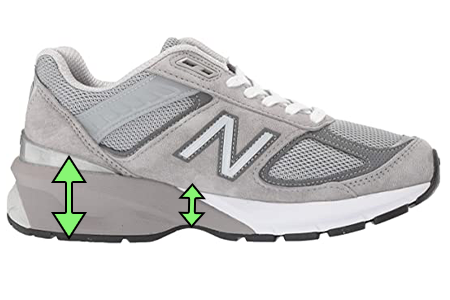 ☑️ Firm Heel Counter: This feature will cushion, support, and protect your ankles. If the shoe that you wear has a heel counter that is too flimsy, you won't get any of the benefits that the shoe has to offer. Do you know what the heel counter of the shoe is? Simply, it is the back part of the shoe that offers ankle support.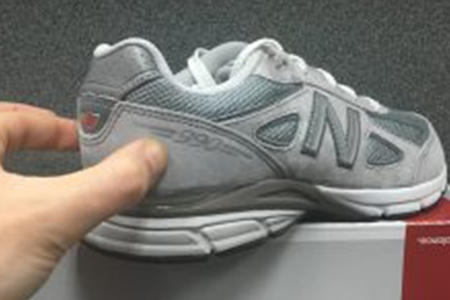 ☑️ Removable Insoles: This will allow you to take the original insole out in case you need to fit an orthotic inside the shoes.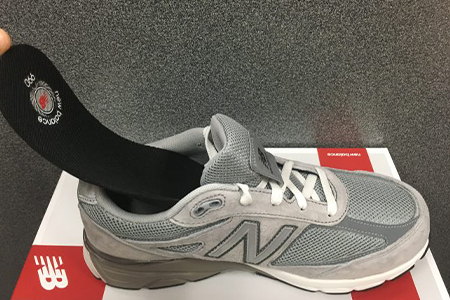 Now that you know what features the shoes must provide and how to figure out your foot size from home, you are ready to see a selection of the best walking shoes for women with bunions.
I only review shoes that I have fitted before, since that is the only way for me to tell how well-made the shoes are, the amount of support that they provide, and how they fit.
The Best Walking Shoes for Women with Bunions – ⭐⭐⭐⭐⭐
Below you can find the selection of the best walking shoes for women with bunions. These shoes are available in wide (W) and extra wide (XW) widths. Disclosure: Keep in mind that we may receive commissions when you click our links and make purchases.
Fits Wide – Extra Wide

Fits Wide – Extra Wide

Fits Wide – Extra Wide

Fits Wide – Extra Wide

Fits Wide – Extra Wide

Fits Wide – Extra Wide

Kindly note and keep in mind that shoes can run short, long, narrow, or wide, and depending on how they run you will need to adjust the size that you get for yourself.
You always want to wear half a size longer of the size that they measure in the standard foot measuring scale (Brannock device) to prevent your toes from rubbing against the side or the front of the shoes. However, if you measure a foot size 7 and the shoes fit "short", then you will need to choose the shoe size 8 to allow enough wiggle room (a whole size longer instead of half a size longer). On the other hand, if the shoes fit "long" then you will need to pick the same shoe size instead of going half a size longer (since the shoes already fit long).
To prevent your toes from rubbing against the front or side part of the running shoes, I highly recommend that you order these shoes half a size larger than the size that your feet measure. This translates to 0.3 inches or 0.6 centimeters of space between your longest toe and the end of the shoes.
In addition, do you have a child that developed a bunion and you need a pair of deep shoes? I wrote an article where I describe the best shoes shoe styles that prevent bunions. Please go to the link below.
Shoes That Prevent Bunions – The Best Shoe Styles To Keep You Kids' Feet Healthy!
Have you tried the shoes that I recommend in this article? Have you found another walking shoe style that has worked well for accommodating your bunions?
Certainly, do not hesitate to contact me via e-mail or in the comments section with further questions that I will most likely be able to answer.  I will continue to post informative articles penned by me that address important topics such as this one.