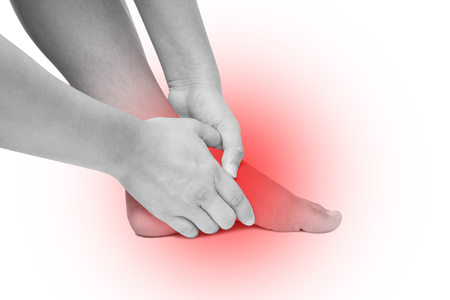 Skechers is known for manufacturing memory foam sneakers that a lot of women swear by in terms of comfort. Most women with foot pain find memory foam shoes comfortable, but they don't realize that walking and running in memory foam sneakers can be harmful to their feet. Memory foam is an insole for shoes made with high density polyurethane material that provides pressure relief to key areas of the foot.
What are the Benefits of Wearing Memory Sole Sneakers?
The memory foam can help distribute your weight across the whole of your foot, preventing you from putting extra pressure on the balls and heels of your feet.
What are the Disadvantages of Wearing Memory Sole Sneakers?
The memory foam is usually a thin layer of low density polyurethane which soon compresses and can lead to ligament and muscle stresses and strains. This can lead to a poor gait style and lead you to put extra pressure on parts of your feet where you are not supposed to.
My Experience Helping Women Find the Perfect Pair of Shoes for their Feet
I work for a shoe store that helps people with "complicated" foot shapes as well as foot conditions find the correct types of shoes for their feet. I have helped hundreds of women with foot pain find the correct pair of shoes for their feet, and I believe I can help you as well.
I have tested and fitted several different shoe brands, so I know which shoes among each shoe brand work better than others. At the shoe store that I work for, we carry several Skechers with memory foam, and in my experience, they only work for women who don't have foot conditions or foot issues. Keep in mind that Skechers can only fit women with narrow or medium width feet.
My Approach Helping Women with Foot Pain
Women with flat feet should wear shoes that are more structured, meaning that they aren't too soft or too cushioned. I usually recommend looking for shoes that provide these 3 important features:
✅ Substantial Outsoles: The outsole of your shoes should be able to absorb impact and reduce pressure for comfortable strides at every level of walking and running. Take a look at the image below for better visualization purposes: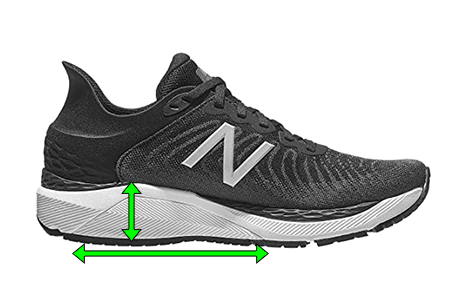 ✅ Firm Heel Counters: This feature is going to support your heels and ankles by minimizing the impact that your feet take when they come in contact with the ground. I suggest that you press on the heel counter of your shoes to make sure that it feels firm and sturdy. Take a look at the image below for better visualization purposes:
✅ Straight Lasts: This feature is going to help improve your foot posture. Take a look at the image below for better visualization purposes: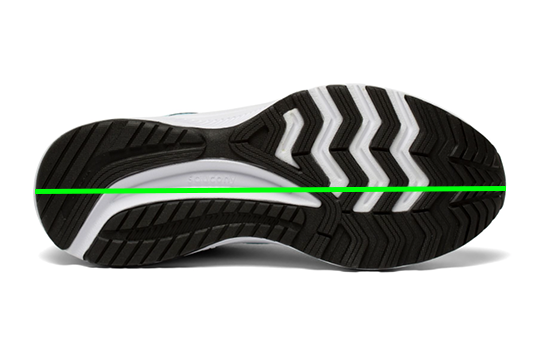 Do Memory Foam Sneakers Provide Good Arch Support?
Memory foam sneakers don't provide any arch support whatsoever. If you need your shoes to provide good arch and heel support then I suggest that you look into a different pair of shoes.
I am going to show you a selection of women's shoes that provide these 3 features, but keep in mind that if you don't order the shoes in the correct size you won't get any of the benefits that the shoes have to offer. Most women order the same size over and over again since that is the size that they have always worn.
Are You 100% Sure of Your Foot Size?
Your foot shape and size can change over time, and some of the factors that contribute to this change are pregnancy, aging and weight gain or loss. Over time and because of gravity, our feet might get longer and wider.
As we age, the body's ligaments and tendons lose their strength and ability to spring back. This means that our arches decrease, which flattens and lengthens the foot and toes.
This often results in an increase in shoe size by a half-size or more. You might also experience a change in foot width, meaning that even though you always ordered medium width shoes now you might have to start ordering wider shoes.
Don't insist on getting your shoes in a specific size simply because that has been the size that they always wore. I usually have to insist to them that they need to at least try the shoes in a different size to see how they feel.
How to Retrieve Your Exact Foot Length and Shape
Buying shoes online can be a challenge. If you are unsure of your current foot shape or foot length, I suggest that you take a look at a free resource I created where I help women determine their exact foot shape from home:
How to Measure Your Foot Shoe Size – The Most Simple and Effective Way!
Now that you know your exact foot shape and length you can take a look at the best shoes for women with foot pain. Disclosure: Keep in mind that we may receive commissions when you click our links and make purchases.
Best Shoes for Women with Foot Pain ⭐⭐⭐⭐⭐
All of the shoes I recommend below are available in different widths such as narrow (N), medium (M), wide (W), and extra wide (XW), so make sure that you choose the correct size. These shoes can be worn for everyday walking, running, and exercising.
Fits Narrow and Medium Feet

Fits Medium, Wide, and Extra Wide Feet

Fits Medium and Wide Feet

Fits Narrow and Medium Feet

Fits Medium, Wide, and Extra Wide Feet

Fits Medium and Wide Feet

To prevent your toes from rubbing against the front or side part of the shoes, I highly recommend that you order these shoes half a size larger than the size that your feet measure. This translates to 0.3 inches or 0.6 centimeters of space between your longest toe and the end of the shoes.
Are There Any Other Shoe Choices Available?
These shoes provide excellent quality, support and fit, but if you are looking for a different type of supportive shoe you can reach out to me and I will provide you with different shoe recommendations: comfortablewomenshoes@gmail.com
Final Thoughts
When you first try pair of memory foam Skechers you will feel like you have placed your feet on a pillow. Whether Skechers memory foam sneakers will work well in helping treat your foot pain directly depends on the degree of your foot condition.
If you have mild pronation or mild foot issues you can try Skechers memory foam sneakers to see how they work out for your feet. However, if you have moderate or strong pronation, I suggest that you look for more substantial and supportive shoes, like the ones I recommended above.
Don't buy your shoes simply because you heard that one shoe brand is better than the other. Some women buy New Balance, Saucony, or Hoka because they heard from a friend or family member that they are good for their feet. There are specific shoe styles among each brand that work a lot better than others.
Let me know in the comment section below if you have any questions or are unsure whether Skechers with memory foam will work well for your feet.