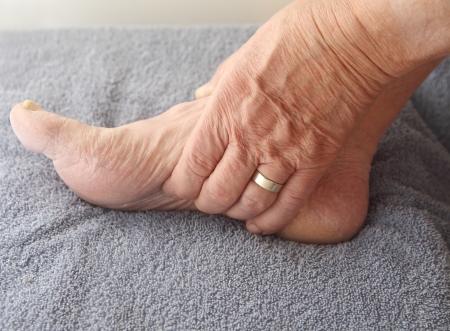 Have you been experiencing foot pain in the bottom of your foot? Do you feel it hurts every time you run and is this pain intensifying at night? You should know that foot pain in women is not normal, but you shouldn't get stressed!
Did you know that foot pain in the bottom of the foot normally means that you are flat-footed?  Fallen arches, or flat feet, occur when you are standing and putting pressure on your feet and the arches of the feet flatten out, which leads to foot pain. This might cause you to walk inwards, putting excessive pressure on your feet and legs where there shouldn't be!
I have been working at a specialized shoe store for over 10 years where we evaluate women with foot issues and "complicated" foot shapes. I have helped hundreds of women who were experiencing foot pain in the bottom of the foot and I believe I can help you too.
Usually, when women complain about pain in the bottom of the foot, it's because they are most likely flat-footed. However, most women with pain there have it because they are not wearing the correct type of shoes. Wearing unsupportive shoes is the most common cause of foot pain in the bottom of the foot.
I have seen many cases of women who come to the shoe store referred by their doctor or physical therapist because they were having foot pain. Most of these women were wearing flimsy and unsupportive shoes.
Most women are involved in hectic routines and some even like to engage in high impact activities like running, jumping or even doing CrossFit. Especially for these activities, you need to wear shoes that will attenuate the impact on your foot.
What Makes the Shoes I Recommend Effective for Foot Pain in the Bottom of the Foot?
☑️Supportive Outsole: This feature is going to minimize the impact that your feet take when they come in contact with the ground. Some of the sneakers below provide an ENCAP midsole technology or infused gel that provides good support and maximum durability.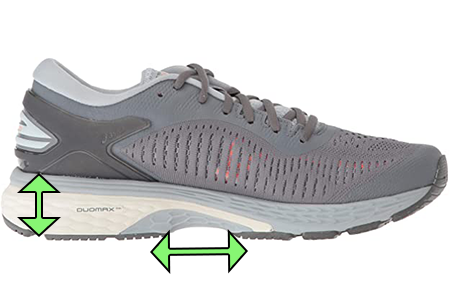 In addition, these shoes are extremely effective in helping women walk and run straighter. The correct type of shoes will help improve your walking gait and overall posture.
Are you Experiencing Foot Pain? – Take Action Immediately!
The first thing to do when you are dealing with foot pain is to take a look at the shoes you are wearing. Keep in mind that the pain might be happening because you are not wearing shoes that are supportive enough.
A supportive shoe provides arch and ankle support, and it should be worn every day to get the full benefits that the shoe has to offer. A good supportive shoe will also attenuate the shock that your feet receive every time they hit the ground!
The following are the key features that a shoe must provide to support your feet:
A firm heel counter.
A built-in arch support.
A durable sole.
Do you know what the heel counter of the shoe is? The heel counter is the back part of the shoe that provides ankle support. Take a look at the picture below to find where the heel counter is: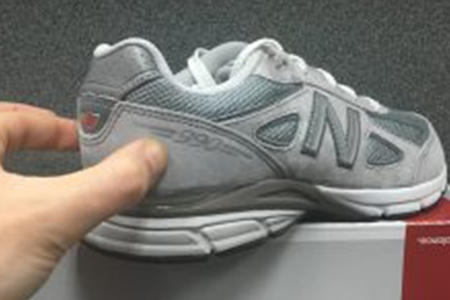 Always press on the heel counter of your shoes and make sure it feels firm. The firmer it is, the better support that it provides.
I am positive that if you buy a pair of good everyday shoes that have these three features you will have a higher chance to eliminate the pain!
Although, if the shoe has these three features and you are still experiencing leg or foot pain, then you should use a pair of orthotics for extra arch and ankle support. But keep in mind that most of the time, the pain disappears after wearing a good supportive shoe.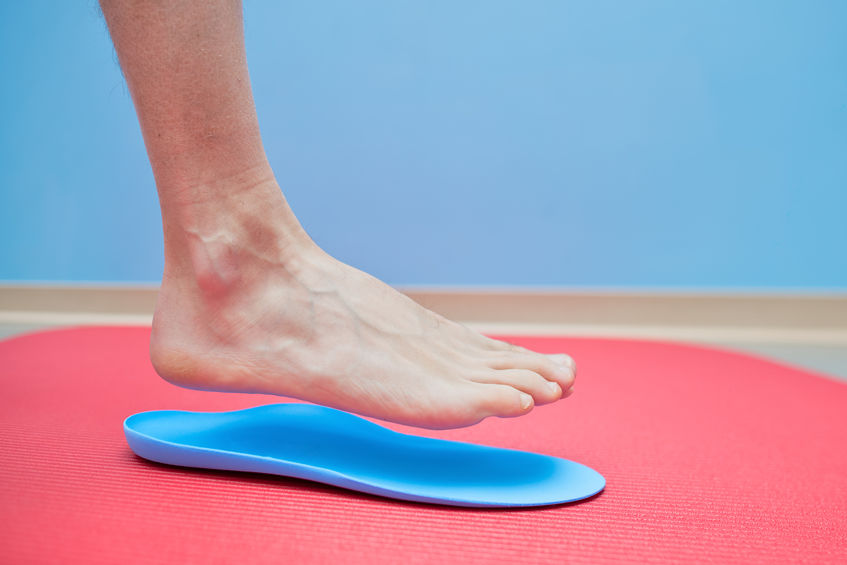 Preventing Foot Pain – Keep your Feet Healthy!
My number 1 recommendation before trying orthotics, going to your physical therapist or even undergoing surgery, is to start by wearing good, supportive shoes, and having them fitted in the correct shoe size. You will be amazed at the results!
Very often, women who come to the shoe store will say that they hoped they had been more conscious about the shoes they were wearing before.
Many of these women said they wished they had taken well care of their feet when they were younger just so they wouldn't have had to experience foot pain for several years. Sometimes is not only dealing with their feet or legs hurting, but even some of this pain moves to their lower back.
I always take a look at their shoes, and I can immediately tell whether the shoes are supportive enough, and whether they are wearing the correct shoe size! It feels good to make such a difference in a person's life, with something so simple as guiding them to use the correct pair of shoes.
Remember, wearing the correct pair of shoes and the correct shoe size can prevent foot pain, which brings me to this next question: Do you know if you have narrow, medium, wide, or extra wide feet. In addition, do you know whether you have a high instep or not? These factors will determine what type of shoes you can wear.
I help women determine their exact foot size and shape from home. Take a look at the article below:
How To Measure Your Foot Size – The Most Simple And Effective Way!
First, please let's not fall for the cliché that expensive shoes automatically translate into better shoes. Shoes that provide good support, might be at the same price as other regular shoes. You just need to get more knowledge on the matter and know how to identify between shoes, so you can get your good supportive shoes at a reasonable price.
Below you can find a selection of the best shoes for women who are experiencing foot pain in the bottom of the foot. Disclosure: Keep in mind that we may receive commissions when you click our links and make purchases.
The Best Shoes with Arch Support ⭐⭐⭐⭐⭐
These shoes are available in different widths such as narrow (N), medium (M), wide (W), and extra wide (XW) widths.
Fits Narrow – Medium

Fits Medium -Wide – Extra Wide

Fits Narrow – Medium

Fits Medium -Wide – Extra Wide

Fits Narrow – Medium -Wide

Fits Medium -Wide

To prevent your toes from rubbing against the front or side part of the shoes, I highly recommend that you order these shoes half a size larger than the size that your feet measure. This translates to 0.3 inches or 0.6 centimeters of space between your longest toe and the end of the shoes.
If you are looking for a different type of shoe to help treat your foot pain such as seasonal footwear or dress shoes don't hesitate to contact me and I will help you find them: comfortablewomenshoes@gmail.com 
Fortunately, I have fitted all of these shoe styles before and I know how supportive they are. They actually have proven to reduce, or completely eliminate the pain women wear experiencing before.
Do you happen to have a child that is experiencing pain in the bottom of the foot? I created an article where I describe the best shoes for children who are experiencing pain in the bottom of the foot and you can find it here:
Remember, foot pain at the bottom of your foot is not normal, and you must take the necessary action to find a solution to reduce or eliminate the pain completely.
It all begins with finding a pair of good, supportive shoes, and making sure that you are also buying the correct shoe size.
Women that Still Have Persisting Foot Pain – Next Steps!
If your foot pain persists after wearing supportive shoes for three to five months, you should strongly consider getting an orthotic. Our number one goal here is to reduce or completely eliminate foot pain.
An orthotic will work well for women who have problems with flat feet because they correct the bio-mechanics of the women's walking and running gait, which makes it easier for their feet to absorb shock without putting painful and unnecessary stress on their muscles and joints.
If you have tried all of this, and the pain is still there, then I recommend you try an orthotic inside your shoes. There is a particular orthotic that I have fitted before that has proven to significantly reduce or completely eliminate foot pain, and you can find it here:
Fits from Shoe Size 5 to Shoe Size 9

If you want to learn more about the benefits that you can get from wearing an orthotic take a look at the article below:
The Best orthotics For Women – Stop Your Foot And Leg Pain!
Are you experiencing pain in the bottom of the foot? Have you found a particular shoe style that has worked well and reduced or eliminated the pain? Please share your thoughts and experiences below so other women can benefit from your experiences.