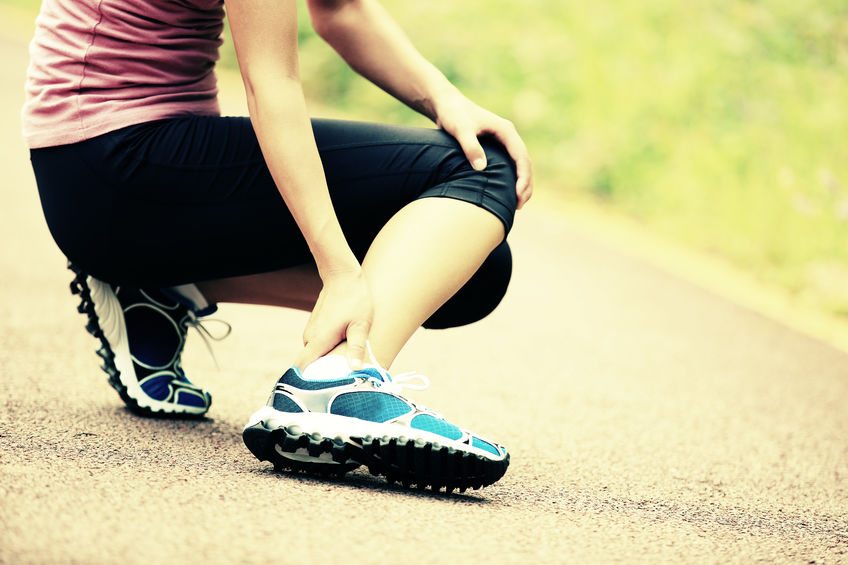 Have you tried several shoe brands in the last years, but your foot pain persists? Have you tried shoe brands recommended by family members and friends such as Hoka, Vionic, Orthofeet, New Balance, Brooks, Asics, and no shoe has been effective in reducing your foot pain?
If you are extremely frustrated about your foot pain and reached the point where you are willing to try anything to get rid of the pain, please consider that wearing the correct type of shoes in the correct size can make a world of difference.
I have been fitting women's shoes for the last 10 years, and I have helped hundreds of women with "complicated" foot shapes as well as foot conditions find the correct pair of shoes for their feet. Some of the most common reasons why women experience foot pain are:
Plantar Fasciitis
Flat feet
Achilles Tendinitis
One of the most common questions women ask me at the shoe store is: What is the best shoe brand and shoe style to help treat and prevent my foot pain?
I always explain to women that everyone is different, and there is no such thing as one shoe fits all. The type of shoe that you should wear directly depends on your individual foot shape. With that said, after having helped hundreds of women with foot pain find the correct pair of shoes I noticed that most women were wearing their shoes in the wrong size.
For example, let's say that you are experiencing heel pain due to Plantar Fasciitis or general foot pain due to being flat footed. Some family members or friends might say:
"My podiatrist just recommended a Brooks Addiction Walker/Hoka Bondi shoe for me to buy, what do you think everyone?"
"When I work out I use Asics Gel Kayano 26 or 27. Excellent shock absorbency and great for ankle stabilization which is very helpful!"
"I wear Hoka OneOne shoes most of the time."
"The New Balance 990 style helped relieved my foot pain and now I can exercise comfortably".
You know why there are so many reviews by different people of different shoe styles/brands that have worked for their feet? These people have different foot shapes so what has worked for some of them might not work as well for others.
Believe it or not, you can buy the most supportive and comfortable shoe in the market, but if that shoe is not fitted properly, you won't get any of the benefits that the shoes have to offer.
Wearing the wrong shoe size can affect both your walking gait and overall posture and can be the main cause of why you are experiencing foot pain.
Let me ask you a question: When was the last time you had your foot measured to check your shoe size? Your foot shape and size can change over time, and some of the factors that contribute to this change are pregnancy, aging and weight gain or loss. Over time and because of gravity, our feet will get longer and wider.
Are You 100% Sure of Your Foot Size and Shape?
The first step in helping significantly reduce or fully eliminate your foot pain is retrieving your exact foot size, that way we can find shoes in the correct size.
If you live in an area where you can't have your feet properly measured, I suggest that you take a look at a different article I wrote where I describe how to figure your exact foot size and shape from home:
How to Measure Your Foot Shoe Size – The Most Simple and Effective Way!
Once we know your exact foot size, we will have a better idea of which shoe brands and which shoe styles will work better for your feet.
How Can Shoes Help Relieve Your Foot Pain?
Before you try more invasive methods such as casting, surgery, or steroid injections start by making sure that you are wearing the correct pair of shoes. Trust me when I tell you that wearing the correct type of shoes in the correct size can make a world of difference!
I have spoken with women who have tried it all, dry needling, acupuncture, physical therapy, stretching, wrapping their feet and legs in cabbage (apparently it can relieve joint pain). I am all for encouraging women to be proactive when it comes to taking care of their feet. Playing the "waiting game" by expecting the pain to magically disappear can only lead to your foot condition getting worse.
What Makes the Shoes I Recommend Effective for Foot Pain?
To put it in a simple way, the shoes I recommend provide 2 key features that help minimize the impact that your feet and heels take every time they come in contact with the ground.
☑️ Targeted Heel Support: The shoes I recommend provide a heel technology cushioning system that helps attenuate shock during impact and toe-off phases. The shoes I recommend provide targeted support right below your heels. I hope the image below helps you visualize what I mean: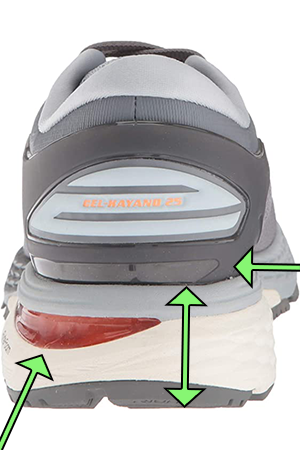 ☑️ Substantial Outsoles: The shoes I recommend also provide an ENCAP and Rollbar midsole technology, which offers superior rear foot motion control that supports and cushions your feet.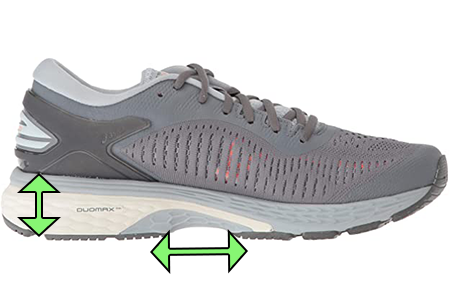 There is a lot of work that goes behind the scenes in which I spend a lot of my time trying to look for shoe options that are stylish and supportive at the same time. With that said, women with foot pain are limited to only wearing certain shoes, and as far as stylish shoes are concerned, they may have to redefine what they consider "stylish."
The Best Way to Treat Women with Foot Pain – The Most Supportive Shoes!
Below you can find a selection of the best shoes for women with foot pain. Look at the description below each shoe to check whether is capable of fitting the shape of your feet —narrow, medium, wide, extra wide. Disclosure: Keep in mind that we may receive commissions when you click our links and make purchases.
Fits Narrow and Medium Feet

Fits Medium, Wide, and Extra Wide Feet

Fits Medium and Wide Feet

Fits Narrow and Medium Feet

Fits Medium, Wide, and Extra Wide Feet

Fits Medium and Wide Feet

What Shoe Size Should You Order?
To prevent your toes from rubbing against the front or side part of the shoes, I highly recommend that you order the shoes a whole size larger than the size that your feet measure. This translates to 3/8 of an inch or 1 centimeter of space between your longest toe and the end of the shoes.
What a Difference These Shoes Can Make!
Believe it or not, something so simple such as wearing the correct type of shoes can help treat your flat feet and rolled ankles for example, preventing your feet from collapsing, which will help you walk and run straighter.
Let me prove it to you!
Let's take a look at an image of a woman with flat feet and rolled ankles standing barefoot. Do you notice how her arch is collapsing and her feet turning inwards? This will shift her whole body out of alignment.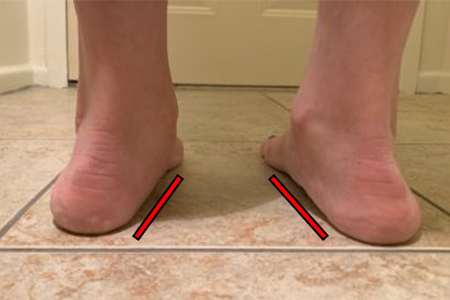 Now, once we fit the same woman in a pair of supportive shoes, we can see how much straighter her feet are: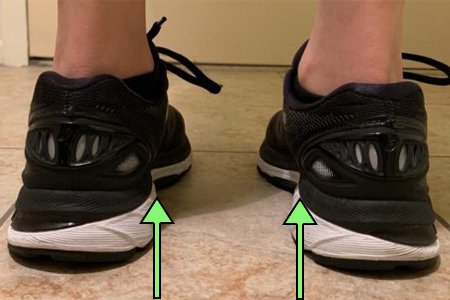 Keep in mind that not all shoes are going to be effective in treating and preventing your pronation issues. For example, let's see what happens when we fit that same woman in a pair of unsupportive shoes. Do you notice how her feet went back to collapsing and turning inwards?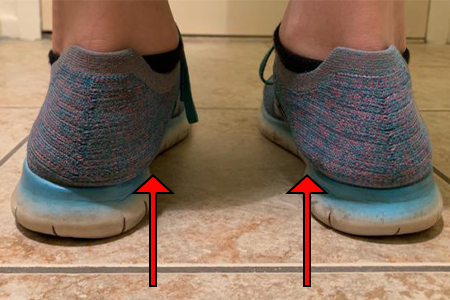 Women who experience foot pain should not walk barefoot especially on a hard floor and wear supportive and padded shoes as often as possible.
Do not hesitate to contact me if you are having trouble finding a pair of different shoes to help treat and prevent your foot pain: comfortablewomenshoes@gmail.com
In the meantime, you can take a look at a couple of articles that might help answer your questions:
Women Dress Shoes with Arch Support – Keep Your Feet Comfortable and Healthy!
The Best Women's Winter Boots with Arch Support – Keep your Feet Warm and Healthy!
The Best Sandals for Women with Flat Feet – Supportive, Comfortable, Durable, and Waterproof!
Let me know in the comment section below if you have found a specific shoe that has worked well in reducing or fully eliminating your foot pain. It will be helpful if you tell us your foot shape as well.