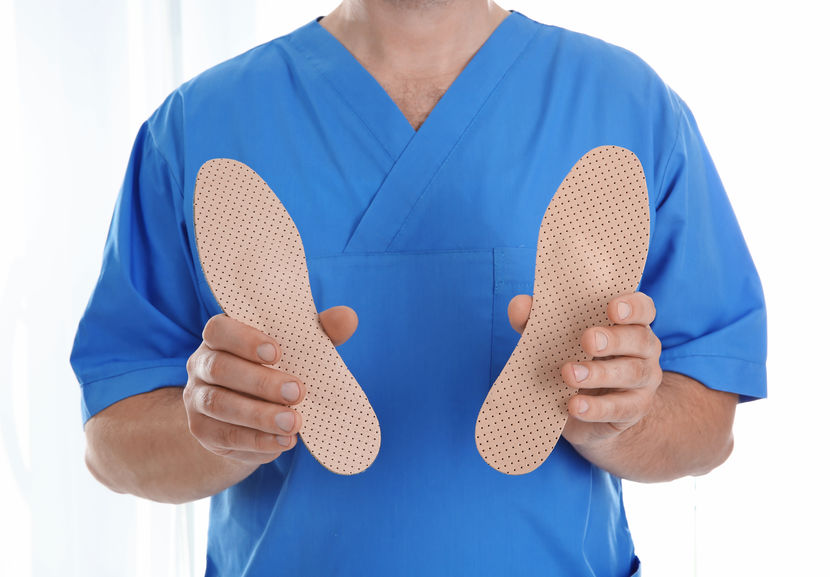 Editor's Note: This post has been completely revamped and updated for accuracy on May 2022 and reflects an up-to-date selection of the best arch support inserts for women.
Have you been experiencing foot and leg pain? Have you tried switching to a new pair of shoes, but the pain persists? You should be aware that foot and leg pain is never normal. In addition, if you have tried different shoe styles and the pain is still there, you might need extra support for your feet and you can get this support from an orthotic.
A pair of supportive orthotics will help you align your feet and legs and alleviate the pain that you have been experiencing. It will also prevent you from putting pressure on areas of your body where you are not supposed to. However, sometimes you will need to fit a pair of orthotics inside your shoes for extra support.
I have been working at a specialized shoe store for over 10 years where we evaluate women with foot issues and "complicated" foot shapes. I have helped hundreds of women who were experiencing foot pain by fitting them in the correct type of shoes and orthotics.
We are one of the few retailers in the country authorized to fit prescription orthotics. Moreover, I have seen first-hand the positive impact that good shoes and orthotics have in keeping feet and legs healthy!
Please don't forget that before purchasing an orthotic you should always start by checking the shoes that you are wearing, including the shoes you are using to exercise or run.  Did you know that the shoes that you use can be the direct cause of your foot and leg pain?
There is a particular orthotic that I have found to be the most effective one when it comes to significantly reducing, or fully eliminating foot and leg pain.
What Makes the Orthotics I Recommend Effective for Women with Foot Pain?
☑️ Targeted Arch Support: The orthotics I recommend provide targeted support right below the arch to relieve foot pain by minimizing the impact that your feet take when they come in contact with the ground.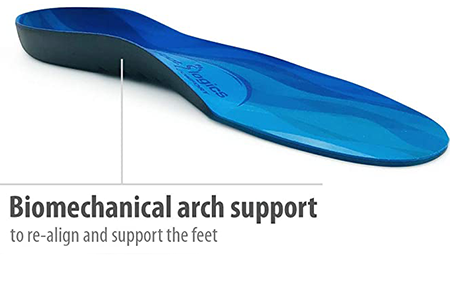 ☑️ Targeted Heel Support: The orthotics provide a deep heel cup to prevent heel cup and stabilize your foot.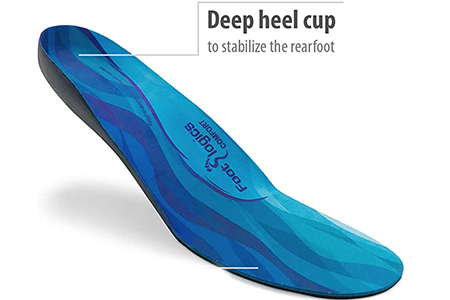 Important Things You Need to Know About Orthotics
First of all, I will define what an orthotic is, so we are on the same page. Orthotics are shoe inserts that aim to provide cushioning, support, stability, and relief to pressure areas of the foot.
There are distinct types of orthotics such as soft, semi-rigid, or rigid. The ones I am most familiar with are not the custom-made ones but the ones "off the shelf".
It's important to understand that the outcome of an orthotic will depend on whether it's fitted properly, the type of support, and if it is being fitted with the correct type of shoes.
Bear in mind that orthotics and shoes work in alliance to reduce or completely eliminate the pain that you are experiencing. If you buy a pair of good, supportive orthotics but the shoes that you are wearing are too flimsy, you will miss out on the benefits that orthotics offer.
If you are sure that you are wearing the correct type of shoes, but you still have consistent foot and leg pain, then it's time to start looking for an orthotic. As I mentioned, I have been fitting women in orthotics for over 10 years and have seen the positive impact of orthotics.
Are you unsure whether you need an orthotic? You can certainly benefit from wearing an orthotic if you have any of the following:
Flat feet or excess pronation of the feet
Knock knee
Rolled ankles
Foot and leg pain
Bunions, blisters, injuries on your feet
Unbalanced gait and movement
You can rest assured that orthotics will improve the way that you walk, run, and at the same time reduce, or fully eliminate the pain that you are experiencing.
Also, orthotics provide bio-mechanical balance by aligning your feet and legs and will help you walk and run straighter.
Do you Have Flat Feet? – Simple Methods to Find Out!
You can start by taking a look at your feet and checking if the arch has developed or not. If you are unsure whether you have flat feet or not take a look at the article below in which I help women determine their foot size and foot shape:
How to Measure Your Foot Shoe Size – The Most Simple and Effective Way!
Below you can find a picture with a woman who has flat feet for further clarification: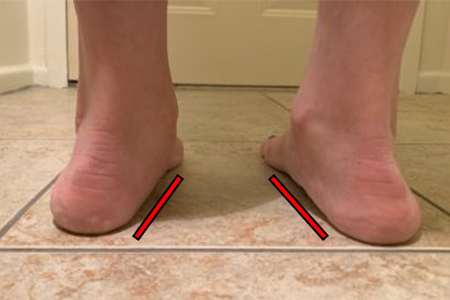 The Importance of Orthotics – Keep your Feet Healthy!
I have emphasized how our feet are the foundation for our entire body, and how they should be properly cared for to prevent issues in the short and long term. It is essential to begin to care of your feet as early as possible. The orthotics are used to provide extra support and allow the feet to feel comfortable.
Most women are active in one way or another, and some are involved in high impact activities or sports. What you should know is that when this happens your feet start stressing at a whole new level, and every time your feet come in contact with the ground, they are highly impacted.
Consequently, the adequate type of shoes and orthotics will minimize the impact that your feet receive every time they come in contact with the ground. Orthotics help in absorbing pressure and shock that feet are exposed to.
Using orthotics is one of the ways to ensure that you keep your feet healthy. Now that you know the importance and the positive impact that orthotics will have on you, I will show you a selection of orthotics that I have fitted before and that have helped women walk and run straighter.
What Are the Best Arch Support Inserts for Women? 
There is one particular insole that works in most shoes, and it has proven to reduce, and in most cases eliminate the pain.
Footlogics insoles play a key role in realigning your body posture as well as strengthening the muscles, from the leg to the back of the shoulders. They reduce or eliminate common foot pain, arch pain, heel pain and plantar fasciitis.
You might also find it useful to know that these insoles are affordable and offer professional-grade orthotic support, performance and comfort for anyone who wants their footwear to fit and feel better.
One of the greatest benefits of these insoles is that they fit the contour of the foot the best and are the most durable ones I have found on the market.  They are easy to fit and the advantages of wearing them are outstanding.
Best Arch Support Inserts for Women  ⭐⭐⭐⭐⭐
Medically approved insoles with targeted cushion right below the arch and heels
Built-in metatarsal raise
Made from lightweight yet supportive Q-E.V.A. and cushioning, shock-absorbing forefoot and heel padding
Provides relief from plantar fasciitis (heel pain and spurs), fallen arches, ball of foot pain, and other foot complaints
Orthotics for Women with Flat Feet and Foot Pain – Before and After Images!
Let me show you the difference in foot alignment when a woman is standing barefoot and wearing a pair of the orthotics I recommend.
BEFORE
In the before image, the woman is standing barefoot and her feet are collapsing and turning inwards: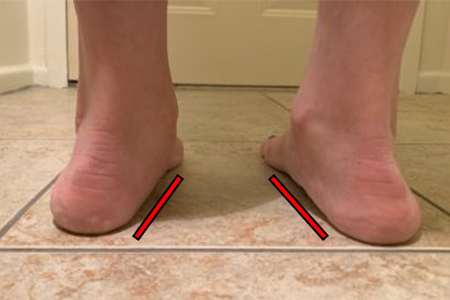 AFTER
In the after image, the woman is standing in the orthotics and her feet are a lot straighter. If paired with the correct type of shoes the improvement will be even more noticeable.
I believe it's worth mentioning that I have fitted these insoles in women who had a hard time running or exercising due to the pain they were experiencing on their feet and legs. After trying the Footlogics insoles, the pain wasn't an issue anymore. Both of these insoles might have to be trimmed to fit in the shoes.
Footlogics insoles, indeed, can be life changing, like well-fitted shoes.
Do you have a child that is flat-footed and needs a pair of orthotics as well? Please keep in mind that most foot issues are hereditary, meaning that if you have flat feet and overpronation, it is highly likely that your child has them too. I wrote an article where I describe the best orthotics for children and you can find it here:
Even though I have had a positive experience using these kinds of inserts, how effective they will be in your feet will depend on individual foot anatomy. Footlogics insoles are meant for light pronation, so please keep in mind that they will more likely not work if you have severe foot problems or low muscle tone.
It is important to keep in mind that you won't get any of all the above benefits that the orthotics have to offer if you don't wear the correct pair of shoes.
I hope that after reading my post you are mindful of how much damage you are doing to your feet when you are not wearing the proper shoes.
Be kind to your feet, they deserve it!
Are You Having a Hard Time Finding Shoes for Your Foot Shape?
You can ask your questions in the comment section below or contact me via email:
comfortablewomenshoes@gmail.com
Are you experiencing foot and leg pain? Have you tried the Footlogics insoles before? Please share your thoughts and experiences below so other women can benefit from them!