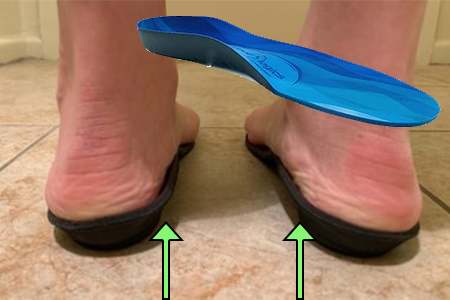 Are you flat-footed and experiencing foot or leg pain? Do you want to correct your posture and help yourself walk and run straighter? All of these can be accomplished by wearing the correct type of orthotics.
If you have been diagnosed with flat feet and overpronation, don't stress! This is actually more common than you imagine. I will try to address the major concerns on this matter and help you find the correct pair of shoes and orthotics!
I have been helping women find the correct pair of shoes and orthotics for their feet for the last 10 years. I work for a specialized shoe store where we specialize in women with "complicated" foot shapes and foot conditions such as flat feet and rolled ankles. Over the years I became familiar with the best orthotics for women with foot pain.
First of all, are you familiar with what an orthotic is? An orthotic is basically a shoe insert that is specifically designed to provide support, cushioning, stability, and relieve pressure in certain areas of the foot.
First Things First — Are You 100% Sure of Your Foot Size?
Before we move forward, I would like for you to be certain that you are wearing the correct shoe size, since wearing the wrong sized shoes is one of the most common causes of foot and leg pain. For example, do you know whether you have narrow, medium, wide, or extra wide feet? Do you know if you have a high instep? These are all important factors that determine what type of shoes you can wear.
You can find the answer to those questions in a different article I wrote called:
How To Measure Your Foot Shoe Size – The Most Simple And Effective Way!
If you are 100% sure that you are wearing the correct type of shoes and the correct shoe size, but the foot and leg pain persists, then it's time to start looking for something with more substantial support such as an orthotic.
A pair of good supportive shoes might help with your pronation, but in certain cases, a good supportive shoe might not be enough to reduce or fully eliminate your feet and leg pain. Moreover, if you have already tried a pair of good supportive shoes to wear with orthotics and you haven't improved the way you walk, then you must find a pair of good supportive orthotics.
The right type of orthotic will help align your feet and legs and reduce or fully eliminate the pain that you been experiencing.
What Makes the Orthotics I Recommend Effective for Women with Foot Pain?
☑️ Targeted Arch Support: The orthotics I recommend provide targeted support right below the arch to relieve foot pain by minimizing the impact that your feet take when they come in contact with the ground.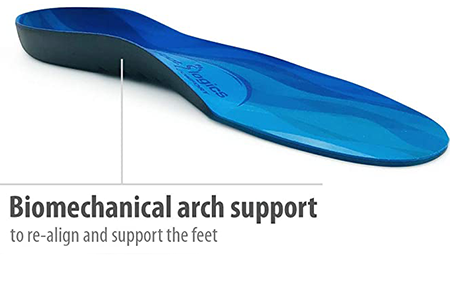 ☑️ Targeted Heel Support: The orthotics provide a deep heel cup to prevent heel cup and stabilize your foot.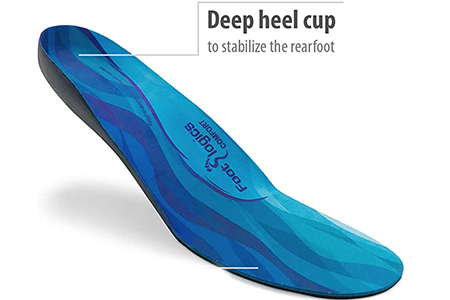 I have fitted several different types of orthotics throughout the years, but there is a particular one I have found to be the most effective one in helping women walk and run straighter, and reducing or fully eliminating their feet and leg pain.
This orthotic is made of extremely comfortable materials, provides arch and ankle support, and will help align your feet and legs by preventing your feet from collapsing when walking or running (as long as they are fitted in the correct pair of shoes).
The following are the features this orthotic provides:
Designed to mold over time to fit each women's unique foot.
Made of a new soft step material that drastically increases comfort.
Made of premium medical grade PU foam for women with heel and arch support problems.
The orthotic for a woman with pronation must provide excellent arch and ankle support to provide cushion and support, since this will help redistribute your body weight more evenly.
I've had the chance to fit several orthotics for women with pronation before, and I know which styles will be better since I have tested them. Certain types of orthotics are biomechanically engineered to relieve overpronation, arch and leg pain, forefoot and heel pain.
The Best Orthotics for Women – Supportive and Comfortable ⭐⭐⭐⭐⭐
Below you can find a selection of the best orthotics for women with foot and leg pain:
Fits from Shoe Size 5 to Shoe Size 9

You should consider that certain over the counter orthotics can range from $50 to $90. This is one of the most supportive orthotics that I have fitted before offered at an amazing price of $50.
Always remove the original insoles of your shoes before placing the orthotics inside the shoes.
Also, bear in mind that orthotics don't work in any type of shoes. The shoes must come with a substantial sole, a firm heel counter, and a removable insole. The shoes also need to be deep, the deeper the better, that way the orthotic will sit deeply inside the shoes and won't raise your feet, giving you the impression that your feet are coming out of the shoes.
Below you can find a selection of the best shoes for orthotics. These shoes are available in different widths such as medium (M), wide (W), and extra wide (XW). Disclosure: Keep in mind that we may receive commissions when you click our links and make purchases.
Fits Wide – Extra Wide

Fits Wide – Extra Wide

Fits Wide – Extra Wide

Fits Wide – Extra Wide

Fits Wide – Extra Wide

Fits Wide – Extra Wide

To prevent your toes from rubbing against the front or side part of the shoes, I highly recommend that you order these shoes half a size larger than the size that your feet measure. This translates to 0.3 inches or 0.6 centimeters of space between your longest toe and the end of the shoes.
I have fitted all of these shoe styles with orthotics before, and I can tell that these are the most effective shoe styles that work with orthotics. not all shoes will work with this particular orthotic, so if you already have a pair of shoes that you like, please make sure that it provides all the features mentioned above.
If you happen to have a child that needs a pair of orthotics, you should take a look at an article that I wrote where I describe the best orthotics for kids and you can find that article here:
Orthotics and shoes play a key role in helping you walk, jog and run straighter. For instance, if you have a supportive orthotic fitted in a pair of shoes that are too flimsy, you won't get any of the benefits that the orthotics have to offer and vice versa.
Should You Be Concerned with Overpronation?
Kindly keep in mind that we all have a certain degree of pronation, but when it's visible and excessive that's when the issue comes. Our body is constantly changing. So, if you notice that there is a slight roll in your ankles, it doesn't mean that you need to rush off to see a doctor or physical therapist.  But, please be conscious about it and watch out for pain, fatigue, and stability issues. Those are most of the symptoms of overpronation!
If you notice any of these symptoms, start by consulting a doctor or physical therapist. They will be able to lead you on to the next steps to take, which could be physical therapy, be fitted for an orthotic, or both!
I do recommend that before you consult with your doctor to start by checking the shoes you are wearing. Something so simple just as wearing the correct shoe style and the correct shoe size can significantly reduce, or fully eliminate the pain you are experiencing.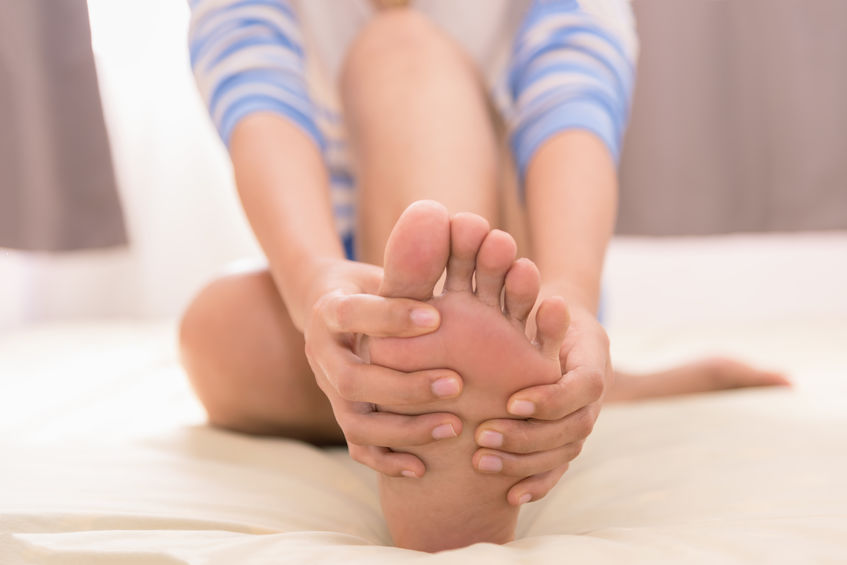 Consequences of Not Dealing with Pronation – Be aware!
If you are diagnosed with overpronation, it's very important that you do something about it at the earliest. The first step would be to buy a pair of good supportive shoes and orthotics, otherwise, overpronation could lead to the following foot issues:
Plantar Fasciitis
Calluses
Foot rigidity
Hammer toes and claw toes
Back and hip pain
Hammer toes
Ankle sprain and foot instability
How to avoid all these issues? Just wear the right type of shoes and orthotics!
The biggest issue with overpronation is that women who pronate might be more inclined to sit rather than walk and exercise due to that extra stress their feet and legs take. This means that when you are walking or running longer distances you are prone to experience foot and leg fatigue and you might even want to abstain from being active and/or playing sports.
This fatigue happens because your muscles are working harder due to the body's poor positioning. So, when you pronate, your feet collapse, and this causes your knees, hips, and back to shift out of alignment.
Let's find the correct type of orthotics and not leave this issue untreated.
Orthotics for Your Sport Shoes
If you happen to be involved in a particular sport such as soccer, softball, baseball, or basketball (to name a few examples), you might greatly benefit from fitting an orthotic inside your sport/cleat shoes, since when we are playing a sport we are stressing our feet and legs at a whole different level.
If you need an orthotic to be fitted inside your sports shoes, you can find the most effective one below:
Fits from Shoe Size 5 to Shoe Size 9

Your comments are very much welcomed, please share them under the comments section below so we can all benefit from them!