Have you ever been a victim of a slippery surface? Falls and injuries can happen if you are not wearing good slip resistant shoes. No matter what your daily routine looks like, a pair of slip resistant shoes will make you feel more confident when walking!
Without slip resistant shoes, water, ice and slippery surfaces can all make work dangerous, making you more prone to falls and injuries.
Don't deny yourself a moment of fun and allow yourself to walk confidently even on wet surfaces! Have you ever heard the term "slip resistant shoes", "non-slip shoes", "anti-slip shoes", "slip-proof shoes" or "no-slip shoes"?
Do you know what these terms mean? Do these types of shoes actually work? Let's find out!
Let me begin by clarifying that there is actually no such thing as "no-slip shoes". No material that the shoe is made up of can guarantee that you will never slip and fall.
Now that we've addressed this common misconception, we must find the next best solution and it's called slip-resistant shoes. These types of shoes provide you with more stability and work wonders when you are keeping up at your work or running around on wet surfaces! These types of shoes provide the best type of resistance that helps prevent you from slipping on watery, soapy or oily surfaces.
I have been working for a specialized shoe store for the last 10 years. We specialize in women with foot and leg problems, but we provide regular shoe fittings as well. I have fitted numerous shoes for women with different foot issues. I also know which are the best  slip resistant shoes that fit right and that have had great feedback!
These slip resistant shoes are particularly great for women that are nurses, doctors, waitresses, chefs, and other on-the-move professionals who walk and stand all day!
Slip-resistant shoes have several benefits over regular shoes and in this article I will describe the best slip resistant shoes for women!
The shoe styles I will describe in this article will be available in different widths such as medium (M), wide (W), and extra wide (XW). So, no matter how wide your feet are, these shoes will accommodate the shape of your feet.
Why Should you Wear Slip Resistant Shoes? – Great Benefits!
Here are the reasons why should wear slip resistant shoes and all their great benefits:
They offer greater traction in slippery conditions.
They will help reduce slips, trips, and falls.
They give weather resistant protection for wet and freezing conditions.
Keep your feet warm and comfortable.
They will help prevent broken bones, bruises, sprains, and even concussions.
They will withstand more wear and tear.
Other things to keep in mind:
Although you need good traction, you also need shoes that give your feet and body good support and comfort. Without good support, you may suffer from foot, knee or leg pain.
Good arch and heel support as well as adequate padding for your feet is important to the health of your feet, so don't neglect this aspect.
Identifying Slip-Resistant Shoes – Care for Your Feet!
It's not easy to identify which shoes are slip resistant since they don't come with any specific labels.
I know which shoes are slip-resistant since I have fitted them before, and I will show you a selection of the best styles.
To check if a shoe is slip resistant, you really need to pay attention to the sole of the shoe. If you check the sole carefully, it is going to tell you how much traction it provides on wet surfaces!
Shoes that come with a rubber outsole are going to provide you with the maximum amount of resistance possible on wet surfaces. Therefore, we need to make sure that the sole is made from rubber and not some random material.
Secondly, you will need to check whether the sole is soft and flexible which will provide you with more stability!
The last thing we must check is one of the most important parts of the shoe- the tread. For a shoe to be slip resistant, it must have a finer tread design than regular shoes.
Therefore, when you are looking for shoes you must make sure that the design of the tread isn't flat! The shape of the tread patterns and the depth of the tread groove will also determine whether the shoe is going to be slip resistant. The deeper the tread grooves are, the better traction the shoes will have against slippery surfaces.
You shouldn't worry too much about being able to follow these steps to find shoes that will prevent you from slipping since I already know and have previously fitted these shoes. I will describe them below and make things easier for you!
Especially for those rainy and yucky days, it's important to wear shoes that will prevent you from slipping and falling.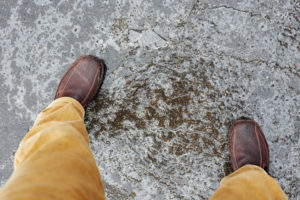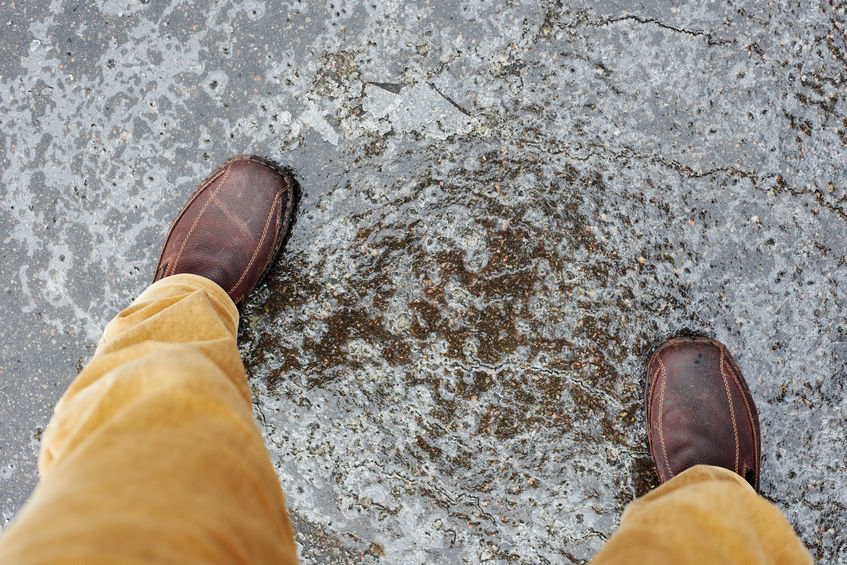 You need to be comfortable and safe at work, and you can accomplish this by getting a pair of shoes that fit and that are slip resistant.
As I have mentioned earlier, although the purpose of slip resistant shoes is to keep you safe and prevent injuries from slipping and falling, they don't have to be ugly.
The Best Slip Resistant Shoes for Women ⭐⭐⭐⭐⭐
There are many stylish shoe brands of slip-resistant shoes and I will describe a selection below of the best slip-resistant shoes for women below. Disclosure: Keep in mind that we may receive commissions when you click our links and make purchases.
Medium – Wide

Medium – Wide – Extra Wide

Medium – Wide – Extra Wide

Medium – Wide – Extra Wide

To prevent your toes from rubbing against the front or side part of the shoes, I highly recommend that you order these shoes half a size larger than the size that your feet measure. This translates to 0.3 inches or 0.6 centimeters of space between your longest toe and the end of the shoes.
These shoe styles are the perfect combination of comfort, flexibility and grip.
Do you happen to have a child that needs a pair of slip resistant shoes? I created an article where I describe the best slip resistant shoes for children and you can find it here:
Prevent yourself from wearing shoes with soles that don't provide enough traction, because they will lead to falls and injuries. This is why it is never recommended to wear shoes with flat tread on wet surfaces.
Wear shoes with superior grip on the floor when you are either walking or running and keep your feet and legs healthy!
What are Other Women saying About These Shoe Styles?
Best Non-Skid Work Shoes
I tried the Skechers style that you recommend (Ghenter Bronaugh) and they are really lightweight and comfortable, I can get through my 13 hour shift easily. I bartend so a slip-resistant shoe is mandatory. I bought four pairs just in case they are discontinued at some point. I have wide feet and it fits the shape of my feet perfectly (I ordered the "W").
Perfect Lightweight Slip-Resistant Shoe For Restaurant Work
I am here to provide feedback on the New Balance Women's WID626v2 Work Training Shoe. I was looking for a comfortable slip-resistant pair and these are perfect for my extra wide feet!
I am a chef and I will no longer fear a wet floor at work. Never again will I have to wait until the freezer comes out of defrost mode to pull out a product. As an added bonus, my feet don't even hurt at the end of my 10-hour shift, so the shoes provide good support as well.
This is the perfect shoe style for women with wide or extra wide feet that work at a fast-paced restaurant.
The Best Slip-Resistant Shoe I Have Found So Far
I'm a mail carrier and this is the second pair of the New Balance shoe style WID626V2 that I got. I have tried many different styles but this one is the best so far. I walk daily for about 8-10 hours a day, 6 days a week and never ever had any issues whatsoever. No foot, leg, or back pain.
I walked in this shoe during very rainy days and never had wet foot and I have never slipped so far!
Do you already own a pair of slip resistant shoes? Have you found a particular shoe style that works best for your feet? Please share your thoughts and experiences below so we can all benefit from them!