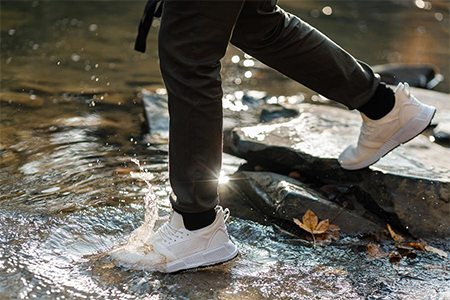 Editor's Note: This post has been completely revamped and updated for accuracy on May 2022 and reflects an up-to-date selection of the best waterproof shoes for women.
How many times have you complained about coming home with wet feet and wet socks? If you are not wearing waterproof shoes on a rainy day you will inevitably have wet feet! While rain boots are a great way of keeping your feet warm and dry, they are heavier and stiff, which makes it harder for you to wear them especially for longer periods of time.
I have been working at a specialized shoe store for over 10 years where we evaluate women with foot issues and "complicated" foot shapes. Over the years I became familiar with the best waterproof shoes for women.
Wearing the correct type of shoes will keep your feet and legs healthy. If you have ever worn wet shoes and socks, then you must know how uncomfortable that feels!
The best solution to keep your feet warm and dry is to get a waterproof shoe. Please note that waterproof shoes are very different than water friendly shoes. A waterproof shoe won't allow any water inside your shoe, no matter how deep your feet are submerged in water. A water friendly shoe will keep your feet dry as long as you don't submerge your feet in water.
For many of us, staying active during rainy seasons or even in the fall and winter months can be a challenge. For instance, the shortening hours of sunlight, rain and snow can put a real challenge to keeping up with our exercise goals. I can relate and say that it can be hard to find the motivation to stay active on dark, rainy days. However, we can find a pair of good waterproof shoes that will provide us all the features that we need to keep us active!
There are so many options of waterproof shoes for women that will keep your feet protected that is hard to choose from. For example, we want the shoes to be waterproof, but we also want them to be lightweight and flexible to be able to wear them all day. Also keep in mind that you might have narrow, wide, or extra wide feet, and we must find shoes that will FIT the shape of your unique feet.
In this post, I will describe the best waterproof shoes for women that will fit women with narrow, medium, and wide feet!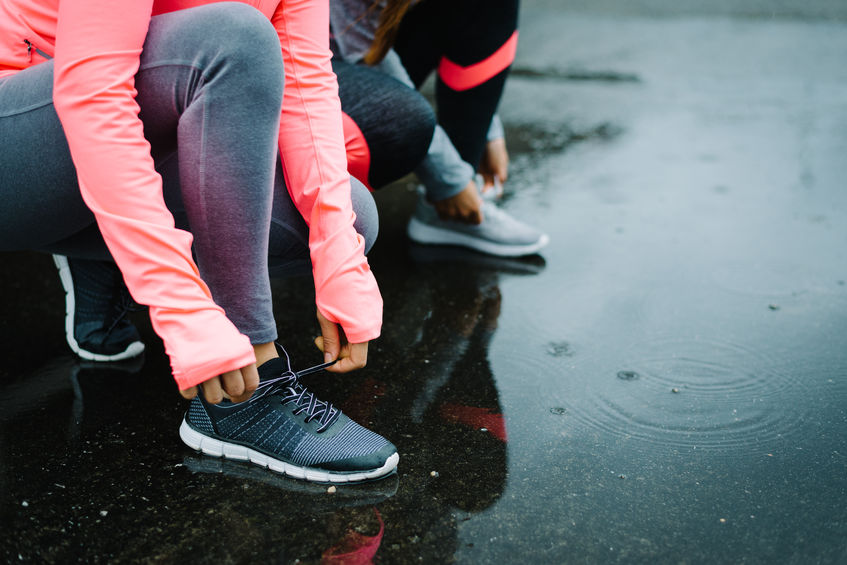 Benefits Of Waterproof Shoes – Keeping Your Feet Healthy!
Below are the 6 most important benefits of wearing a waterproof shoe:
☑️ They will Keep your Feet Warm and Dry. Keeping the feet warm and dry is essential if you want to keep your feet healthy. If your feet get wet, it will not only cause discomfort and lead to foot issues, but it will also compromise your overall health since cold, wet feet might progress to fever. Women are worried about getting in contact with infections such as tinea or athletes' foot which can be as a result of wet feet and it is irritating and can be itchy as well. This fungus infection is very common and it is mainly due to wet feet.
☑️ They will Prevent Smelly Feet. Consistently wet feet can develop an accustomed smell that may eventually become difficult to eliminate. So, keeping your feet dry and warm with a waterproof shoe is a great way of preventing smelly feet.
☑️ They will Provide Good Traction and Slip Resistance. Waterproof shoes often have rubber or strong grips to provide solid slip resistance, traction, and a more secure grip, which helps when walking on slippery or uneven surfaces.
☑️ Stay Blister-Free. I am sure you all know how uncomfortable a sore blister can be, especially when you're trying to stay active. Did you know that when your feet are wet they are more likely to develop blisters? This is because your skin becomes soft and more susceptible to rubbing and abrasions from walking or running. That is why it is important to wear waterproof shoes to keep water out of your shoes, so your feet can stay dry and comfortable.
☑️ Prevent Cold Feet. Many women are susceptible to getting sick, so they should take care of their feet because the slightest change in temperature can result in illness. If water enters your shoes, your feet don't just get wet, they get cold, especially when the temperature drops.
☑️ Avoid Infections. A wet foot makes the skin of your feet very soft and easily prone to injuries especially when you are active. A little accident that might have resulted in a little bruise might tear up, opening the skin because it has become too soft due to your feet being wet.
Taking proper care of the feet is necessary for the overall health of the body. Keeping your feet dry and warm is one of the most important aspects of taking care of your feet!
Durable Waterproof Shoes – Choose Them Wisely!
When it comes to buying shoes, women are sometimes very money conscious, as they will consider how long the shoes will last.
You should know that water does weaken the tensile strength of materials used in making most shoes, especially if they are not waterproof and in time will not only worn out the shoe but also cause a break and tear on the shoe. The water will also make the shoes look tardy, and thus you will have to consider getting a new one sooner than expected.
However, with lightweight, flexible, waterproof shoes you can prevent all these issues from happening. Waterproof shoes made up of quality materials can withstand the harsh, wet conditions you will most likely put them through. Most women prefer buying good quality, waterproof shoes since they will have to worry less about spending money on a new shoe and it will save you money in the long run because of its durability.
Another significant use of this shoe is that it never has the damp smell no matter how often you put them to test. This is very good as women will no longer have to worry about their feet getting a damp smell which is common with other types of shoes that are not waterproof or breathable. The shoes are also very protective (rubber toe-cap and a rubber sole) which prevents sharp objects from readily penetrating the shoe, offering protection to your feet.
You will be able to use these waterproof shoes for various activities such as sports, hiking or other outdoor activities. That means that you don't have to worry about getting shoes for every activity as these types of shoes will serve different purposes.
In summary, waterproof shoes offer the following features:
Comfort. They are comfortable to wear
Versatility. They can be used for different activities such as hiking, playing sports, or outdoor activities
Cost Effective. They are very cost effective because they last longer as they can withstand harsh conditions
Stylish. They are very trendy and fashionable to wear
Please keep in mind that if the shoe is not labeled as waterproof, then it means that it isn't! You must always look for a label in the shoe stating that is waterproof. Look at the picture below for clarification:
The Best Place to Get Waterproof Shoes for Women!
Waterproof shoes are becoming more popular for women as they are not only comfortable but play a huge role in keeping your feet healthy. Women have seen the health benefits of purchasing a waterproof shoe for them as they are durable and sturdy.
Before I provide you with a selection of the best waterproof shoes for women, I want to make sure that you know your exact foot size. You won't be able to order the correct shoe size online if you don't know your exact foot length and whether you have narrow, medium, wide, or extra wide feet. In addition, do you know whether you have a high instep or not?
I help women determine their exact foot size and shape from home. Take a look at the article below:
How To Measure Your Foot Shoe Size – The Most Simple And Effective Way!
There are so many brands and styles of waterproof shoes for women that is hard to figure out which are the best type for your feet. Disclosure: Keep in mind that we may receive commissions when you click our links and make purchases.
The Best Waterproof Shoes for Women ⭐⭐⭐⭐⭐
Below you can find a selection of the best waterproof shoes for women that can fit women with medium or wide feet.
Fits medium and wide feet
GORE-TEX waterproof membrane, exceptional breathability and waterproof performance 
Closed-cell foam tongue keeps moisture and debris out
Merrell air cushion in the heel absorbs shock and adds stability
Order this shoe a whole size larger than your foot size
---
Waterproof leather uppers 
Removable triple-density footbed with arch support and shock absorption 
Order this shoe a whole size larger than your foot size
---
Fits medium and wide feet
Durable GORE-TEX to keep your feet dry
Supportive outsole with firm heel counter
Order this shoe a whole size larger than your foot size
Fits medium and wide feet
OutDry™ waterproof, breathable construction keeps out the wet elements
Techlite™ lightweight EVA midsole
Non-marking Omni-Grip™ rubber outsole provides superior traction
Order this shoe a whole size larger than your foot size
---
Fits medium and wide feet
Waterproof membrane seals out water and lets moisture escape 
Kinetic Fit ADVANCED removable contoured insole with reinforced heel cushioning for medium support 
Order this shoe a whole size larger than your foot size
---
Fits medium and wide feet
Waterproof M Select™ DRY impermeable membrane seals out water while letting moisture escape
Order this shoe a whole size larger than your foot size
What Shoe Size Should You Order?
Take a look at the description below the shoes that I recommended to find out what shoe size you should order.
Do you happen to have a child that needs a pair of waterproof shoes? I created an article that describes the best waterproof shoes for children, and you can find it here:
Don't Forget About the Importance of Socks!
In addition to waterproof shoes, you need to consider appropriate types of socks or liners to wear as well. Your feet don't always get wet just from the water they're exposed to on the outside. You can imagine wearing a shoe for an entire day, your feet are inevitably going to sweat and get wet. Wearing moisture-absorbing socks, and changing them often, will help keep your feet stay dry inside your shoe!
Remember that socks play a key role in keeping your feet healthy since they act as a barrier between your feet and the shoes, preventing the growth of bacteria inside the shoes.
Also, socks prevent your feet from rubbing against parts of the shoes, and this prevents the formation of blisters around the toes or the ankles.
If you need a pair of socks to wear with your waterproof shoes, here you can find the most breathable ones.
74% Merino Wool, 20% Nylon, 6% Lycra Spandex
Impact Support Zones(strategically reinforced zones) for added durability
---
59% Merino Wool, 39% Nylon, 2% Lycra Spandex
Micro crew height which means that the sock peeks just above the top of a standard hiking boot
56% merino wool, 31% recycled nylon, 11% nylon, 2% elastane
Breathable body-mapped mesh zones
Virtually Seamless™ toe for enhanced comfort
---
65% merino wool, 24% recycled nylon, 10% nylon, 1% elastane
Utilizes full cushioning at the heel and sole of the foot to provide warmth and a little impact absorption
Bracing on the arch provides additional support for all day comfort
Now that you know which are the best waterproof shoes for women and which type of socks are better to wear with these shoes, you are ready to make the most informative decision!
Are You Having a Hard Time Finding Shoes for Your Foot Shape?
You can ask your questions in the comment section below or contact me via email:
comfortablewomenshoes@gmail.com
Have you been looking for a pair of good, supportive, and lightweight pair of waterproof shoes? Is there any particular style that you recommend? Please share your thoughts and experiences below so we can all benefit from them!