What is the only thing better than buying new shoes – buying shoes that were designed and produced locally!
Are you having a tough time finding women's shoes made in the U.S.A.? Finding these shoes is getting harder because most shoe companies outsource their production to other countries such as China, Vietnam or Indonesia.
The real question is why should you care so much about where your shoes are made? The following are the 3 main reasons:
☑️ You are saving and creating American jobs. Outsourcing labor and buying from foreign manufacturers saves money in the short-term but doing so can take an enormous toll on both the American economy and the environment. Also, when consumers buy from a brand that outsources their labor, American jobs go to other countries.
☑️ You are protecting the environment. Many of the top countries where our women's shoes come from have little to non-existent regulations when it comes to protecting the environment. In addition, oil prices rise from shipping, and the quality of our water and air suffers. Also, by reducing the amount of fuel spent on shipping, we're able to help decrease the demand for fuel, as well as reduce the number of harmful chemicals emitted into the air from shipping vehicles.
☑️ You are supporting human rights. Most of the countries we are importing shoes from have few workplace standards and poor working conditions. So, buying American-made shoes supports American workers, safe working conditions and child labor laws.
With the difficulties faced by today's global economy, many American companies look overseas to save on labor, materials and other costs. Outsourcing labor and buying from foreign manufacturers saves money in the short-term but doing so can take an enormous toll on both the American economy and the environment.
More importantly, more American manufacturing jobs help to reduce the unemployment rate and expand the tax base to pay for benefits.
For this article, I have created a list that contains the most popular women's shoe brands that make most of their shoes in the United States and I will also provide you with a list of the best women's shoes made in the USA.
If you think that shoe companies are not making their shoes in the USA, you are mistaken!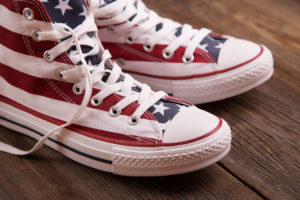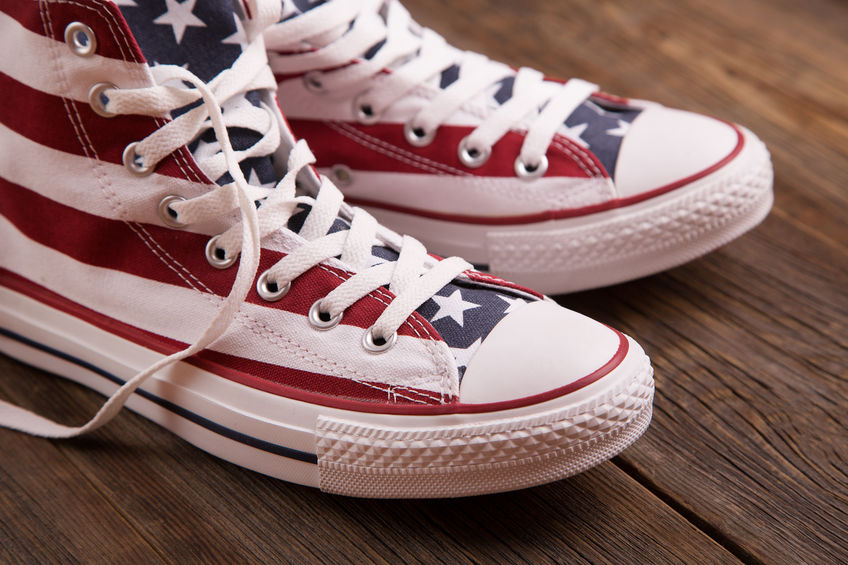 When we buy shoes made in the United States, we can rest assured that American consumer protection laws and safety standards are being enforced.
Did you know that during the 1960's the U.S.A. was the number one leading manufacturer of footwear? Are you aware that now most of the shoes sold in the USA are made abroad?
Over 98% of all footwear sold in the U.S. is manufactured in another country. The sole reason for this is corporate profits.
Let's see if we can find shoes that fit your feet and your values!
Keep in mind that in most instances, American-made products are going to be higher priced because they are made of better quality.
American-Made Shoe Brands for Women – Buy Locally-Made Shoes!
There are several American-made shoe brands for women, but below you can find a list of some of the best women's shoe brands made in the U.S.A. that I have fitted before:
☑️ New Balance:(Massachusetts) Keep in mind that not all New Balance shoes are produced in America. However, this company does produce over four million pairs of shoes in the U.S. each year. You must check the label of the shoe to be certain that a particular shoe is American-made. Did you know that even then you will not be guaranteed a 100% American-made shoe? New Balance labels its shoes as "Made in the USA" if their "domestic value" is at least 70% of the shoe's total price.
☑️ Gracious May: Gracious May's desires to be the first name in MADE IN USA Footwear! With 10 years behind them, they are continuing the work to improve their collection of Made in USA Footwear. Last March, the Gracious May American Made Mama Jane launched in 3 colors! This Gracious May Ladies Mary Jane is already receiving some of the best feedback.
☑️ Soft Star Shoes: (Oregon) Because their shoes are made in the USA, the customer receives superior customer service. They will never let you get stuck with a pair that doesn't fit right, and they have generous return and exchange policies. This is a socially and environmentally responsible shoe company. All of their shoes are designed to imitate barefoot walking.
☑️ Keen: Headquartered in Portland, KEEN takes pride in its domestic factory and offering local manufacturing jobs, even if it can't say exactly "Made In The USA." This shoe company makes some of the best summer sandals and hiking shoes for women, men, and children.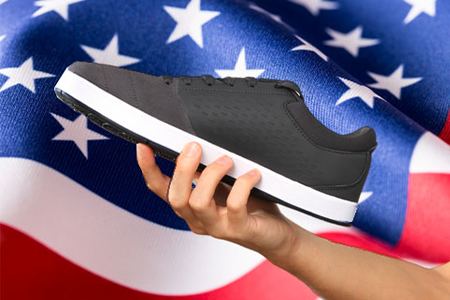 Did you know that a new national survey by the Consumer Reports National Research Center shows that 78% of Americans would favor a product made in the U.S rather than one made abroad? More than 80 percent of Americans stated keeping manufacturing jobs as one of the most important reasons for purchasing American products. About 60 percent of Americans were worried about the use of child labor and stated how American-made products had a superior quality.
Naturally, higher quality products are going to have a higher cost, but as consumers, we shouldn't see this as an extra cost, but rather as an investment to our country.
Additionally, buying mass-produced, imported shoes, usually, means a reduction in product quality. Now that's not necessarily the worse thing. I mean, if you pay dirt cheap for a pair of shoes, you really can't expect much but you should also be aware that you might be jeopardizing your feet's health! However, a higher priced shoe doesn't automatically translate into a better shoe for your feet. Some of the most supportive shoes I have fitted before are reasonably priced, and those are the ones I will describe below.
Honestly, which is the first thought that comes to your mind when you read "Made in America"? I instantly think about excellent quality!
The Importance of Wearing Well-Made Shoes
Keep in mind that shoes play a huge role in keeping our feet and legs healthy! A shoe that fits properly will allow you to walk and run without a care in the world. However, a shoe that doesn't have the right support or that doesn't fit properly, will create several foot and leg problems!
Every day, you impose an enormous amount of stress on your feet and legs and wearing the correct pair of shoes will keep your feet and legs healthy! Never underestimate the importance of properly fitted shoes.
Advantages of Wearing Well-Made Shoes – Get All of Them!
Below you can find some of the advantages of buying yourself a pair of well-made shoes:
It will reduce orthopedic and chiropractic problems.
You will feel more comfortable in the shoes, which will lead to a more active and healthier lifestyle.
You will get longer wear out of them since the shoe will hold up better.
I know most women enjoy shopping for shoes frequently. But I always recommend them to invest in buying one well-made pair of shoes and use it as an everyday shoe rather than purchase several cheaper low-quality pairs that might lead to less support or breathability. You can think of it as an investment in your health and wellness!
My recommendation is to always buy shoes with leather uppers and avoid buying shoes made from plastic. Leather is definitely the best material for shoes because it breathes, and holds up.
Women's feet tend to sweat a lot, which can lead to odors and bacteria forming inside the shoe. Leather also tends to adapt to the shape of the foot and it maintains the structure of the shoe and the support. The quality and amount of leather is what makes the cost of the shoe higher or lower. But believe me, it's totally worth it!
Also, I always encourage women to go to their local shoe store to support local businesses and to properly have their feet measured. However, many women say they don't have a trustworthy local shoe store nearby. So, if you don't have a local shoe store in your area, below you can find a selection of the best fitting women's shoes made in the USA , that are also available in medium, wide, and extra wide widths!
The sneakers are made by New Balance and you can wear them for walking or running. Then I provide you with a sandal made by Keen (these are the most durable and supportive yet comfortable sandals I have fitted before), and a pair of hiking boots as well (for those wet, rainy days). Disclosure: Keep in mind that we may receive commissions when you click our links and make purchases.
Fits Medium – Wide – Extra Wide

Fits Medium – Wide – Extra Wide

Fits Medium – Wide – Extra Wide

Fits Medium – Wide – Extra Wide

Fits Medium and Wide

Fits Medium and Wide

To prevent your toes from rubbing against the front or side part of the shoes, I highly recommend that you order these shoes half a size larger than the size that your feet measure. This translates to 0.3 inches or 0.6 centimeters of space between your longest toe and the end of the shoes.
If you prefer your children's shoes to be also made in the USA, you should take a look at an article I wrote where I describe the best children's shoe styles made in the USA and you can find it here:
Would you consider purchasing a shoe made in the U.S.A. even if it meant paying a higher price? Are there any other American-made shoe companies for women that I didn't mention? Do you have a shoe brand you prefer when getting shoes for yourself? Please share your thoughts and experiences below so we can all benefit from them!