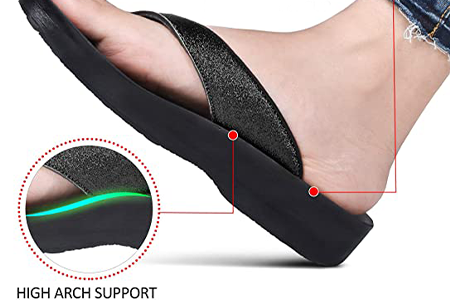 Have you been looking for a pair of flip flops that provides good arch support? I am guessing that you enjoy the simplicity of wearing flip flops, but you are looking to get good support from them.This might be because you have a foot condition such as flat feet, or you might experience foot and leg pain on a daily basis and you need to get the most support out of your shoes.
Whatever your reason might be, flip flops that provide good arch support do exist, and I will provide you with a selection of the styles I have fitted before.
Flip flops have been a long-standing go-to summer footwear, but many women use them also to walk around. In addition, most flip flops that we see in stores lack of stability and support. They are just meant to be worn for the swimming pool or for walking on the beach, both for short periods of time.
The good news is that there are certain flip flops styles that are more supportive and have better structure than others.
I have been working for a specialized shoe store for the last 10 years. Moreover, I have been helping women find the correct type of shoes and orthotics to reduce or fully eliminate the foot and leg pain that they were having. We specialize in women with foot and leg problems, but we provide regular shoe fitting as well, even supportive flip flops.
I have helped women with flat feet, rolled ankles, plantar fasciitis, bunions, heel spurs (and many other issues) find the correct pair of shoes.
Additionally, if you have any foot condition that requires you to wear supportive footwear or even just because you are going to use them for being on your feet while doing the house chores, you need flip flops that come with arch support.
You might be asking yourself: Why do I need supportive flip flops since I am going to only wear them for a couple of hours a day?
If you are looking for flip flops with arch support, the chances are that you suffer from a foot condition and you have invested in good supportive shoes and orthotics. Don't throw all the investment away by wearing shoes that don't provide the correct amount of support.
What Makes the Flip Flops I Recommend Effective for Women?
☑️ Substantial Outsole and Targeted Heel Support: You will notice how the flip flops I recommend provide a substantial outsole with excellent cushion and support.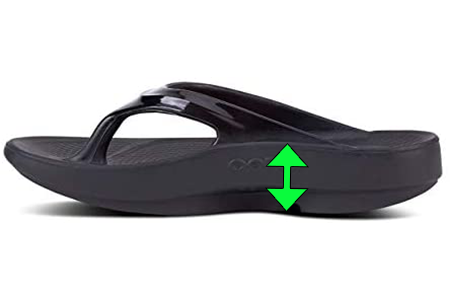 I believe that we must use our better judgement on which type of shoes we should wear and for which activities we were them for. In my opinion, flip-flops are an excellent choice if they are worn for no more than 4 to 5 hours a day.
Did you know that wearing the wrong type of footwear is the main cause for foot and leg pain? It will also create several issues such as blisters, calluses, and corns, just to name a few!
Also, the prolonged use of flip flops made of cheap or low quality materials can cause you from minor to severe foot issues. However, you have nothing to worry about as there are also flip flops that offer inner arch support and have shock absorbing qualities.
Let me show you a selection of the best women flip flops with arch support, so you can be more comfortable and keep your feet and legs healthy at the same time.
Flip Flop Brands with Arch Support – Support your Feet!
If you are looking for a substantial, supportive, and comfortable pair of flip flops, then you are looking in the right place. I will provide you with a selection of the best flip flops for women, but I wan yout to get familiar with which brands make flip flops with good arch support in case you don't like any of my recommendations.
The following brands offer a line of flip flops with arch support. Since I have fitted them before, you can be confident that they are an excellent choice!
Have you tried any of these brands before? They are consistent in making high quality and supportive footwear for women. However, among those shoe brands there are certain styles that provide more support than others, and those are the styles I will describe below.
The Best Flip Flops with Arch Support for Women ⭐⭐⭐⭐⭐
Below you can find a selection of the best women flip flops with arch support. Disclosure: Keep in mind that we may receive commissions when you click our links and make purchases.
Additional Colors Available

Additional Colors Available

I highly recommend that you order these flip flops a half a size larger than the size that your feet measure. This translates to 0.3 inches or 0.6 centimeters of space between your longest toe and the end of the flip flops. This will help prevent putting pressure on your pinky toe (small toe).
Please keep in mind that certain shoe styles can run short, long, narrow, or wide, and depending on how they run you will need to adjust the size that you get for yourself.
You always want to wear a half a size longer of the size that you measure in the shoe measuring scale in order to prevent your toes from rubbing against the front or the sides the shoes.
Why are These Flip Flops so Expensive? – Support – Support – Support!
I have been asked by different women why would they spend 50 dollars in a pair of flip flops when they can get them for 10 dollars at their local shop. Those $10 flip flops aren't going to cut it, specially if you got flat feet or fallen arches.
Supporting your feet is always important, even if it means investing a little more in your footwear.
On a different note, do you also want to provide your child with a pair of supportive flip flops? I wrote an article where I describe the best styles of flip flops for kids. Please go to the link below.
 Flip Flops For Kids – The Best Styles For Your Kids' Feet!
I want you to remember one thing (and this applies women's and children's shoes as well): It doesn't matter how narrow or wide your feet are, there is always at least one shoe style out there that will fit the shape of your feet perfectly, and I am here to help you find it.
So…
If you can't seem to find a pair of sandals for your extra wide feet, a pair of dress shoes for your narrow feet, or even a pair of cleats for your extra wide or narrow feet, leave me a message below and I will help you find them!
Have you tried any of the brands or styles that I recommend in this article? On average how much time do you use your flip flops each time you wear them? Please share your thoughts and experiences below so other parents can benefit from your experiences.