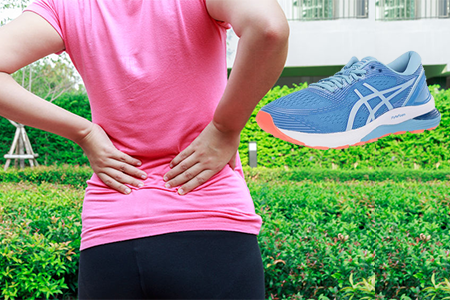 Have you been experiencing back pain? Did you know that one of the most effective ways to reduce or fully eliminate back pain is wearing shoes that provide good support and fit right? There is a small selection of shoes that will help reduce or fully eliminate your back pain and I will help you find them!
Most women underestimate the task of wearing good supportive shoes. You should know that your feet and legs are the foundation for your entire body, and the type of shoes that you wear will reduce the impact that your feet take when they come in contact with the ground.
Women who suffer from back pain are also normally flat-footed or have rolled ankles. This is what throws your whole body out of alignment and leads you to put pressure in areas of your body where you are not supposed to. While some shoes will align your feet and legs others will negatively affect your gait. So, especially if you are having back pain, you should be very careful of the shoes that you wear.
Of course that the impact of your body weight varies depending on the type of activity you are involved in. When performing high impact activities like running, hiking, or other exercises, there is extra pressure put out mainly on your back, legs, and feet. That is why you need a shoe that will attenuate the shock on these areas and you will be able to enjoy your daily routines.
Did you know that back pain is the second primary reason why people visit physicians? Very few women can say that they have never experimented back pain in their lives. A great percentage of women have back pain at some point in their lives and half of all workers experience back pain symptoms each year, according to the American Chiropractic Association.
To give you a background of myself, I have been fitting shoes and orthotics for 10 years helping women with foot and leg problems as well as providing regular shoe fittings for all of them. In most cases, the right type of shoes and/or orthotics has reduced or fully eliminated back pain.
I have seen many women come into the store with shoes that reflected on poor choices made in the past. Mainly because they were not properly informed.
I am here to show you a selection of the best women's shoes for back pain, so before you decide to visit your doctor, start by wearing the correct type of shoes and see for yourself the difference this will make.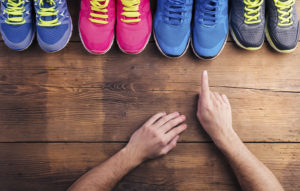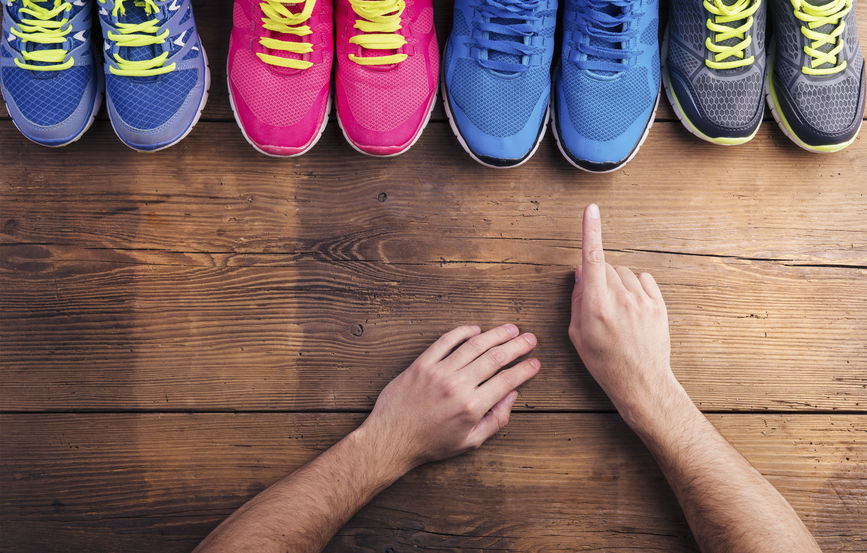 Choosing the Right Shoes for Your Back Pain – Useful Tips!
My recommendation for women who are experiencing back pain is to try to wear sneakers for most of the day since they are the type of shoes that provide the most support.
Keep in mind that when choosing a pair of shoes, you need to make sure the arch of the shoe works with the natural arch of your feet.
Women with flat feet or high arches will be more prone to back pain resulting from high impact activities. Stability, especially for women with flat feet is really important as well as cushioning, especially for women with high arches.
In synthesis, you need to find in your shoes, the right amount of support that your body needs.
You should also consider that you need to wear the correct shoe size which involves getting the correct shoe length and the correct shoe width, as this can also cause you serious foot problems that can result in the long term, adding more stress to your back pain.
The Material of Your Shoes – Key Considerations!
Did you know that the material of your shoe determines its ability to absorb shock? The density and materials of the shoes are key to provide the right support and distribute more evenly the weight put on the different parts of your body.
Moreover, some materials are so rigid that they may give your feet a tough time fitting your feet in. You should know that your feet should always feel comfortable and that your feet should be able to sustain the body impact comfortably.
Also, the material determines the weight of the shoes, hence it should be lightweight and flexible to allow proper movement of the feet. Although, this should not compromise the thickness that can help you alleviate your back pain.
So, you should look for high quality materials that will also make the shoes durable and that will have the qualities you need to avoid mild or severe foot issues.
What Makes the Shoes I Recommend Effective for Women with Back Pain?
The following are the two key features that your shoes must have to provide good support for your feet:
☑️ Built-In Arch Support: This feature will align your feet and legs and prevent your feet from rolling inwards and collapsing.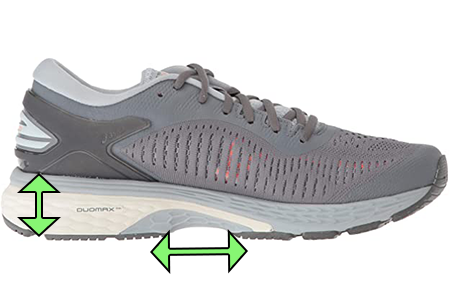 Let's take a look at the difference between a shoe that comes with a built-in arch support and one that doesn't. The first picture shows a picture of a woman wearing shoes with no arch support. Do you notice how her feet are collapsing and turning inwards?
BEFORE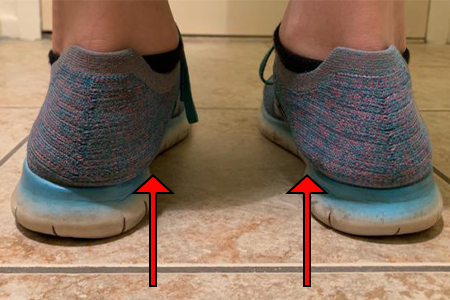 The second picture shows the same woman wearing a pair of shoes with good support. Do you notice how much straighter her feet are?
AFTER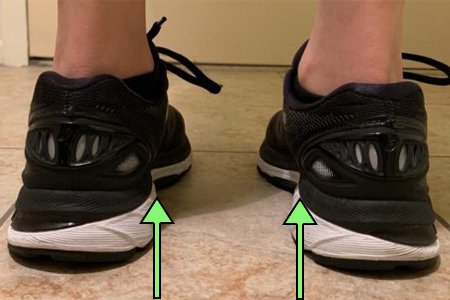 ☑️ Firm Heel Counter: This feature helps provide ankle support to cushion and straighten your ankles. The heel counter is the back part of the shoes that provides ankle support. Let's take a look at a picture of a shoe that provides a soft heel counter. Always press on the heel counter of the shoe before you purchase them.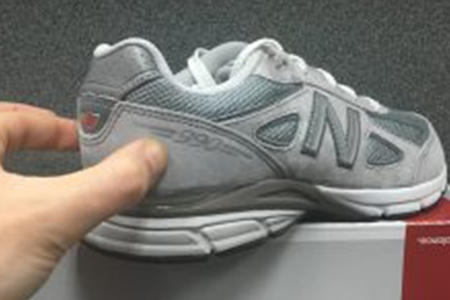 The second picture shows a shoe with a firm heel counter:
If we find a shoe style that provides these two important features and that also fits the shape of your feet then you will be good to go.
It is especially important to note that the shoe's arch should match with your foot arch. This will ensure that your feet are aligned and that you feel totally comfortable. Additionally, the arch determines which part of your body carries the most weight. That is why you need to look for shoes that provide the highest support to this part.
If you are certain that you are wearing the right shoes and you are still experimenting pain, you can also try adding an orthotic for extra support and comfort. However, the first step is to find good supportive shoes, and I will describe them below.
But first I want to make sure that you know your exact foot size. If you will be purchasing your shoes online then start by reading an article I wrote where I describe the simplest, yet most effective way to figure out your foot size from home:
How To Measure Your Foot Shoe Size – The Most Simple And Effective Way!
Now that you know what features the shoes must provide and how to make sure that you are wearing the correct shoe size, you can find below a selection of the best women's shoes for back pain.
The Best Women's Shoes for Back Pain ⭐⭐⭐⭐⭐
These shoes are available in different widths such as narrow (N), medium (M), wide (W), and extra wide (XW) widths. Disclosure: Keep in mind that we may receive commissions when you click our links and make purchases.
Fits Narrow or Medium FeetCheck Price
Fits Narrow or Medium FeetCheck Price
Fits Medium or Wide FeetCheck Price
Fits Medium or Wide FeetCheck Price
Fits Medium or Wide FeetCheck Price
Fits Medium, Wide or Extra Wide FeetCheck Price
To prevent your toes from rubbing against the front or side part of the shoes, I highly recommend that you order these sneakers a half a size larger than the size that your feet measure. This translates to 0.3 inches or 0.6 centimeters of space between your longest toe and the end of the shoes.
These shoes have a technology that is designed to position your feet correctly, so you are aligned correctly from feet to knees to hips. This results in relieving your pain, even in the lower back. These shoes offer distinct levels of cushioning and support.
All these great qualities will target for sure your back pain.
Remember, something as simple as wearing the correct pair of shoes will have a huge positive impact on the way you walk and run, and it will also reduce or fully eliminate the back pain that you have been experiencing.
Needless to say, if you are certain that you are wearing the right type of shoes and you keep having back pain consistently then you should try an orthotic. While I can't get into too much detail in this article about the best orthotics for back pain you should read another article I wrote where I describe the best orthotics for back pain:
The Best Orthotics for Overpronation – Supportive, Comfortable, Durable, and Affordable!
Have you already tried any of the shoes I have recommended to you in this post? Have you found another pair of shoes that have helped to alleviate this pain or even eliminating it? Please share your thoughts and experiences below so we can all benefit it from them!