Editor's Note: This post has been completely revamped and updated for accuracy on May 2022 and reflects an up-to-date selection of easy street shoes for women.
Have you heard about Easy Street shoes? If you are looking for a versatile pair of shoes, you are pointing in the right direction! Best of all? They got you covered for every occasion and there is a great variety of styles, sizes and widths for a perfect fit!
Let me begin by giving you some background on Easy Street shoes. Moreover, these shoes have been around for over 50 years and are known for being innovators of comfort construction and as creators of fashionable women's shoes. With styles ranging from career to casual, and a standard offering of 43 sizes and unusual widths. You can rest assured that easy Street is the brand that satisfies a complete women's wardrobe.
These shoes range from dressy to casual, comfort has always been a distinct feature, with stretch playing a significant role. If you are a woman who likes to wear flats, sandals or heels, and are looking for wearable fashion and trend influences, then these are the perfect shoes for you!
If you are after the perfect look for the office, for a party, special occasion, or even comfortable slip-on shoes to run errands in, you will find just what you are looking for with Easy Street.
In addition, Easy Street shoes are available in a vast selection of styles, including boots, peep-toe pumps, sling backs, loafer, slip-ons, and clogs. These shoes are amazingly stylish, and they don't make you give up on comfort.
I have been working for a specialized shoe store for the last ten years. We specialize in women with foot and leg problems, but we provide regular shoe fittings as well. I have fitted numerous shoes for women with different foot issues. We carry the best shoe brands for women, and we aim to have shoes to fit everyone. Moreover, I have fitted Easy Street shoes in many women and I can tell you these shoes have excellent feedback!
Keep in mind that wearing the correct type of shoe has several benefits, and will prevent you from developing blisters, calluses, and corns, among other issues.
In this post, I will show you a selection of the best Easy Street shoes for women.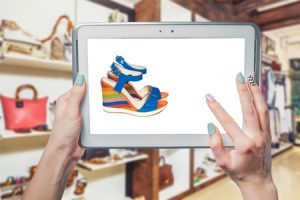 Features of Easy Street Shoes – Don Miss Out on Comfort & Style!
With comfort as the guiding factor, Easy Street shoes symbolize feel-good fashion. The following are the main features that Easy Street shoes are known for.
Versatility. They have a shoe for every occasion. From casual to dressy.
Distinct texture. They have a very distinct texture, which makes their shoes unique.
Comfortable. These shoes do not compromise comfort. They are designed to provide you with a comfortable fit.
Stylish and trendy. These shoes are fashionable and have a lot of detail, from bows to beads to shine.
Stretch. This feature can be very appealing to some women, especially when you have foot swelling from time to time.
Available in all widths. These shoes are available in medium, narrow, wide and extra wide widths, which makes them accessible to everyone.
Affordable. The price is moderate and there a lot of deals, especially when buying them online.
Cushiony Soles. There is padding on the soles, which gives your feet more cushion and comfort.
With Easy Street, quality and craftsmanship are part of every single one of their shoes, hence allowing you to get the most out of your shoes!
Although, it is crucial for you to remember that no matter which and how many are the features that a pair of shoes provide, if you don't wear them in the right size and width, you won't get all that the shoe has to offer!
Take a look at an article I wrote where I describe the simplest, yet most effective way to figure out your foot size from home:
How to Measure your Foot Size – The Most Simple and Effective Way!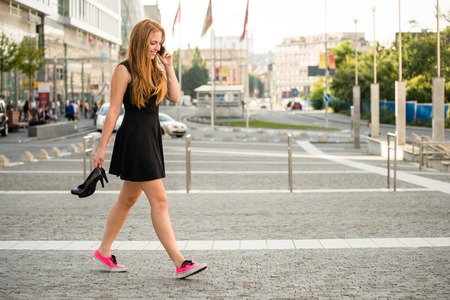 Easy Street Shoes – Reviews from other Women!
 I believe that you will it find very useful to see the feedback from other women that are also wearing easy street shoes. Here is what other women are saying:
"I ABSOLUTELY LOVE THESE SHOES! I have very wide feet and I hate wearing old-fashioned, boring, shoes especially when I want to dress up. I bought these in a wide width and they fit the shape of my feet perfectly.
"Women to women advice: If you have a hard time finding shoes that fit, you should stop stressing, these shoes will make you feel you are dressed to the occasion and you will not be suffering with foot pain!"
"I really like these shoes! I have tried different styles and they all fit perfectly. Very true to size, and they are so comfortable! I highly recommend these shoes to anyone who is looking for stylish yet comfortable pumps.
"I bought these shoes in wide and they fit just perfect."
"I am a manager and I wear pumps to work almost every day. I am glad that I found this shoe brand because they offer dressy and also comfortable shoes".
The Best Easy Street Shoes for Women ⭐⭐⭐⭐⭐
Now, please find below a selection of the best easy street shoes for women. I have included assorted styles in this selection, so you are covered for any occasion! Disclosure: Keep in mind that we may receive commissions when you click our links and make purchases.
What Shoe Size Should You Order?
Take a look at the description below the shoes that I recommended to find out what shoe size you should order.
I encourage you to find out why so many women choose Easy Street and become customers for life. With comfort as a guiding factor all Easy Street shoe styles are created!
Have you ever worn Easy Street shoes? In addition, have you found a pair of easy street shoes that you like the most and found more comfortable? Please share your thoughts and experiences below so we can all benefit from them!