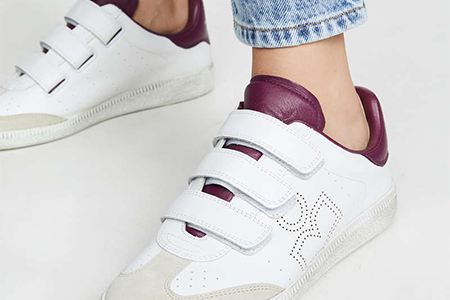 Are you a fan of shoes with velcro fastening closure? Are you tired of dealing with tying your shoelaces every time? Don't worry! Velcro shoes are great for women who are having a hard time bending over to tie their shoes or that have arthritis in their fingers.
Velcro fastening shoes are convenient, comfortable and a welcome alternative to classic lace ups. They come in a wide range of color options and offer maximum adjustability and support. They are truly a great alternative to sneakers with shoelaces. This sounds like the perfect solution to avoid having to deal with shoelaces becoming untied all the time.
Letting yourself walk around or even run with untied shoelaces will make you less stable, and prone to falls and injuries, in addition to other problems like making you arrive late to places. Even if you are running a marathon, you wouldn't want to stop to tie your shoes repeatedly.
I have been helping women find the correct pair of shoes for their feet for the last 10 years. I work for a family shoe store where we specialize in women with "complicated" foot shapes and foot conditions. Over the years I became familiar with theist velcro fastening shoes for women.
I will be able to show you which velcro shoes are better made and provide more support since I have fitted them before. The velcro fastening shoes I recommend are also capable of fitting "complicated" foot shapes such as narrow or extra wide feet.
Velcro Fastening Shoes – Finding the Best Alternative!
Women who have limited manual dexterity or who can't put their shoes on will appreciate having another alternative, such as velcro fastening shoes.
What exactly are velcro shoes? They are shoes that have velcro straps instead of shoelaces. These straps stick together when pressed and can be easily separated by pulling them apart.
Moreover, there are many different looks and designs available for velcro sneakers, giving you a variety to choose from. Now that you know what velcro shoes are, let's clarify some of their advantages and disadvantages.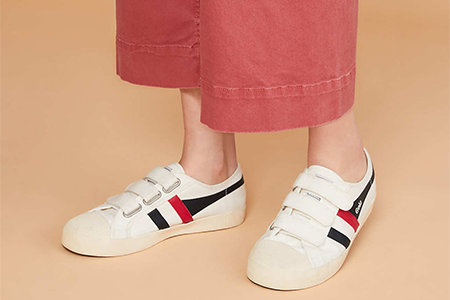 Advantages of Velcro Fastening Shoes!
Below you can find a list of advantages of velcro fastening shoes:
☑️ Versatility. Velcro shoes are no longer seen as ugly orthopedic shoes. Several shoemakers make velcro shoes that look dressy and sporty. They are also a perfect match for casual attire.
☑️ Flexibility. These shoes offer great flexibility and are easy to manage, they won't require you to stop in the middle of your day to tie them up. In addition, women who suffer from arthritis will often look for shoes that are easy to manage and supportive of their feet without completely forgoing a sense of style.
☑️ Easy to put on and take off. Velcro shoes are easy to put on and take off. That's important for people who have physical limitations that make it hard to bend or reach their feet. Moreover, they will allow women with weak fine motor skills to adjust their shoes easily! I can assure you that women who have limited manual dexterity or who can't put on their shoes will appreciate this shoe alternative.
☑️ Comfort. These indulgently comfortable shoes are designed to pamper your feet and are available in a wide range of widths. Also, many of these shoes feature removable foot beds that allow you to add or remove depth as needed as well as insert your pair of orthotics. I have fitted certain velcro styles that were available in different widths such as medium, wide, or extra wide.
Disadvantages of Velcro Fastening Shoes!
I believe that the only disadvantage of velcro fastening shoes is that they don't provide as much stability as sneakers with shoelaces. Sneakers with shoelaces will always provide more stability than velcro fastening shoes since the shoe will hug your feet better. Of course, they need to be tied properly. The tighter you make the shoelaces, the more stable you will feel.
Are Velcro Shoes Available in Different Widths?
Most women are not aware that velcro fastening shoes are available for wide feet. It doesn't matter what type of feet you have, narrow, medium, wide, or extra wide, since they come in all different widths!
I have seen many cases of women with wide feet who had missed out on buying a particular shoe style simply because they don't know that there is also a selection that fits wider feet!
As always, my recommendation to women is to go to their local shoe store, where a shoe fitter can properly measure their feet and find shoes accordingly. However, several women have contacted me asking me where they can buy their shoes online since they don't have a local  shoe store that they like and trust near their area!
If this is your case, please start by reading an article I wrote called:
How To Measure Your Foot Shoe Size – The Most Simple And effective Way!
The Best Velcro Fastening Shoes For Women
Below you can find a selection of the best everyday velcro fastening shoes for women:
Narrow – Medium – Wide – Extra Wide

Medium – Wide

Narrow – Medium – Wide – Extra Wide

Narrow – Medium – Wide – Extra Wide

To prevent your toes from rubbing against the front or side part of the shoes, I highly recommend that you order these shoes half a size larger than the size that your feet measure. This translates to 0.3 inches or 0.6 centimeters of space between your longest toe and the end of the shoes.
These adjustable velcro fastening shoes for women are made of the highest quality materials and are tailored to your needs. Many options feature removable foot beds which will allow you to add or remove depth as needed as well as insert your custom pair of orthotics.
Toggle Shoelaces – Yet Another Alternative!
Another alternative to velcro shoes are toggle shoelaces or lock laces. These are a great solution when you are refusing to wear either regular shoelaces or velcro fastening shoes.
This is the best alternative if you already own a pair of shoes with shoelaces and you don't want to replace them. The only thing you will have to do is to remove the shoelaces and insert the lock laces.
Toggle shoelaces or lock laces are smart, durable and the best alternative to velcro shoes. Lock laces hug our feet and provide them with great support and stability for when women are exercising at the gym or running outside. Another interesting fact is that lock laces or toggle laces can be used with any shoes that come with shoelaces.
These toggle shoelaces and lock laces have become immensely popular since you just need to follow these easy and simple steps, they don't have the complexity of shoelaces.
The advantages of lock laces over ordinary shoelaces are that they are easy to deal with, provide stretch-fit comfort, locked-in safety and even are water resistant!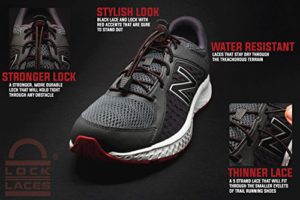 In addition, many women who have back pain or cannot bend properly have also benefited from the toggle laces or lock laces. In a nutshell, from now on, you don't have to worry about tying your shoelaces every time they become loose. The lock laces have got you covered!
Below you can find a selection of the best lock laces for women that I have fitted before and that I have found to be the most durable ones. Disclosure: Keep in mind that we may receive commissions when you click our links and make purchases.
They are also very easy to set up in your shoes!
Just follow these easy and simple steps:
Remove the already present shoelaces that came with the shoes.
Insert the new lock lace in place of the shoelace.
Tighten and adjust the laces as desired with the help of the lock present in the lock lace.
After you are satisfied with the fit of the shoe, cut the lace, leaving approximately 3 inches below the lock.
Finally, you can clip the laces.
Have you found a particular velcro fastening shoe style that you like the most? Please share your thoughts and experiences below so other women can benefit from them as well!