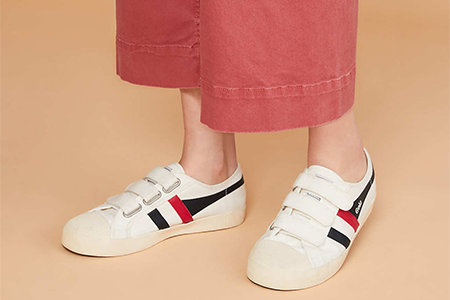 Are you looking for a pair of velcro shoes that are also capable of accommodating your wide or extra wide feet? Do you have a family member or friend who   has a hard time bending over and needs a pair of velcro shoes that is also capable of accommodating her wide feet? I have put together a selection of the best velcro shoes for elderly women with wide feet, and I will show you these shoes shortly.
There might be several reasons why an older person doesn't want t wear shoes with shoelaces, but some of the most common ones are:
To avoid having to deal with shoelaces becoming untied all the time. Letting yourself walk around or even run with untied shoelaces will make you less stable, and prone to falls and injuries.
Women who suffer from arthritis will often look for shoes that are easy to manage and supportive of their feet.
Women who have physical limitations that make it hard to bend or reach their feet.
Women who have limited manual dexterity or who can't put on their shoes will appreciate this shoe alternative.
My Experience Helping Women Find the Correct Types of Shoes for their Feet
For the last 10 years, I have worked for a shoe store that specializes in helping people with "complicated" foot shapes as well as foot conditions find the correct types of shoes. I have helped several women find the correct pair of shoes for their wide feet, and I believe I can help you as well.
Unfortunately, there is not a large selection of velcro shoes for women with wide feet, but all you need is one good pair of fitting shoes to keep your feet healthy and comfortable.
What Makes the Velcro Shoes I Recommend Ideal for Women with Wide Feet?
First of all, I recommend velcro shoes that provide double velcro straps instead of single ones as they can "hug" your feet more efficiently and will provide you with better support and stability.
The velcro shoes I recommend provide the following 3 features:
☑️ Round Toe-Boxes: This feature offers extra room for women with wide feet as it helps prevent the toes from overlapping one another or rubbing against the side of the shoes.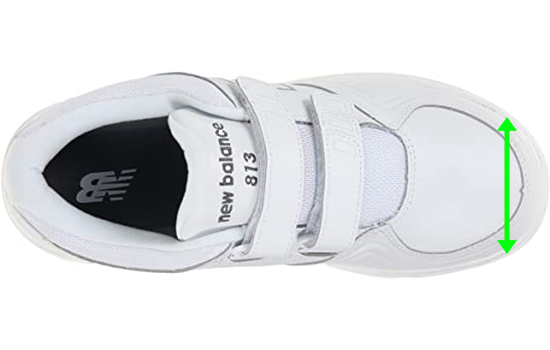 ☑️ Extra Depth: This feature allows the feet to fit deeply inside the shoes, preventing the top part of your feet (instep), from rubbing against the top part of the shoes. This feature also helps prevent the top part of the toes from rubbing against the top front part of the shoes.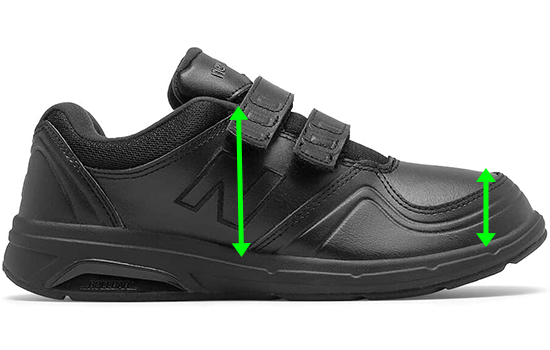 ☑️ Wide Widths Available: You will notice how all of the shoes I recommend are either available in wide (W) or extra wide (XW) widths.
Best Velcro Shoes for Elderly Women with Wide Feet
Take a look at the description below each shoe image to check whether that specific style is available in wide (W) or extra wide (XW) widths. Disclosure: Keep in mind that we may receive commissions when you click our links and make purchases.
Available in Wide and Extra WideCheck Price
Available in Wide and Extra WideCheck Price
Available in Wide and Extra WideCheck Price
Available in WideCheck Price
To prevent your toes from rubbing against the front or side part of the shoes, I highly recommend that you order these shoes half a size larger than the size that your feet measure. This translates to 0.3 inches or 0.6 centimeters of space between your longest toe and the end of the shoes.
All of these velcro shoes are made out of 100% leather, which makes them durable, comfortable, and breathable at the same time. The shoes come with a padded collar to increase comfort around your heels and prevent the formation of blisters.
Are You 100% Sure of Your Foot Size?
Your foot shape and size can change over time, and some of the factors that contribute to this change are pregnancy, aging and weight gain or loss. Over time and because of gravity, our feet might get longer and wider.
As we age, the body's ligaments and tendons lose their strength and ability to spring back. This means that our arches decrease, which flattens and lengthens the foot and toes.
This often results in an increase in shoe size by a half-size or more. You might also experience a change in foot width, meaning that even though you always ordered medium width shoes now you might have to start ordering wider shoes.
Don't insist on getting your shoes in a specific size simply because that has been the size that they always wore. I usually have to insist to them that they need to at least try the shoes in a different size to see how they feel.
How to Retrieve Your Exact Foot Length and Shape
Buying shoes online can be a challenge. If you are unsure of your current foot shape or foot length, I suggest that you take a look at a free resource I created where I help women determine their exact foot shape from home:
How to Measure Your Foot Shoe Size – The Most Simple and Effective Way!
Can I Fit Orthotics Inside These Shoes?
Yes, all of these shoes provide extra depth and rounded toe-boxes, so they are capable of accommodating most orthotics.
The shoes also provide substantial outsoles and firm heel counters to properly support your feet. Just remember to remove the original insoles of the shoes before placing the orthotics inside the shoes.
Are There Any Other Velcro Shoe Choices Available?
These styles are the ones I am most familiar with in terms of quality and fit, but if you are looking for a pair of velcro shoes in a different color you can reach out to me and I will provide you with different shoe recommendations: comfortablewomenshoes@gmail.com